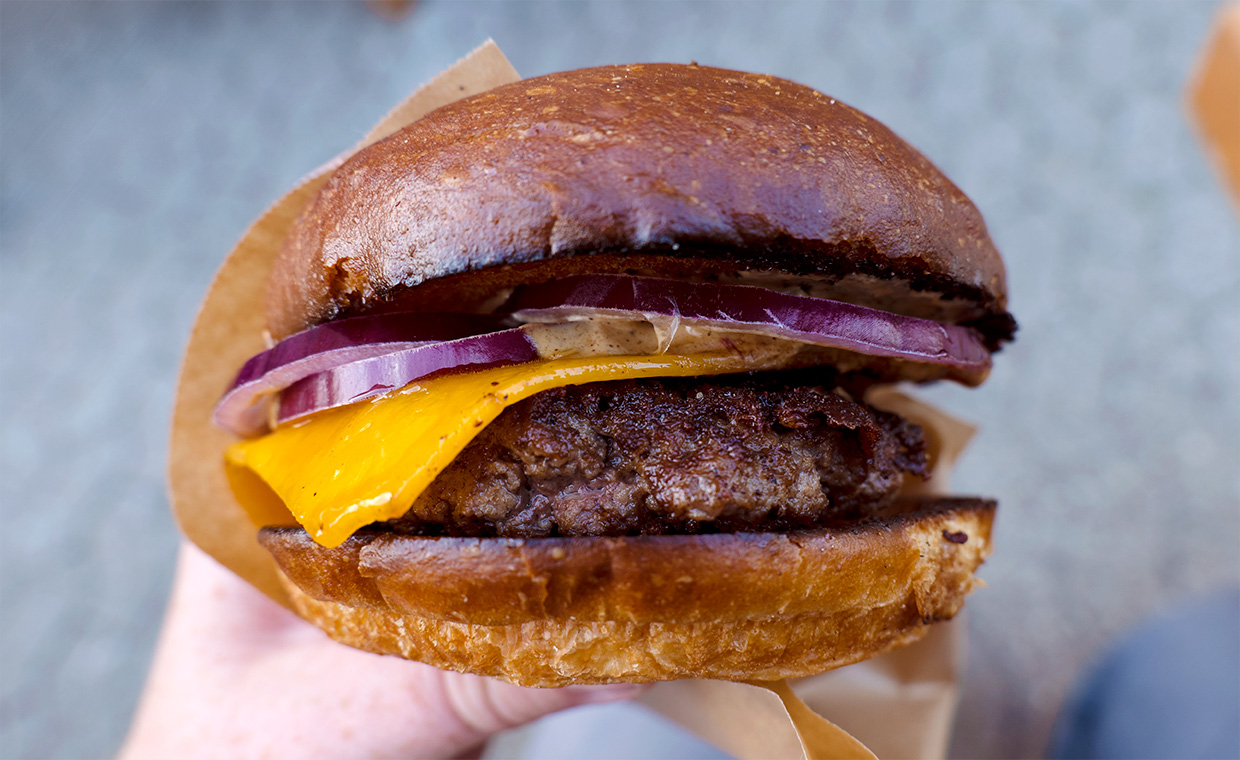 Bakom stekborden och i servisen på POPL i Köpenhamn finns veteraner från den världskända och tvåstjärniga restaurangen Noma, som nu har öppnat en hamburgerrestaurang. Menyn är kortfattad och enkel, och vi beställde in deras cheeseburgare med 160 gram ekologiskt kött, ost, rödlök och dressing för 150 DKK (210 SEK) samt pommes frites och en förrätt med pickles och chili för 45 DKK (60 SEK) vardera. Och så en chilidipp för 10 DKK (14 SEK).
Förrätten bestod av tre cornichons och ett par inlagda chilifrukter och var inte alls värda pengarna, så vi blev glada när hamburgarna serverades. Brödet var fint och fluffigt och höll utan några som helst problem under hela måltiden. Det märktes att köttet höll hög kvalitet, och alla ingredienserna hjälpte den fina köttsmaken att träda fram. Men trots den höga kvaliteten så var köttet lite kompakt och saknade stekyta på ena sidan. Köttet var dessutom lite underdimensionerat jämfört med brödet. Osten var god men borde ha varit mer smält och vi hade gärna sett lite fler texturer i burgaren. Övriga ingredienser var utmärkta; dressingen innehöll grovt hackad pickles, lagom mycket hetta och var otroligt fint balanserad med en syra som trädde fram i varje tugga. Och den råa rödlöken var sparsamt placerad så att den inte tog över. Pommes fritesen och majonnäsen var imponerande, och helt klart värda pengarna.
Vi applåderar POPL:s initiativ och anser att de helt klart är värda ett besök nästa gång du åker till Danmark. De infriade kanske inte alla våra förväntningar, men trots några missar så serverar de ändå en burgare gjord på kvalitetsingredienser och med ett gediget hantverkstänk.
In English
Behind the counter at Copenhagen's POPL you'll find veterans from the world-renowned and 2-star Michelin restaurant Noma, who now have opened a burger restaurant. Their menu is short and sweet, and we ordered their Cheeseburger with a 160-gram organic beef patty, cheese, red onions and a burger sauce for 150 DKK (23.5 USD), plus both french fries and a pickle and chili starter for 45 DKK (7 USD) each. And also some chili mayo for 10 DKK (1.5 USD).
The starter consisted of 3 cornichons and a couple of pickled chilis and were a bit of a disappointment. So we were happy when our actual burgers arrived. The bun was nice and fluffy and held together throughout our meal. It was immediately obvious that they used high quality beef, and all of the other ingredients really enhanced the beefy flavours. But despite the high quality the patty was a bit compact, and it lacked some crust on one side. The patty was also a bit smaller than the bun. The cheese tasted nice but could have been melted more, and we would have liked some more different textures in our burger. The rest of the ingredients were excellent; the burger sauce contained coarsely chopped pickles, just enough heat and was really well-balanced with an acidity that shone in every bite. And the raw red onions was sparsely spread throughout the burger and didn't take over. The french fries and the chili mayo were really impressive, and definitely worth ordering.
We applaud POPL's initiative and think that you definitely should visit them the next time you're in Denmark. They didn't really live up to our high expectations, but despite a few mistakes they still serve an artisanal burger made from high quality ingredients.