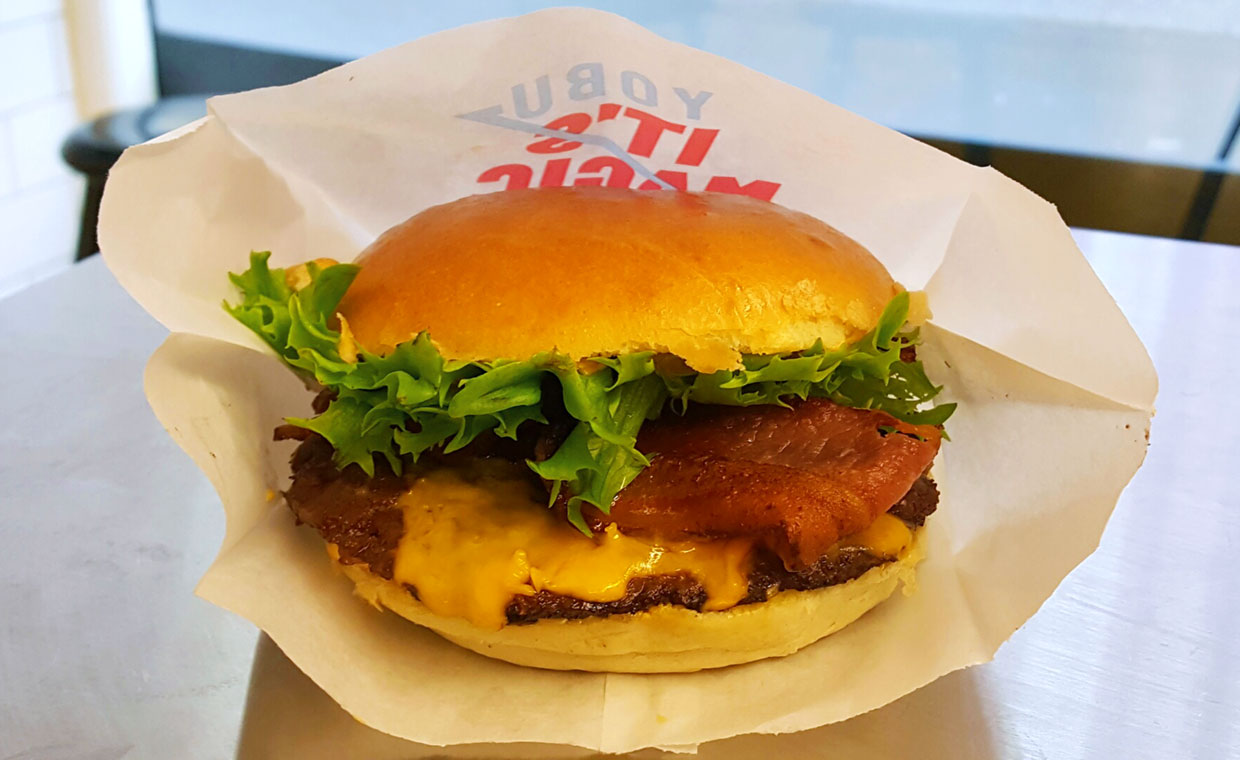 Yoburger är ett populärt hamburgerställe med  med två restauranger i centrala Köpenhamn. Enligt deras webbplats serverar de burgare av "fantastisk dansk mald biff med smörigt rostat briochebröd", och vi valde deras bacon- och cheeseburgare som kostade 109 DKK med läsk och pommes frites (enbart hamburgaren kostade 84 DKK).
Hamburgaren som serverades med sallad, ost, bacon och deras "magiska sås" var väldigt visuellt tilltalande, vilket höjde vår förväntningar. Tyvärr behövdes inte mer än en tugga av burgaren innan vi märkte att den inte levererade vad den lovat. Brödet var väldigt kallt och hade nog inte hunnit tina tillräckligt från sin tid i frysen. Någon åktur till stekbordet hade det inte heller fått, vilket hade varit ett enkelt sätt att lösa problemet på.
Köttet som var ordentligt tillplattat enligt "smashburger"-tekniken var tyvärr väldigt tunt och dessutom ganska smaklöst. Det kändes som att köttet hade varit fryst snarare än nymalt, vilket inte direkt höjde smakupplevelsen heller. Salladen var däremot var fräsch och krispig, medan osten av american cheese-typ gjorde sitt utan att för den sakens skull briljera. Den magiska såsen visade sig vara en högst ordinär majonnäsbaserad dressing, men tillsammans med baconet utgjorde den ändå en av höjdpunkterna. Vi gillade i alla fall pommes fritesens frasighet, och tryffelmajonnäsen för 10 DKK extra var väl värd pengarna.
Yoburger är snäppet bättre än en vanlig gatuköksburgare, men det finns mycket bättre hamburgare i Köpenhamn.
In English
Yoburger has two locations in central Copenhagen. Their bacon cheeseburger meal costs 109 DKK with fries and soda, and the burger with lettuce, bacon, american cheese and their "magic sauce" came out looking delicious. We couldn't wait to dig in, but unfortunately it only took one bite to kill our earlier enthusiasm. The patty was too thin and way too dry, and the bread that was supposed to be toasted was refrigerator cold. The patty felt pre-frozen too. Even though the sauce was nowhere near magic and just an ordinary mayonnaise based sauce, it was probably the highlight together with the tasty bacon. The fries were well fried as we like them and the truffle mayo is worth the extra 10 DKK. The most exciting thing about Yoburger is probably the name, and we were left disappointed after our visit.