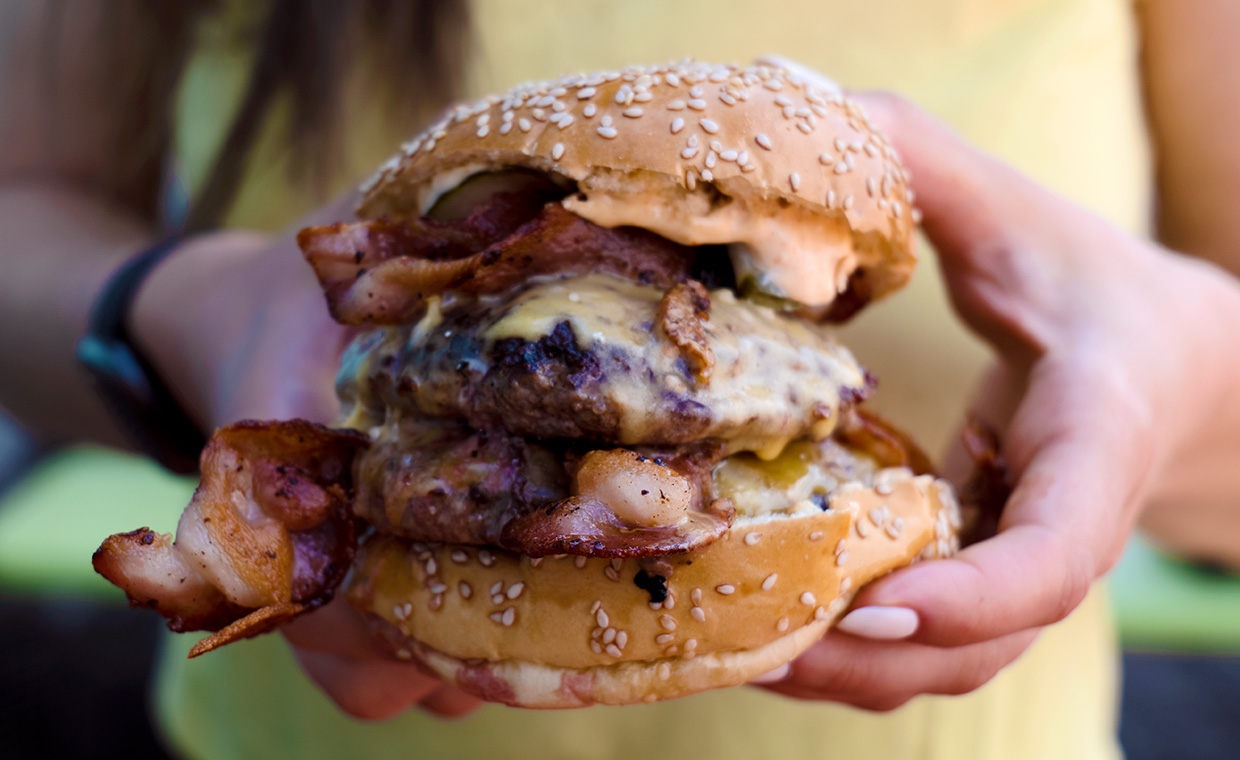 Burger Anarchy har ett bås på street food-marknaden Reffen i Köpenhamn med en begränsad meny, och de har även en riktig restaurang i Odense. Vi besökte båset i Danmarks huvudstad, där de stolt meddelade att deras mål är att servera klassiska hamburgare och tillbehör som samtidigt ska bryta mot de traditionella reglerna. Där beställde vi en The Beast Burger med två köttpuckar à 140 gram, dubbel bacon, dubbel ost, baconmajonnäs och pickles i ett sesamtäckt briochebröd för 115 DKK (160 SEK).
Vår burgare blev som väntat riktigt maffig, och var så stor att den knappt gick att äta på ett normalt sätt. Köttet hade en fin stekyta och var rosa i mitten, och trots att det var lite för kompakt för vår smak så smakade det riktigt gott. Storlekarna på puckarna varierade också, och den övre var markant större än den undre. Baconet var krispigt och smakrikt men tyvärr så var osten riktigt seg och smaklös. Smakmässigt så var både picklesen och baconmajonnäsen alldeles för söt, och vi hade gärna sett lite syra för att balansera alla smakerna. Brödet var måltidens stora stjärna, med en glansig och fin yta, snygga sesamfrön och de tydligt smöriga egenskaperna som vi förväntar oss av ett högkvalitativt briochebröd.
I slutändan så levde både Burger Anarchy och The Beast Burger upp till sina namn, men vi hade gärna sett att det var lite mer ordning i hur burgarna komponerades och tillagades.
In English
Burger Anarchy have a stall in the street food market Reffen in Copenhagen where they serve a limited menu, and they also have a full restaurant in Odense. We visited their stall in the Danish capital, where they proudly announced that their goal is to serve classic burgers and sides that also break the traditional rules. We ordered their The Beast Burger with two 140-gram beef patties, double bacon, double cheese, baconnaise and pickles in a sesame dusted bun for 115 DKK (18 USD).
As expected, our burger was a real beast, and it was so big that we hardly could eat it properly. The patties had a nice crust and were a bit pink in the middle, and despite being a bit too compact for our liking they did taste really good. Interestingly enough, the patties were unevenly sized, with the top patty being larger than the bottom one. The bacon was crispy and tasty, but the cheese was both stringy and tasteless. Tastewise we felt that both the pickle and the bacon mayo were too sweet, and we would have liked something with a bit of acidity to balance out the flavours. The bun turned out to be our favourite part of the meal, with a shiny coat, pretty sesame seeds and those buttery tones that we expect from a high quality brioche bun.
At the end of the day, both Burger Anarchy and The Beast Burger lived up to their names, but both the composition and the actual preparation would have benefited from a bit more order in the kitchen.