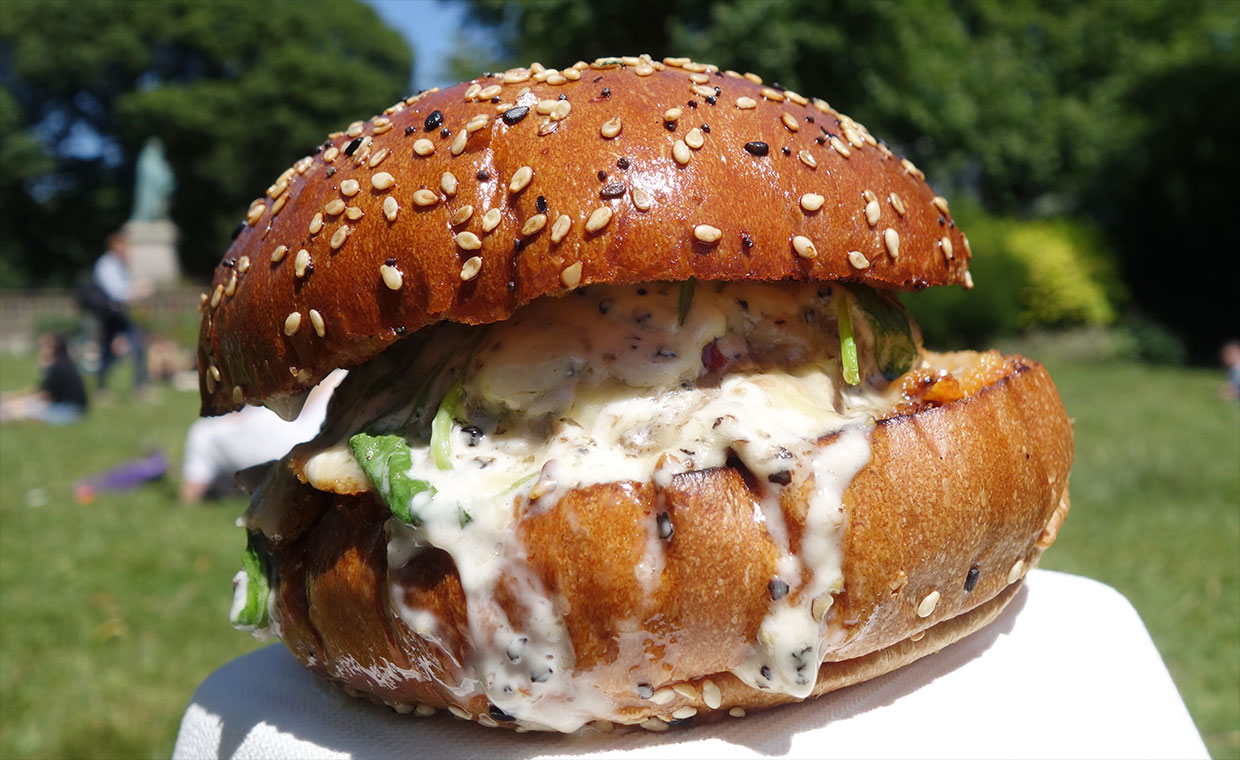 Burger Brothers i Brighton fick en hel del uppmärksamhet förra året när de utsågs till Englands bästa burgare. Det kultförklarade hålet i väggen har knappt ens en handfull sittplatser. Som tur var sken solen, så det var inga problem att ta med sig vår burgare till en närliggande park.
Priserna var väldigt överkomliga, och vi beställde en Classic Beef för 6,5 GBP (cirka 75 kronor). Den innehöll en skiva ost, plommontomater, ruccolasallad, senap, relish, svartpepparmajonnäs och karamelliserad lök. Resultatet var en riktigt maffig burgare som serverades i ett rätt mörkt bröd. Om vi ska vara ärliga så var vi rätt skeptiska inför den dressingindränkta skapelsen vi hade framför oss.
Tur då att smakerna verkligen satt där. Vi talar inte om några subtila smaker, utan här tog ingredienserna verkligen för sig. Köttet var smakrikt, om än något tuggigt, och svartpepparmajonnäsen krävde verkligen sin plats i rampljuset. Det var lite överväldigande att få så många smaker på en och samma gång, men slutresultatet var ändå väldigt positivt. Vi hade gärna sett ett mer traditionellt bröd som inte försökte stjäla vår uppmärksamhet, men detta var onekligen en röd tråd i måltiden.
Burger Brothers serverar förvånansvärt bra burgare som precis når upp till en fyra i betyg. Skillnaden mellan dem och toppskiktet i London är dock avsevärd, och de är verkligen inte bäst i England.
In English
When Burger Brothers in Brighton were awarded "England's Best Burger" last year, we knew that we had to visit them. The tiny restaurant only has a couple of seats, so we ate our takeaway burger in a nearby park. The Classic Beef (6,5 GBP) with cheddar, plum tomatoes, rocket salad, mustard, relish, black pepper mayonnaise and caramelised onions was a real beast of a burger. Served in a dark bun, the mayo covered creation didn't really impress us looks-wise. Thankfully the flavours really hit home. The meat was a bit chewy, but tasted excellent. And the mayo really packed a punch without taking over. We could have done with a more anonymous bun though, since everything else was so overpowering. Burger Brothers just make the 4-star grade, but make no mistake; they're not even close to the best burgers in England.