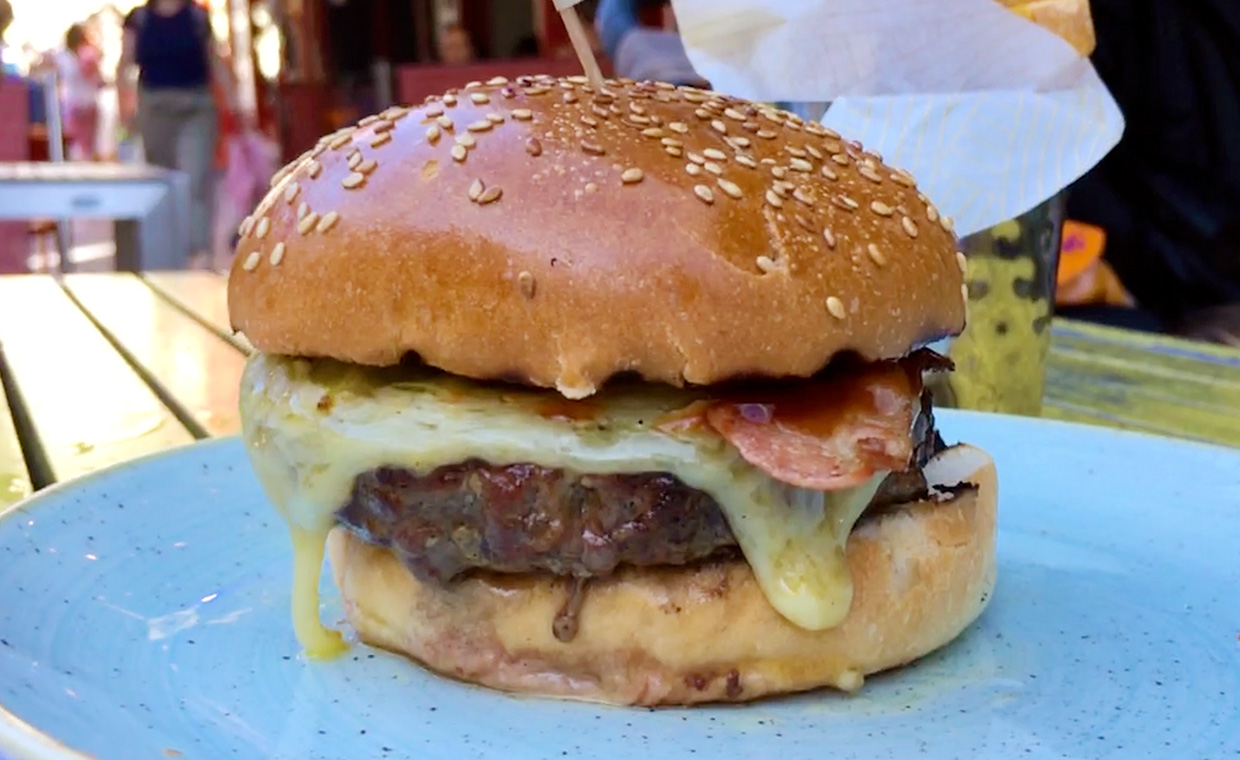 Gourmet Burger Kitchen – eller bara GBK som de även kallas – är en riktig veteran inom burgarscenen. De öppnade sin första restaurang redan 2001 i London, och har sedan dess expanderat över hela England och även till andra länder i Europa och Mellanöstern, och de har definitivt hjälpt till att skapa den burgarvåg som svept över världen på senare år.
Vi beställde en Major Tom, med 30 dagars hängmörat kött, krispigt bacon, äppelträrökt ost, biffketchup och dillpickles. Det lät ju riktigt gott, och vi är helt sålda på att använda hängmörat kött på burgare. Resultatet var dock ingen höjdare alls.
Trots att köttet beställts medium rare så var det så gott som helt genomstekt. Det hade visserligen den där djupa smaken från hängmörat kött som vi älskar, men konsistensen var tuggig och torr och kändes konstig i munnen. Brödet var snyggt, men tyvärr ganska torrt det med, och den äppelträrökta osten låg som ett helt värdelöst lock över hela burgaren. Vi gillade picklesen och baconet, men det var i princip de två bästa sakerna med måltiden. Våra pommes frites var underfriterade, och priset för burgaren med en side låg på 15 pund (cirka 175 kronor), vilket är på tok för mycket för vad vi fick.
Kvalitetsmässigt ligger GBK på i princip samma nivå som Englands andra stora burgarkedja Byron; en stark tvåa som tyvärr inte är bättre än godkänt.
In English
Gourmet Burger Kitchen are real veterans in the UK burger scene, opening their first restaurant in 2001. Since then they've expanded into Europe and even the Middle East, and they've definitely played a part in the burger craze that's crept across the globe this millenium.
We ordered a Major Tom with 30 days dry-aged beef, crispy bacon, apple wood smoked cheese, beef ketchup and pickles, and an order of fries for 15 GBP. Despite ordering our patty medium rare, it was more well-done than anything, and even though we could taste the funkyness from the dry-aged beef the texure was dry and chewy. The bun looked nice, but was quite dry as well, and the cheese smothered the patty like a worthless lactose blanket.
We did like the pickles and bacon, but since our fries were undercooked they were the best part of the meal. We expected more at that price-point, to be honest.