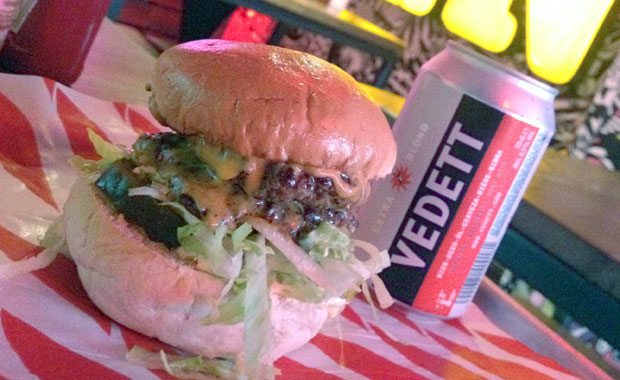 Det började med att folk vallfärdade till Yianni Papoutsis foodtruck MEATwagon på en parkeringsplats i London 2009, och ett par år senare öppnade MEATliquor i närheten av Bond Street. Och det var då den engelska burgarhajpen började bli stor på allvar. Numera finns den lilla kedjan i stora delar av England, samt även i Singapore.
Inredningen är skränigt punkig, ljudnivån är hög och köerna ringlar sig långa. Favoriten på menyn heter Dead Hippie, som består av två senapsstekta köttbitar med stekt lök. Köttet är smakrikt, men det smörstekta brödet kan ibland vara överdrivet flottigt. Pommes fritesen bjuder inte heller på några rejäla smaksensationer, och om du väljer att få dem täckta med ost och kött lär du behöva äta allt med kniv och gaffel. Mastigt är bara förnamnet.
Kvaliteten brukar vara hög, även om konkurrensen är enorm och lokala restauranger kan ha skiftande kvalitet. Vi ansåg till exempel att deras restaurang i Brighton var sämre än varianterna i London. MEATliquors motto är "kom hit hungrig, lämna stället full", vilket passar oss alldeles utmärkt. Cocktaillistan är nämligen minst lika bra som burgarna.
In English
"Come hungry – Leave drunk" may be one of the best slogans of our time. Yianni Papoutsis' legendary burger joint marked the start of London's rise in the burger scene, and the original venue doesn't disappoint. Do yourself a favour and wash down a mustard fried Dead Hippie burger with one of their bespoke cocktails.