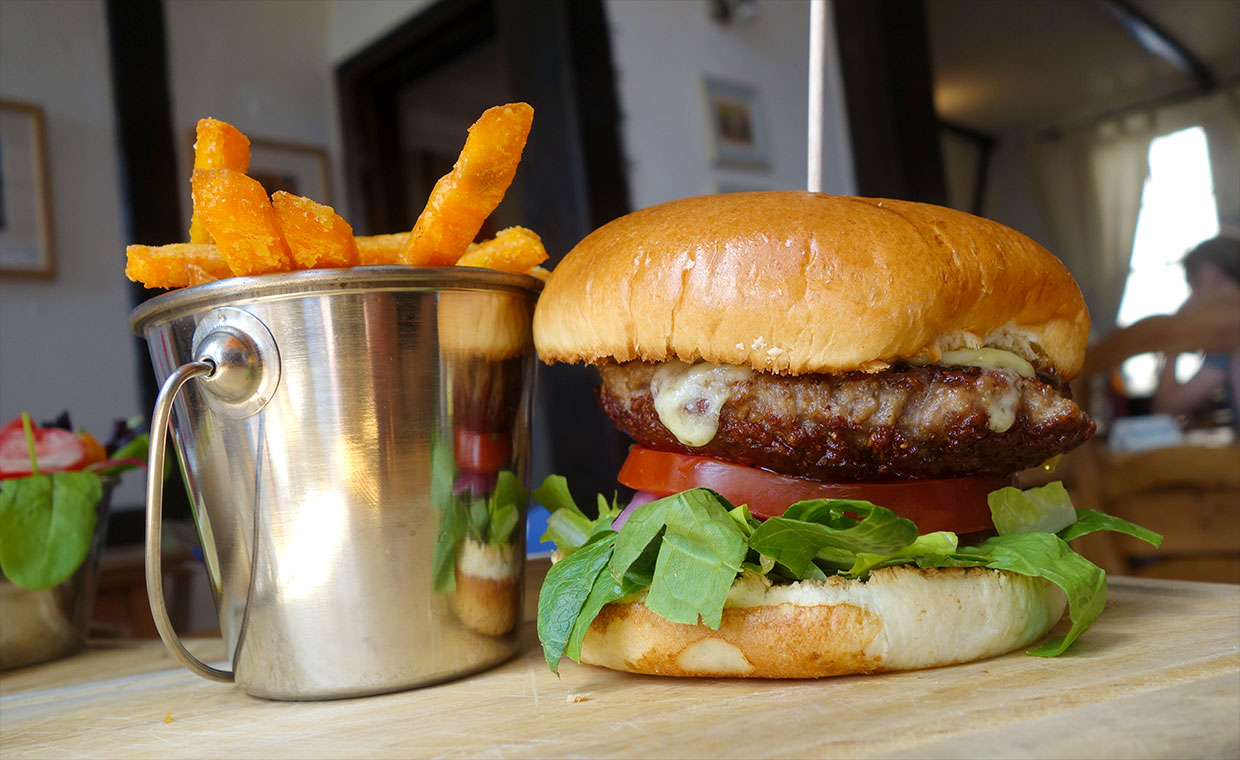 I den lilla staden Hastings på Englands sydkust är det ganska ont om burgarställen. Här har Half Man! Half Burger! regerat med järnhand i flera år, så när fisk- och skaldjursrestaurangen Taylor's bytte riktning och döpte om sig till Taylor's Seafood and Burger Restaurant kände vi att det var dags att testa deras burgarutbud. På burgarfronten innehåller menyn sju burgare, med ett vegetariskt alternativ och två burgare med en kombination av kött och skaldjur. Vårt val föll på en enkel cheeseburgare med 170 gram kött, extralagrad cheddarost, romansallad, bifftomat och rödlök i ett briochebröd. Till detta valde vi sötpotatispommesfrites, och det totala priset var drygt 10 pund (cirka 120 kronor).
Tyvärr så var hela måltiden något av en torr katastrof. Brödet var torrt och bitvis krispigt hårt, som att det hade stått framme och sedan värmts på för hårt. Köttet var genomstekt och vattnigt och kändes nästan kokt, vilket vi förmodar är på grund för låg fetthalt i köttet. Det fanns inte någon som helst sås på den torra burgaren, och det enda som lättade upp torrheten något var grönsakerna. Den lagrade cheddarosten var lite för skarp, men bidrog åtminstone med lite smak. Pommes fritesen gjord på sötpotatis var i alla fall god.
Taylor's Seafood and Burger Restaurant serverar faktiskt riktigt goda fisk- och skaldjursrätter, som är väl värda att testas. Nästa gång skippar vi burgaren där och går bort till Half Man! Half Burger! i St. Leonards istället.
In English
The small town of Hastings on England's south coast doesn't have that many burger restaurants. Half Man! Half Burger! reign supreme here, so when the seafood joint Taylor's changed their name to Taylor's Seafood and Burger Restaurant we had to try their burgers. They have seven burgers on their menu, with one veggie option and two beef and seafood combinations. We ordered their classic cheeseburger with an 8 oz steak patty, extra mature cheddar, romaine lettuce, beef tomato and red onion in a brioche bun, together with an order of sweet potato fries for a little over 10 GBP (120 SEK).
Unfortunately the entire meal was a dry catastrophe. The bun was dry and hard, and the patty was completely well-done and tasteless. It was watery and almost felt boiled, probably due to low fat content. The dryness was amplified by the fact that there weren't any sauces on the burger whatsoever, and the only thing that added some juiciness was the tomato and lettuce. The mature cheddar was a bit overwhelming, but at least it added some well-needed flavour. To be honest, the only really good thing about the meal was their sweet potato fries.
We were left pretty disappointed, because Taylor's Seafood and Burger Restaurant actually serve really good seafood dishes. Next time we want a burger we'll head over to Half Man! Half Burger! in St. Leonards instead.