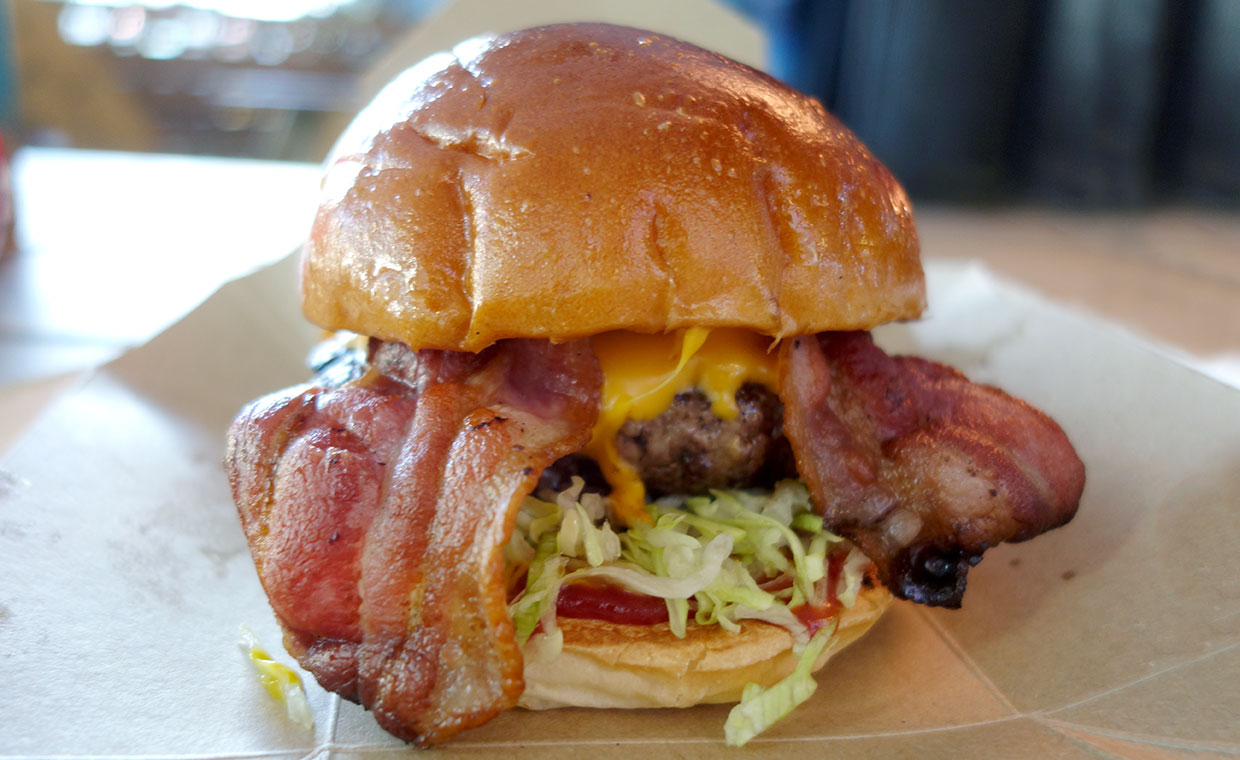 Burger Bear ligger i en av Londons absolut coolaste streetfoodställen, nämligen Magic Roundabout precis ovanför tunnelbanestationen Old Road i hipstertäta Shoreditch. Pionjären Tom Reaney (även känd som Burger Bear Tom) har finansierat bygget via en Kickstarter-kampanj, och nu står det en massa containrar mitt i rondellen. Där spelas discomusik från öppning till stängning, samtidigt som de serverar mat och dryck från några av de hetaste ställena.
Här finns såklart även en Burger Bear (som även har restauranger i Peckham och Stoke Newington), och valet föll på en Grizzly Bear – en cheeseburgare med rökt bacon och deras egentillverkade baconsylt. De överdimensionerade baconskivorna var härligt möra och ljuvligt salta, och baconsylten var nog den godaste jag har testat på, med en kraftig sötma, sälta och kaffesmak. Den saftiga köttpucken bjöd på goda smaker, men var aningen för välstekt. Samtidigt var brödet färskt och höll sig bra, trots att undersidan inte var rostad.
Det känns främst som att det är småmissar som gör att Burger Bear inte blir en fullpottare, men i och med att London förmodligen är Europas främsta burgarstad finns det inget utrymme för misstag. Oavsett detta ligger de ändå i toppskiktet, och discomusiken som ständigt spelas är bara det skäl nog för ett återbesök.
In English
Located in the fantastical Magic Roundabout – a street food venue on top of the Old Road underground station in Shoreditch – the pioneering Burger Bear stands out from the London crowd. The Grizzly Bear burger stunned us with its excellently cooked bacon and delectable bacon jam. The patty tasted great but was somewhat overcooked, and the bottom bun should have been heated. But despite this we were extremely impressed, and we'll definitely be coming back – not only for the burgers and the incredibly cool location but also for the disco music that's constantly playing.