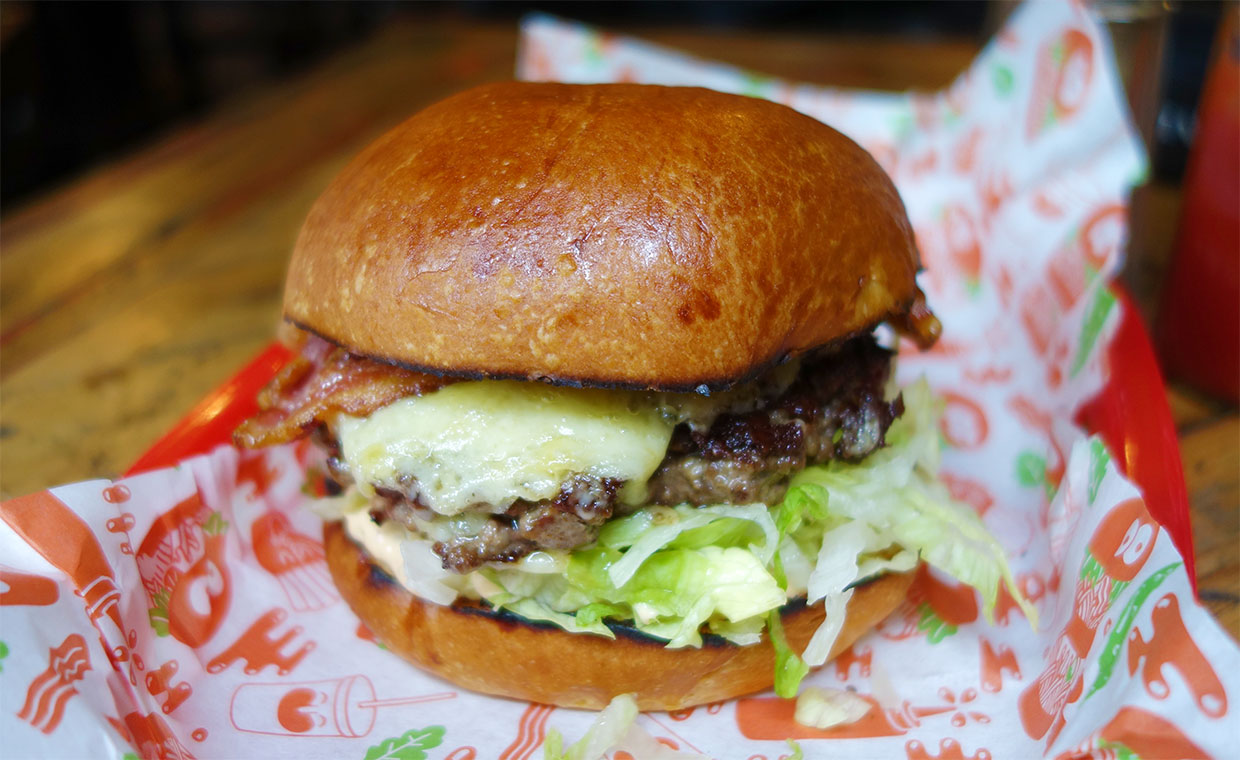 Burgershack har stängt sin verksamhet.
Uppdatering: Burgershack har för närvarande stängt.
Burgardetektiven Burgerac (eller Gavin Lucas som han faktiskt heter) är lite av en legend inom Londons hamburgarscen. Han har recenserat burgare i Englands huvudstad i flera år på sin blogg, och hans omdömen har varit väldigt användbara under våra många resor till England. Nu har han inlett ett samarbete med puben The Royal Oak i Marylebone, där hans egendesignade burgare står på menyn.
Valet stod mellan en klassisk cheeseburgare och en lite mer anspråksfull variant med cheddar, bacon och briochebröd. Det blev den sistnämnda Burgershack-burgaren, och den var snudd på fantastisk. Briochebrödet var utmärkt rostat och höll ihop väl. Även köttet var av hög kvalitet, men det var stekt aningen för hårt och var lite bränt på utsidan. Samma sak gällde för baconet, som egentligen var lite för knaprigt för att passa in rent smakmässigt. En vällagrad cheddarost är ju något av det godaste som finns, men denna variant från Keen's var något övermäktig och tog lite för mycket utrymme.
Det är såklart en smaksak vad man gillar, men det är dessa småsaker som gör att Burgershack inte når ända fram till fullpoängaren. Fast det är ruskigt nära, och Burgeracs gästspel är en av höjdpunkterna i Europas främsta burgarstad.
In English
After years of burger hunting in London, the prolific Burgerac has combined forces with The Royal Oak in Marylebone and opened Burgershack. "The Posh One", with Keen's cheddar, smoked bacon, chipotle sauce and a brioche bun was excellent, even though the patty and bacon were a bit too well-done and crispy. The cheddar was too sharp as well, and its potency overwhelmed our tastebuds somewhat. But overall we were really impressed, and we will definitely come back for another burger as soon as we can.