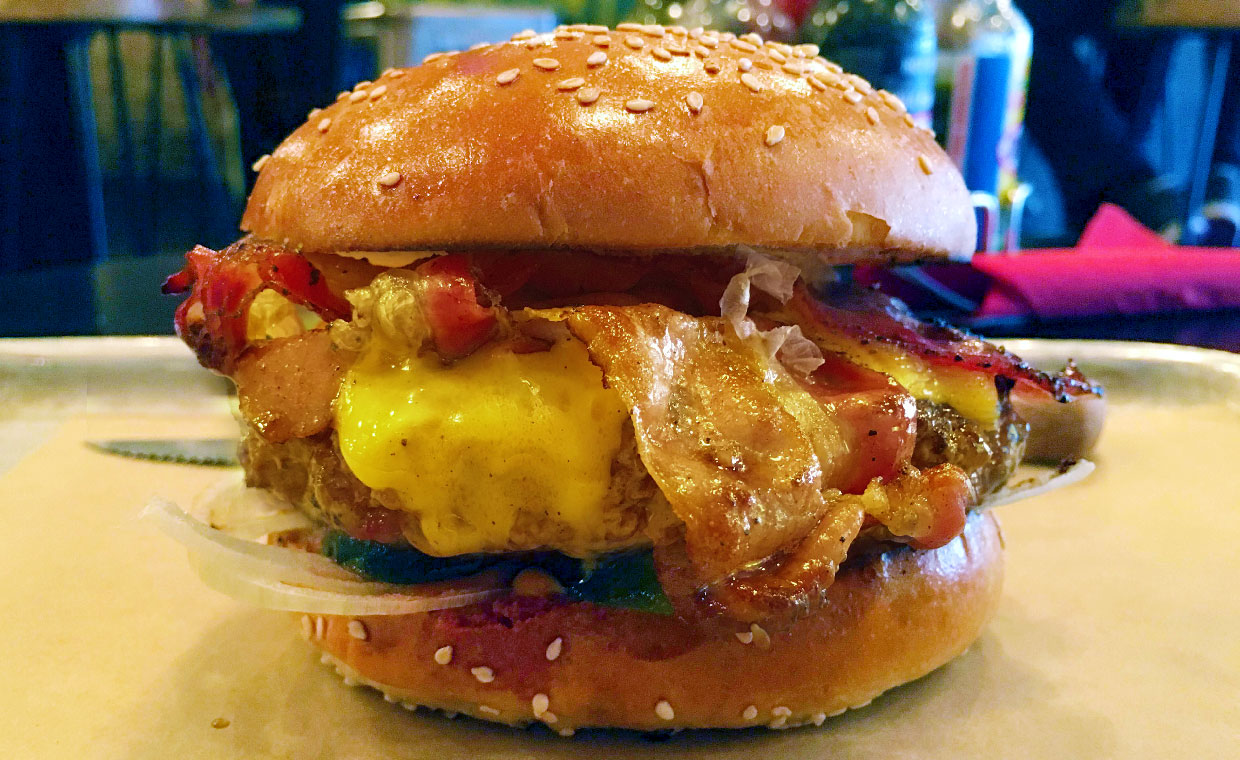 Chuck Burgers började sin resa 2012 i den nordvästra förorten Hatch End i London. De har även sedan våren 2015 en permanent foodtruck vid Street Feasts-lokaler vid Canada Water, och i juli 2016 öppnade de sin tredje restaurang i Spitalfields i Londons East End. Deras gedigna burgarmeny är inspirerad av de bästa burgarhaken "tvärs över dammen", men är den tillräckligt bra för att stå på egna ben?
Vi besökte deras originalrestaurang i Hatch End och när vi steg in i lokalen möttes vi direkt av trevlig personal som ledde oss till ett bord. Stämningen och klientelet påminde mer om centrala London än dess ytterkanter. På menyn stoltserar de med att alla burgare är gjorda på högrev som har mörats i 28 dagar.
Vi valde att testa deras bacon- och cheeseburgare som innehöll bland annat sirapsrökt bacon, lagrad cheddarost och deras egna Chuck-sås. Burgaren som serverades var komponerad med skicklighet, och den avnjöts enkelt med händerna istället för bestick. Det gillar vi.
Smakerna var riktigt bra, särskilt den distinkta söta smaken och sältan från det sirapsrökta baconet. Köttet kunde ha varit lite saftigare samt haft en mer framträdande rosa kärna. Brödet, som var av typen potatisfralla, hade en god söt smak, men tyvärr också en tunn skorpa som förstörde en del av den annars förträffliga texturen.
Chuck Burgers gör en riktigt bra burgare, men har en bit kvar innan de kan mäta sig med de bästa burgarhaken i Londons innerstad.
In English
Chuck Burgers have since 2012 served high quality burgers from the suburb Hatch End in the northwest of London. Since 2015 they also have a permanent food truck in Canada Water in south London, and in early July 2016 they opened up their third spot in Spitalfields in the East End. Their burgers are made from 28 day aged chuck steak together with a sweet-tasting potato bun. We decided to try their bacon and cheeseburger with maple smoked bacon, cheddar and their homemade Chuck sauce. The flavours were really good, but the patty could have been more medium-rare. The bun was also really tasty, despite a thin crust that messed up the overall texture. Other than that this was a great burger with a lot of heart and great flavours.