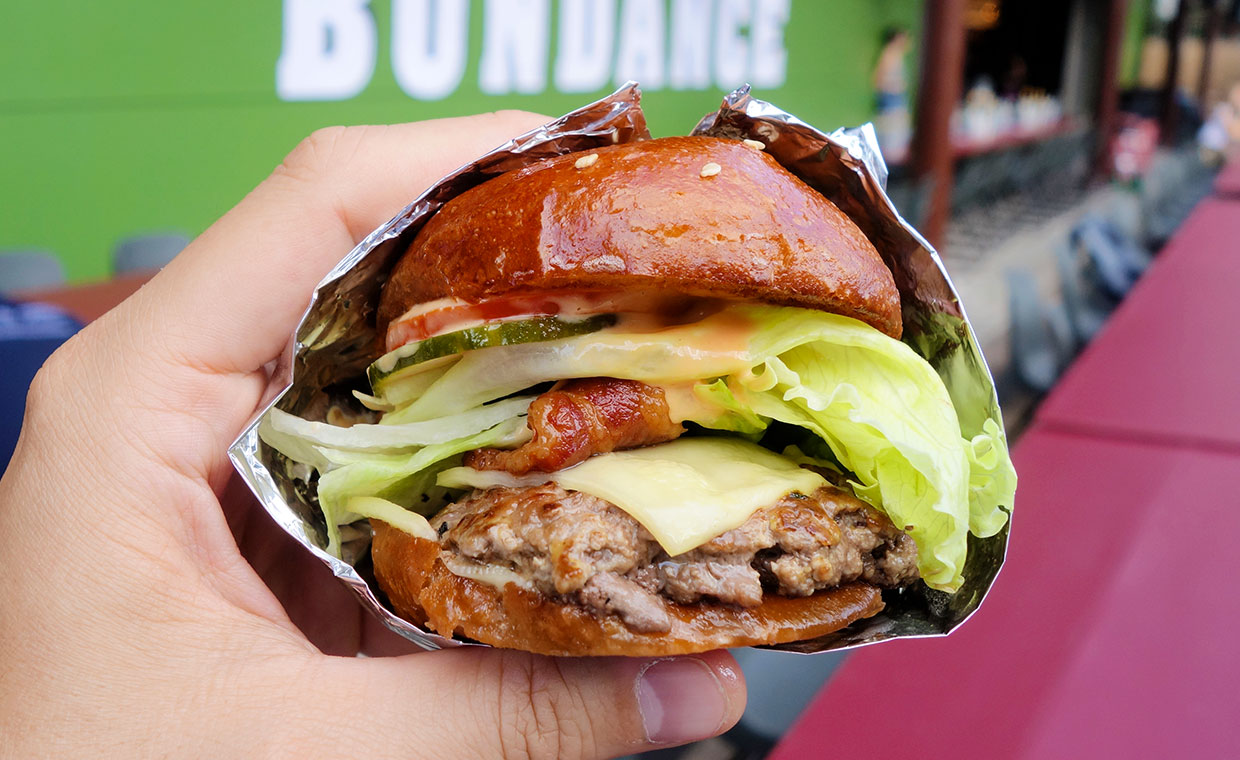 Four Legs huserar i den klassiska puben The Compton Arms i London sedan våren 2019, där de serverar modern brittisk mat. Men de har blivit särskilt uppmärksammade för sin cheeseburgare, och de låg högst upp på vår att göra-lista när vi besökte hamburgerfestivalen Bundance Burger Festival 2019 i Hawker House under National Burger Day.
Under festivalen serverade de specialburgaren The Little Tasty Mouthful med hängmörat kött från Dexter-ko, dubbla skivor emmentalerost, isbergssallad, tomat, pickles, hackad lök och en rökig dressing. Tanken var att detta skulle vara en gourmetvariant av McDonald's storsäljare Big Mac, och den såg rätt fin ut trots en överdriven mängd sallad.
Vi upptäckte dock snabbt flera problem med burgaren. Köttet var inte alls så saftigt eller smakrikt som vi hade hoppats på. Den picklade gurkan smakade mest skarpt av vinägern, och all isbergssallad tog över – även om det åtminstone var fräscht krispig. Baconet var tyvärr riktigt hårt, men det bidrog åtminstone med en hel del härligt rökig smak och hade en fin sälta. Brödet var spänstigt och snyggt och höll ihop väl. Den sparsmakade mängden sesamfrön på toppen förhöjde dessutom smaken på brödet med en subtil nötighet.
I det stora hela så var det en helt okej burgare, men det kändes inte som att Four Legs nådde sin fulla potential på festivalen. Om de levererar bättre i pubmiljö återstår att se, men burgaren vi åt höll i alla fall inte måttet jämfört med alla andra stjärnskott i London.
In English
Four Legs took over the kitchen in the classic London pub The Compton Arms in spring 2019, where they serve modern British cuisine. Their cheeseburger has been the talk of the town, putting them at the top of our list of burgers to try at Bundance Burger Festival 2019 at Hawker House during National Burger Day.
During the festival they served The Little Tasty Mouthful, aged Dexter beef patty, Emmental cheese, bacon, iceberg lettuce, tomato, onion, pickle and a liquid smoke sauce. The intention was to create a gourmet Big Mac, and it looked really nice despite the large amount of lettuce.
A few problems became apparent pretty quickly though. The patty was far too dry and didn't taste at all as much as we'd hoped. The pickle was too vinegary and the heaps of lettuce took up too much space, even though they added some nice crunch and freshness. On the other hand, the bacon was too crunchy, but it added some much needed savoury smokeyness. The bun added a nice mouthfeel though and held everything in place. The sprinkling of sesame seeds on top gave the burger a slightly nutty flavour as well.
Overall the burger was alright, but we didn't feel like Four Legs reached their full potential during the festival. We'll have to visit The Compton Arms in the future to see how they do in a pub environment, because The Little Tasty Mouthful really couldn't hold its own against the other London titans.