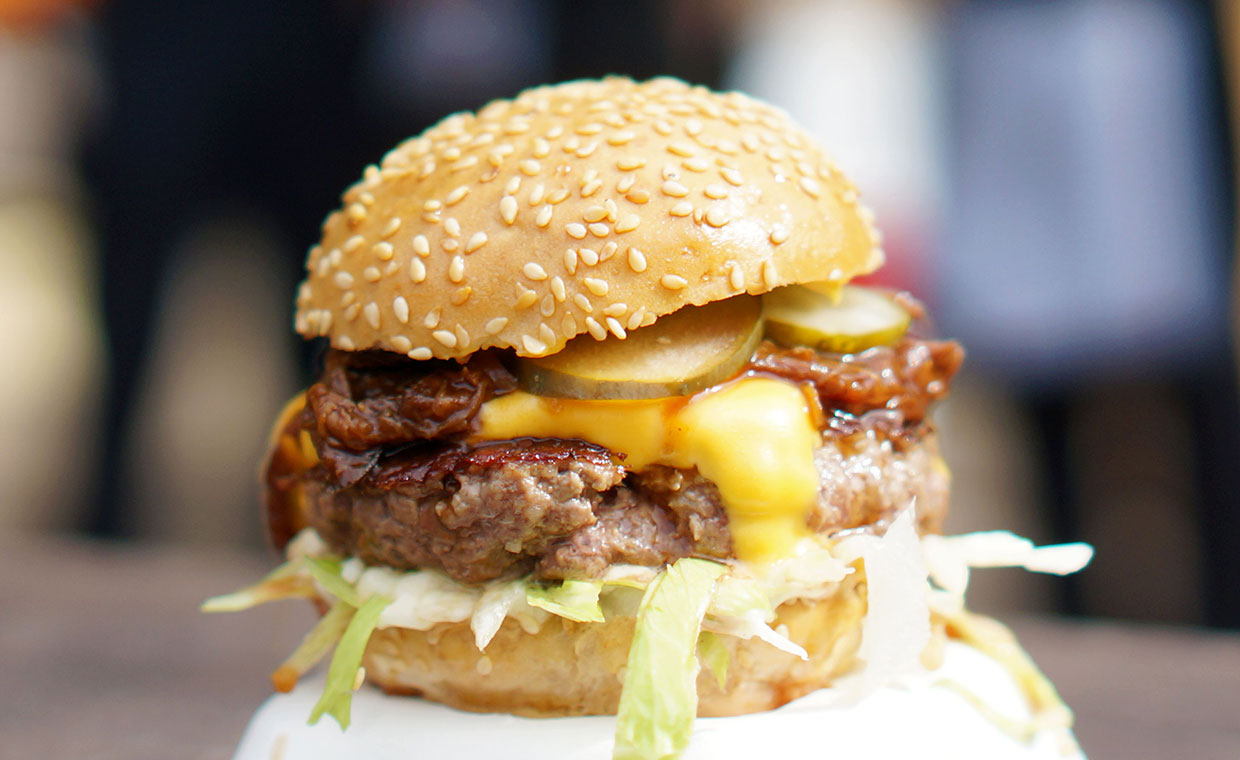 Lucky Chip är en liten kedja med tre restauranger utspridda i centrala London. De gillar sina populärkulturella referenser med temamenyer baserade på tv-serier. Ett standardval på menyn heter till exempel Kevin Bacon och där är det ju inte svårt att gissa var fokus ligger.
Burgaren vi testade på National Burger Day 2017 var inget undantag i namngivningen då den hette Conor McGregors Quarter Pounder, döpt efter MMA-fightern som skulle ha sin välpublicerade boxningsmatch två dagar senare.
Utöver ett fluffigt och gott bröd och en rejäl och smakrik köttpuck gjord på 40 dagars mörat så var denna burgares specialitet den irländska Guiness-bräserade nötköttsstuvningen och den rökta whiskeymajonnäsen. Stuvningen var lite kladdig och söt med en liten ton av Guiness och en textur som närmast kunde liknas med pulled pork. Det var gott men kanske lite väl rinnigt.
Köttet var väldigt mört och smakrikt, samtidigt som brödet höll ihop väl. Det här var en bra burgare där vårt enda riktiga klagomål var det klassiska tillägget av strimlad sallad som inte tillförde något smakmässigt. Det, och kanske även mängden servetter som behövdes för att hantera hela den kladdiga härligheten.
In English
Lucky Chip is a chain of three restaurants in the central parts London. They like their pop culture references (for instance, one of the standard options on the menu is a burger called Kevin Bacon and it's not hard to guess where the focus is on that one). The burger we tried during National Burger Day 2017 was called Conor McGregor's Quarter Pounder, and was a cheeseburger with a thick patty made from 40 day aged beef. It had a special topping of Guiness braised Irish beef stew and smoked whiskey mayo. The stew was a bit sticky and sweet with only a note of the Guiness flavour and a texture fairly similar to that of pulled pork. It tasted good but was a bit runny. Our only real complaint was the addition of sliced cabbage that didn't really add anything to the flavours. That, and perhaps also the amount of napkins needed to clean ourselves after we'd finished our messy meal.