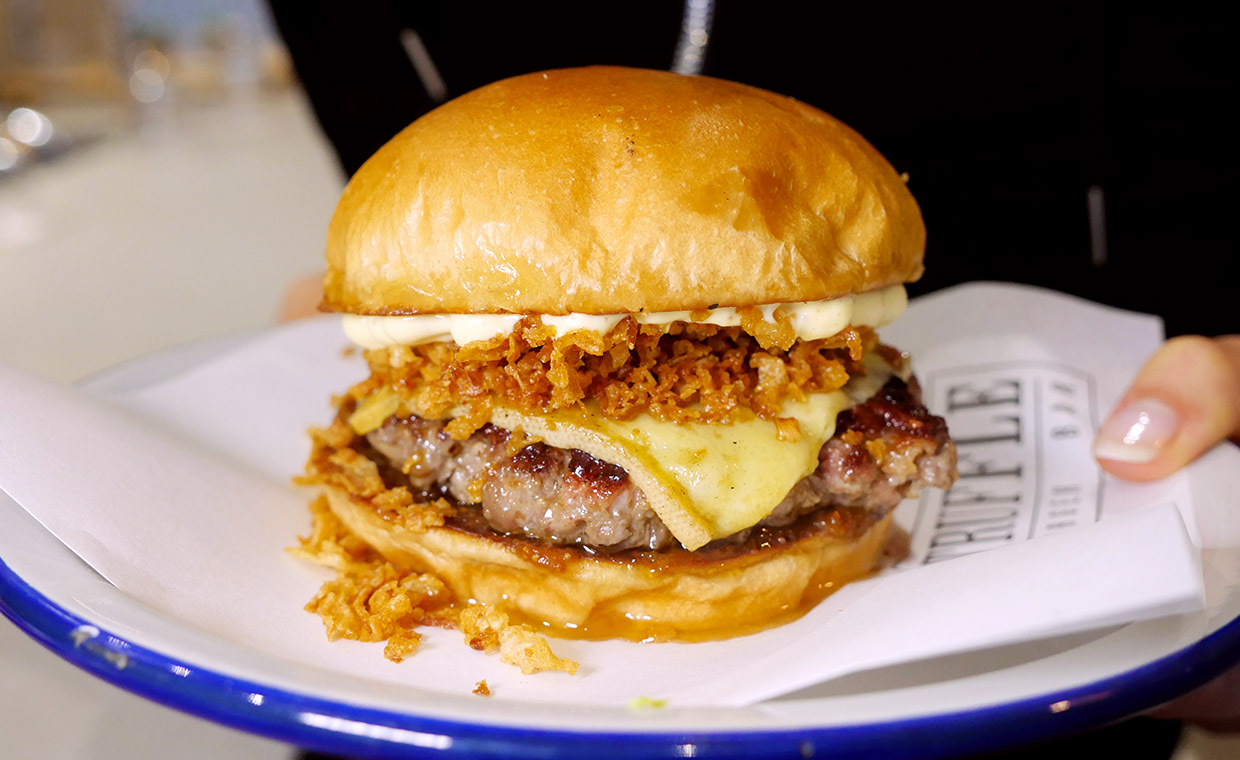 Londons sprudlande SOHO-kvarter är fyllt till bredden med hippa restauranger, och mitt bland dessa ligger en av Truffles två restauranger. De har ett öppet kök och stilren inredning, vilket inte för tankarna till ett klassiskt burgarhak. Men som namnet avslöjar så har de tryffel i alla sina hamburgare, och om du någonsin har ätit tryffelmajonnäs med för mycket tryffelolja så ringer det kanske en varningsklocka i bakhuvudet när du läser detta, men tryffelmajonnäsen här är verkligen förstklassig.
Vi drogs direkt till dubbelburgaren "Double Patty Cheeseburger", som enligt kocken var en tolkning på klassikern Big Mac. Den bestod av två stycken 80-gramspuckar med hängmörat kött, ost, sallad, pickles och burgarsås med tryffel och kostade 10 GBP (115 SEK). Vi beställde även signaturburgaren "Truffle Burger" för 8,5 GBP (95 SEK) med en 100-gramsköttpuck gjord på 75 % hängmörat kött och 25 % rökt bacon, samt fikonsylt, rostad lök, racletteost och tryffelmajonnäs.
Varenda komponent – allt från det lätta och luftiga brödet till de egenpicklade gurkorna och den subtila användningen av tryffel – var väl balanserade och med utmärkta proportioner. Tyvärr så var själva köttet den svagaste komponenten i vår måltid. Eftersom vi satt vid i baren så kunde vi observera hela tillagningsprocessen, och fick då se hur de överarbetade köttet med händerna innan de smashade det på stekbordet till cirka 1,5 centimeters tjocklek. Köttet serverades visserligen med en röd kärna med mycket safter kvar, men det blev ändå ganska kompakt i och med det hårdhänta förarbetet. Signaturburgaren klarade dock detta tillvägagångssätt bättre i och med den höga fetthalten från baconet.
Truffle har ett öga för detaljer och serverar välsmakande burgare och det enda vi önskade oss var lite mörare kött. Men lyckligtvis har de bevisat en gång för alla att tryffel verkligen hör hemma i så gott som alla burgare, så länge ingrediensen hanteras varsamt och matchas med rätt komponenter.
In English
London's vibrant SOHO district is filled to the brim with hip restaurants, and one of Truffle's two restaurants is located in the very centre of this exciting area. They have an open kitchen and sleek interiors that make them stand out against most other burger joints. And just like their name implies, they use truffle in all of their burgers. If you've ever eaten a truffle mayo with too much truffle oil you might be deterred by this, but the truffle mayo here is top quality stuff.
We were immediately drawn to the Double Patty Cheeseburger, which the chef described as a homage to the classic Big Mac. It consisted of two 80-gram patties with dry-aged beef, cheese, lettuce, pickles and a truffle dressing and cost 10 GBP (13 USD). We also ordered their signature Truffle Burger for 8.5 GBP (11 USD) with a 100-gram patty made from 75% dry-aged beef and 25% smoked bacon, plus a fig jam, crispy onions, raclette cheese and truffle mayo.
Every component, from the light and fluffy bun to the home-made pickles and the subtle use of truffle, were well-balanced and the proportions were excellent. Unfortunately the weakest link turned out to be the actual beef patties. Since we were seated by the bar we could see the entire cooking process, which revealed that they spent far too long overworking the meat with their hands before smashing it on the griddle to 1.5 cm thick patties. The end result still had a red center and was quite juicy, but ended up overly compact. Thankfully their signature burger was a bit better, thanks to the high fat content from the bacon.
At the end of the day, Truffle have a keen eye for details and serve great tasting hamburgers. The only thing we'd like to improve is the beef, which should and could have been much more tender. At least they've proved once and for all that truffle really can work in all kinds of burgers, as long as it's handled correctly and is matched with all of the other ingredients.