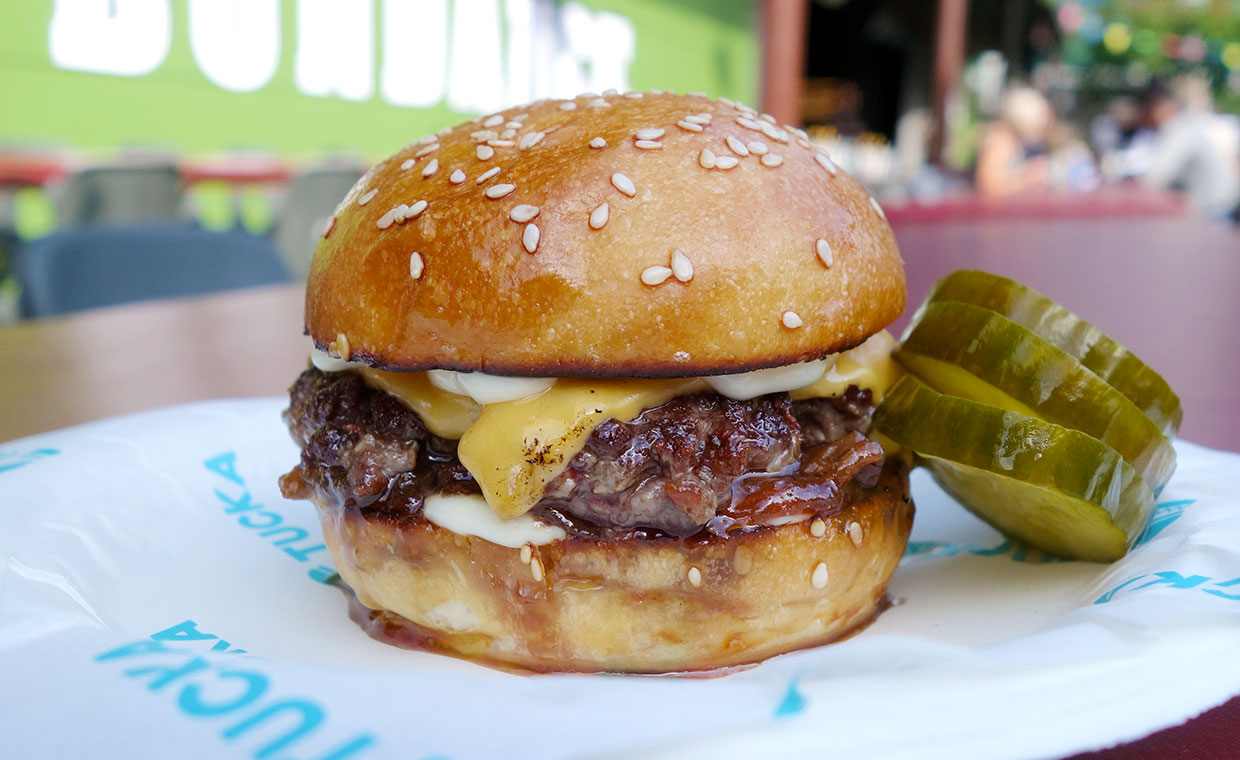 Tucka Burger började servera sina foodtruckburgare i London under 2018, och har på senare tid fått en halvpermanent plats på streetfood-marknaden Dinerama i Shoreditch. Där tillagar de dekadenta och prisvärda burgare (för 5-6 pund, alltså 60-75 kronor) gjorda på hängmörat kött till en hungrig publik. Vi testade dem på matfestivalen Bundance Burger Festival 2019, och deras specialburgare Mark Tuckaburg 2.0 var den solklara festivalvinnaren!
Mark Tuckaburg 2.0 innehöll 50 dagars hängmörat kött, rostat vitlökssmör, baconsylt, ost och majonnäs, serverat i ett stunsigt och supersaftigt sesambröd. Till detta serverades pickles som man själv fick lägga i burgaren. Det var en kladdig pjäs redan innan vi börjat äta, och första tuggan formligen dröp av köttsafter. Detta är inte alltid något positivt, men här fungerade det – mycket tack vare det rejäla brödet och de djupa och intensiva dofterna och smakerna från köttet. Hängmörat kött alltså, vilken grej! Alla de andra ingredienserna bjöd på egna smakexplosioner; baconsylten var härligt sötsalt och osten var perfekt krämig. Majonnäsen i kombination med vitlökssmör gjorde dessutom brödet extra saftigt och smakrikt.
Kort sagt så var det här allt vi var ute efter i en burgare, och Tucka Burger har utmärkt sig som ett av de mest intressanta burgarhaken på Londons streetfoodscen just nu. Vi ser fram emot att följa deras utveckling, och längtar redan tillbaka!
In English
Tucka Burger started serving their foodtruck burgers in London back in 2018, and have recently got a semi-permanent location at the street food market Dinerama in Shoreditch where they cook decadent burgers at an impressive price-point of 5-6 GBP (6-8 USD). We first encountered them at Bundance Burger Festival 2019, and their specialty burger Mark Tuckaburg 2.0 was our definite favourite at the festival!
Mark Tuckaburg 2.0 contained 50 day dry-aged beef, bacon jam, American cheese, mayo and roasted garlic butter in a toasted sesame bun, with a thick-cut pickles buffet on the side. This was already a juicy and gooey little piece of art before we'd started eating, and our first bite oozed of juices. This isn't always a good thing, but it worked great here – mostly thanks to the absorbing bun and the deep and intense beefiness. Wow, that dry-aged beef really hit the spot! All of the other ingredients added their own punch as well; the bacon jam was intensely sweet and salty and the cheese was super creamy. And the mayo with the roasted garlic butter really lifted the bun, making it extra juicy and flavoursome.
It's safe to say that this was everything we were looking for in a burger, making Tucka Burger one of the most interesting burger vendors in London right now. We're really looking forward to following their journey, and we're already looking forward to our next burger!