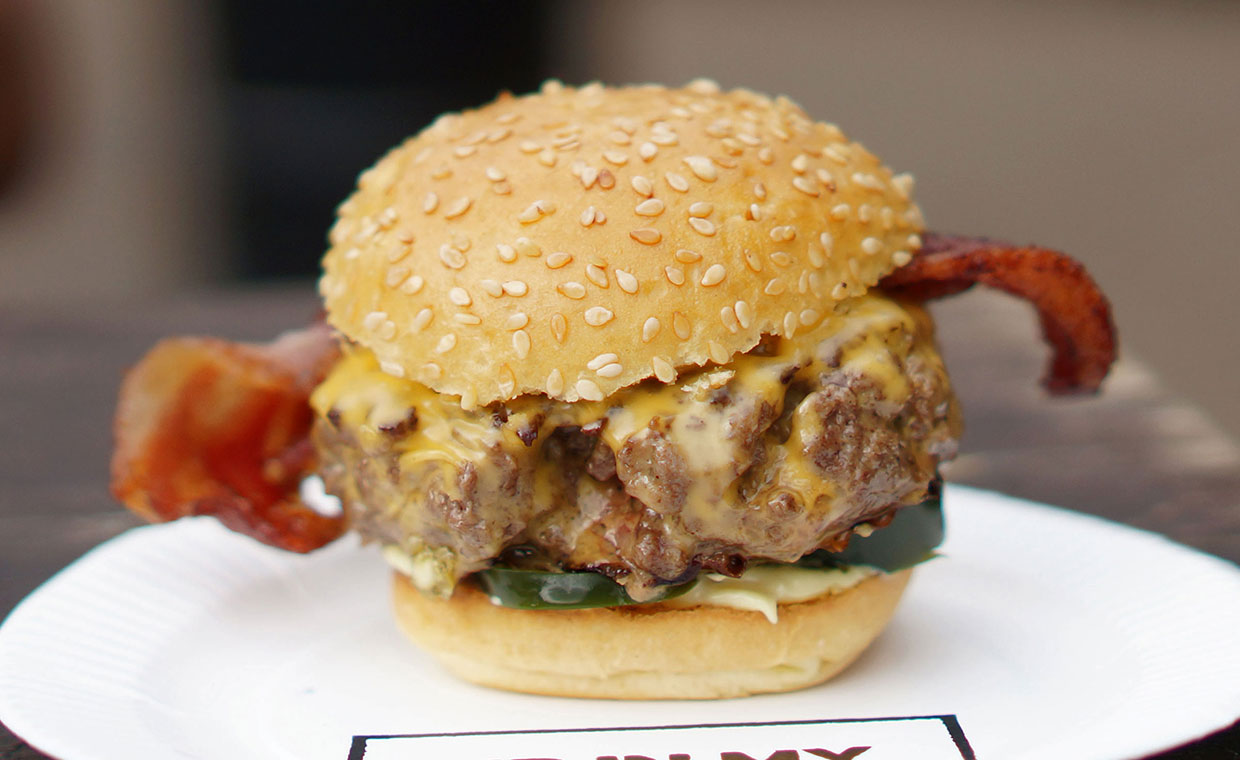 Up in my Grill har i vanliga fall fullt fokus på grillat kött, så att de ibland kör burgare på menyn är inte helt oväntat. Den här recensionen är baserad på burgaren Roy "Chubby" Brown som Up in My Grill serverade på National Burger Day i London, och det ska understrykas att de endast har sin burgare på menyn av och till.
Vi har blivit besvikna på "köttexperter" tidigare, så förväntningarna var något dämpade. Burgarna grillades såklart, och brödet fick ligga med under lock medan osten smälte och köttet blev färdigt, ungefär som man gör med sliders. Grillade burgare kan lätt bli en aning torra, men bacon, jalapeñorelish, aioli och picklad chili lät i alla fall som en ganska intensiv smakkombination.
Det vi blev serverade var en varm, mjuk, saftig helhet med välbalanserade smaker och en angenäm hetta. Det smakade riktigt bra, och eftersom vi besökte dem under en burgarfestival så var burgarna medvetet små (95 gram) och de försvann snabbt i ett par glupska tuggor, men det är nog också det mest negativa vi kan säga om dem.
Håll koll på deras Instagram för att få veta när de har burgare på menyn. Du hittar enklast Up in my Grill på Hawker House och de är väl värda ett besök.
In English
Burgers come and go on Up in my Grill's menu, and are not always available. This review is based on the Roy "Chubby" Brown burger they served during National Burger Day 2017 in London. Usually focused on grilling grass-fed British beef, it's not surprising they also serve burgers every now and then. The burgers were grilled, of course, and they followed the slider cooking method by covering the cheese and bun with a lid. Apart from cheese, the toppings consisted of bacon, jalapeño relish, aioli and pickled chili. It sounded intense, but the flavours were really well-balansed with a slight heat. And the burger itself was warm, soft and juicy. Since it was National Burger Day, the burgers were deliberately small (95 grams) but that was also the most negative we could come up with. Check their Instagram (@upinmygrilluk) to see when they serve burgers, and make sure to pay them a visit if you have the chance.