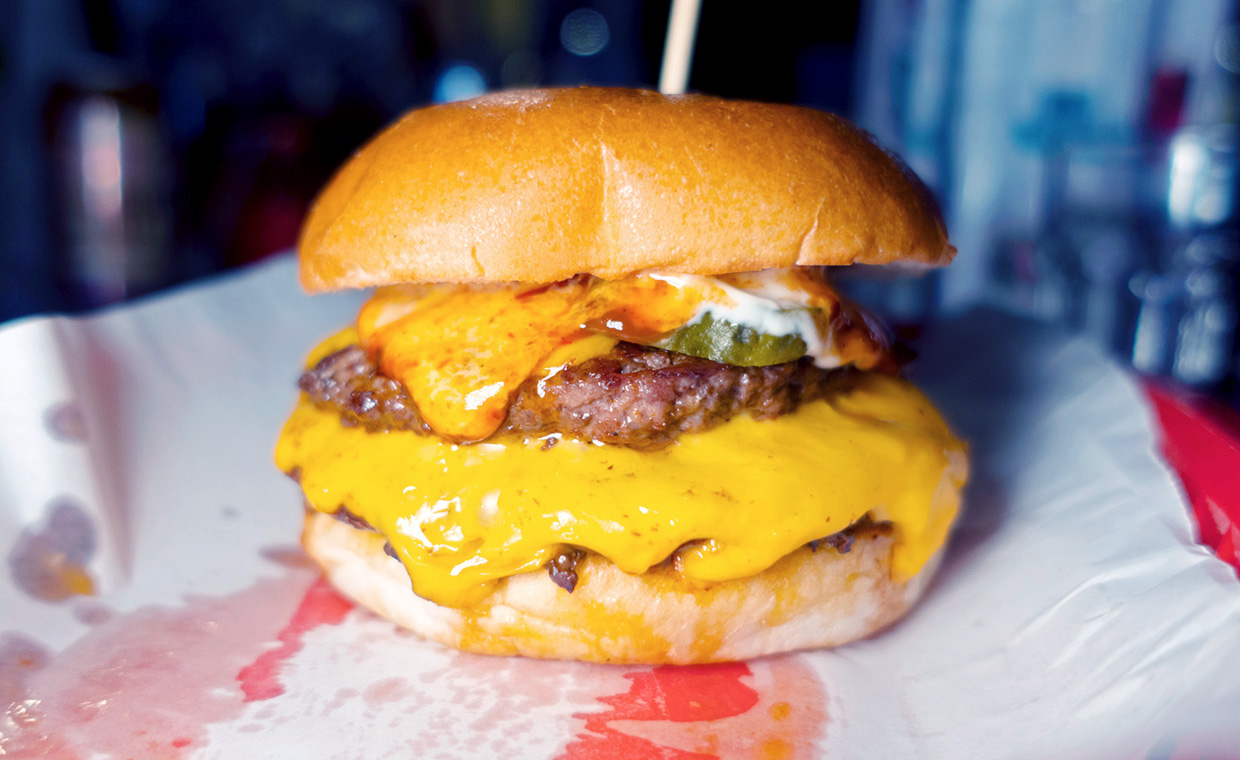 Almost Famous är helt klart Manchesters mest kända burgarkedja, och de öppnade för första gången redan 2012. Sedan dess har de hunnit öppna ytterligare en restaurang i Manchester, och har dessutom expanderat till Liverpool och Leeds. Vi besökte deras stora restaurang i Manchesters Great Northern-distrikt, där vi möttes av en härligt poppunkigt inredd restaurang med massor av kitschiga detaljer och en hel del attityd. Valet föll på en Juicy Double för 10 GBP (125 kronor), som bestod av en dubbel cheeseburgare med hängmörat kött, extra mycket ost, pickles, pepparmajonnäs, burgardressing, baconketchup.
Den serverades med en onödig pinne som tryckts genom hela skapelsen, men annars såg den riktigt fin ut. Vi blev lite oroliga när vi såg köttpuckarna, då de såg förformade ut, men de var inte alls kompakta, utan hade en utmärkt textur och var saftiga. Själva köttet, som hängmörats i tre veckor, var rejält kryddat, med härligt djupa toner. Den stora mängden ost hade smält ypperligt, och lyfte verkligen smakerna. Vi gillade även deras många såser, som bjöd på såväl hetta som sälta. Picklesen var också syrliga och smakrika, men tillförde inte tillräckligt med fräschör och textur. Vi hade behövt något mer för att skapa lite fler kontraster i måltiden. Brödet var färskt och väldigt squishy, men hade tyvärr inte rostats på insidan. Det var tur att vi åt upp vår burgare fort, för den hade inte hållit ihop särskilt mycket längre.
Vi är glada över att Almost Famous inte bara lyckats leva upp till hajpen – de har till och med överträffat den. Detta var den bästa burgaren vi åt i centrala Manchester under vår resa, och de är ett utmärkt ansikte utåt för staden. Vi hoppas att de sprider sitt burgarbudskap genom England så att fler personer får testa dem.
In English
Almost Famous is most definitely the most well-known burger chain in Manchester, and they first opened back in 2012. Since then, they've opened another restaurant in the city, and have also expanded to Liverpool and Leeds. We visited their large establishment in Manchester's Great Northern district, where we were met by a charmingly pop punk restaurant with loads of kitschy interiors and loads of attitude. We ordered their Juicy Double for 10 GBP (12.5 USD), which was a double cheeseburger with dry-aged beef, extra cheese, pickles, pepper mayo, burger sauce and bacon ketchup.
It came served with an unnecessary wooden skewer that had been run straight through it, but apart from that it looked pretty great. We were a bit worried about the patties, as they looked pre-formed, but they weren't compact at all. They had an excellent texture and were super juicy. The beef, which had been dry-aged for three weeks, was properly seasoned and had a deep beefy flavour. The large amounts of cheese had melted nicely and really enhanced the flavours. We liked their many sauces, which added both heat and saltiness. And their pickles were full of flavour and added some freshness, even though they didn't quite manage to cut through all the other ingredients. We could have done with some other ingredient to balance everything out and add some texture variation. The bun was fresh and really squishy, but hadn't been toasted on the inside. It was a good thing that we finished out burger pretty quickly, as the bun wouldn't have lasted much longer anyway.
We are happy to see that Almost Famous don't just live up the the hype – they exceed it as well. This was the best burger we ate in central Manchester during our trip, and they're a great representative for the city. We hope that they keep expanding throughout England so that more people get to try them.