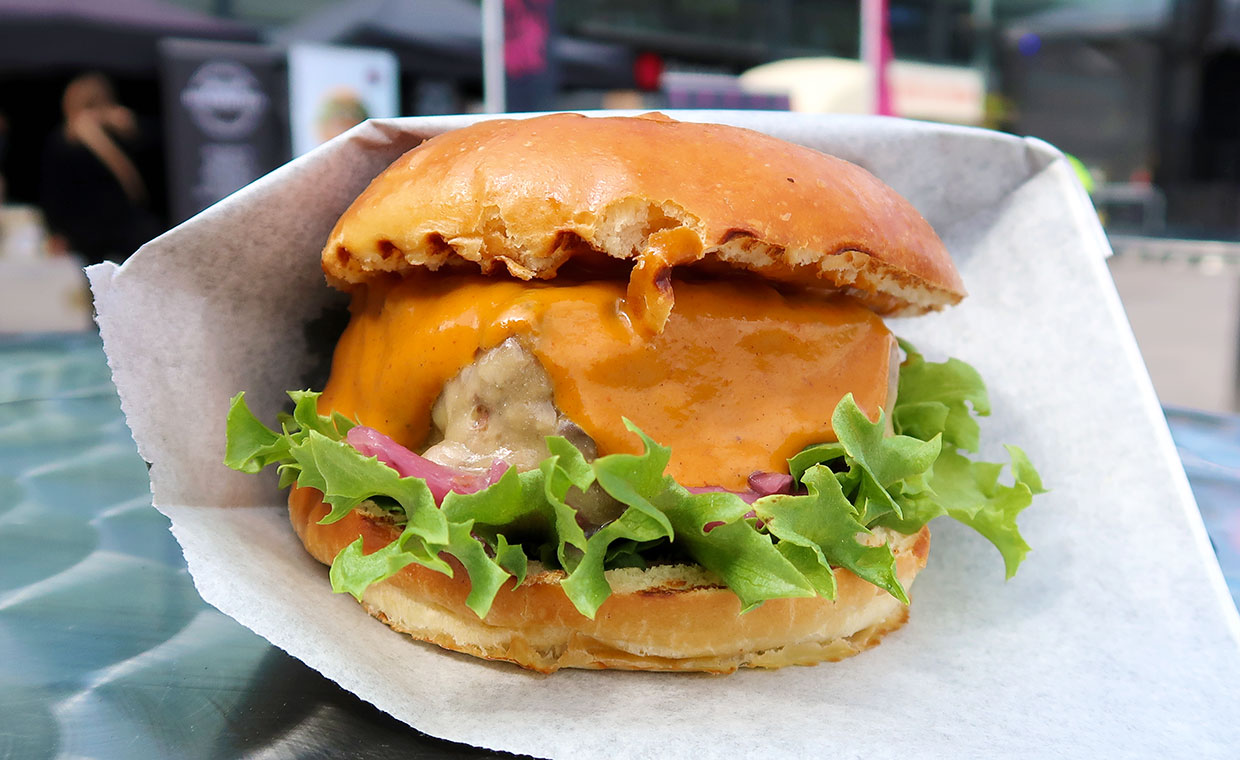 Kusmiku Street Food & Bar startade som en foodtruck under 2016, och sedan 2017 har de även en restaurang i Heinola, 15 mil norr om Helsingfors. De har en ganska bred meny med olika typer av streetfood, men burgarna är hjärtat i verksamheten. Vi testade deras hamburgare under burgarfestivalen Burger Lovers Festival 2019 i Helsingfors.
Festivalburgaren bestod av en rejäl köttpuck med Monterey Jack-ost, chipotlesås, hallonpicklad rödlök, gul senap och sallad. Den serverades i ett briochebröd som var fint rostat och som höll ihop under hela måltiden. Köttet var grovmalet och hade en fin rosa kärna, men trots storleken så var det inte tillräckligt kryddat, och smakade därför inte särskilt mycket. Det kändes snarare som att chipotlesåsen skulle stå för all smak, då den var helt dominerande smakmässigt. Såsen hade en tydlig sötma från tomater, en lätt rökighet och en skarp kryddigt kontrasterande smak som vi tror var spiskummin. Tyvärr föll den oss inte i smaken.
Den något stelnade osten tillförde mest tuggmotstånd, och samma sak gällde löken. Kusmiku försvann med andra ord lite i konkurrensen med alla andra bidrag på festivalen, men väl hemma i Heinola så tror vi nog att de kan komma till sin rätt.
In English
Kusmiku Street Food & Bar started out as a food truck back in 2016, and in 2017 they opened a restaurant in Heinola, 150 km north of Helsinki. Their menu contains of several street food items, with burgers at the very core. We tried their hamburgers at the Burger Lovers Festival 2019 in Helsinki.
Their festival burger contained a large patty with Monterey Jack cheese, chipotle dressing, raspberry pickled red onions, yellow mustard and lettuce. It was served in a nicely toasted brioche bun that held its own throughout our meal. The coarsely ground beef was pleasingly pink in the middle, but despite its large size it felt under seasoned and didn't taste of much. Rather, it felt like the chipotle dressing was the main ingredient, with its dominating flavours. It had a sweet tomato base, some smokiness and a contrasting spice from what we think was cumin. Unfortunately it didn't really tickle our taste buds in a good way.
The somewhat stale cheese and the pickled onions mainly made the burger chewy, and didn't add much flavour. Kusmiku Street Food & Bar couldn't really compete with the other burger vendors at the festival, but we have a feeling that they'll fare better back in their home town of Heinola.