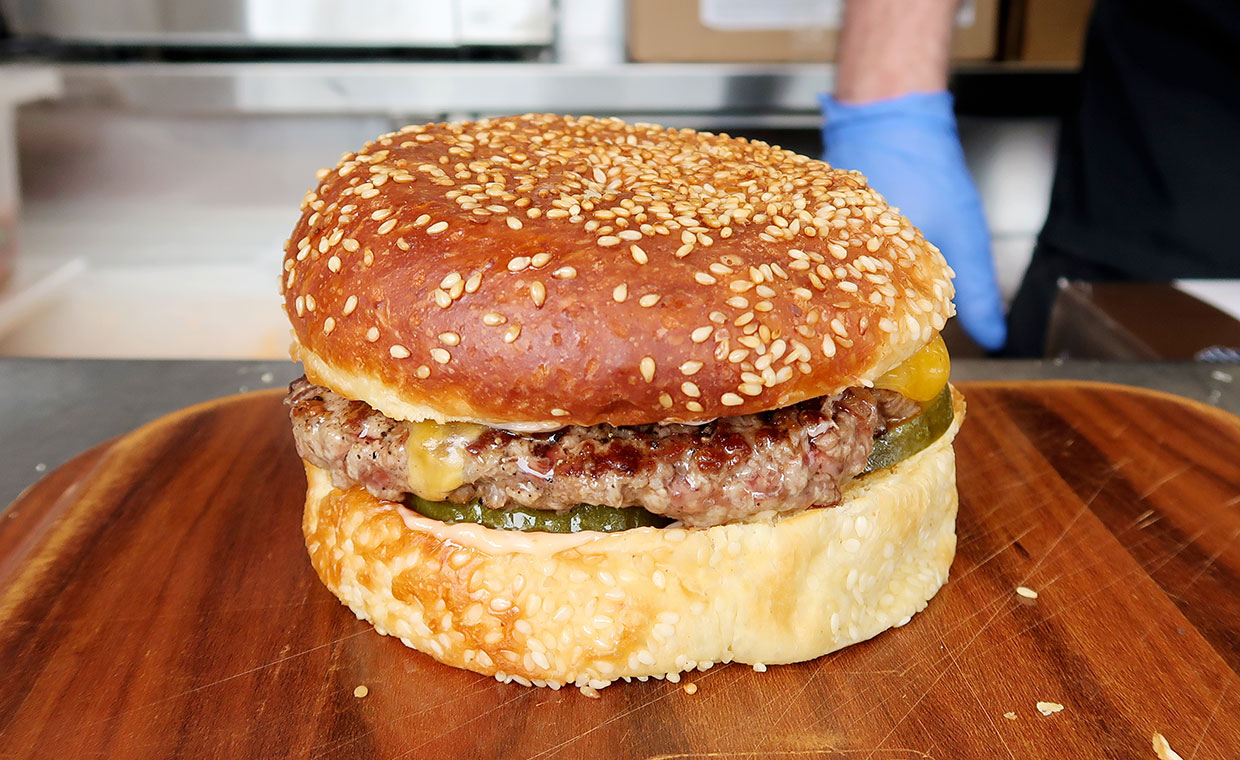 Bites Burgers öppnade sin första restaurang i Helsingfors under 2016, och finns idag på flera platser runt om i staden. Vi kom först i kontakt med deras burgare under burgarfestivalen Burger Lovers Festival 2019 i Helsingfors. Festivalmenyn bestod av två burgare; en standardburgare med köttpuck, lagrad cheddar, majonnäs och pickles samt en vegetarisk burgare gjord på svarta bönor. Vi beställde deras standardburgare för tio euro – samma pris som i deras restauranger.
Hamburgaren hade ett väldigt fint utseende med ett fluffigt sesamprytt bröd som hade bakats till en snygg gyllenbrun färg. Den kändes bra i handen, och var härligt följsamt – precis som vi vill ha det. Men trots att brödet var väldigt fluffigt och fint så hade det alldeles för mycket sesamfrön på både ovansidan och undersidan. Mängden sesamfrön var minst sagt överväldigande. Köttet var i alla fall löst och saftigt med en tillfredsställande smak, men hade kryddats med lite för mycket peppar. Det förstörde inte helhetsintrycket, men vi hade gärna sett en bättre balans. Både osten och pickles gjorde sitt till upplevelsen, och allt kändes gediget.
Det största problemet med burgaren var egentligen texturerna. Det lösa köttet och det väldigt fluffiga brödet stod i stark kontrast till den knapriga sesamytan. Om brödet hade rostats lite mer och köttet fått lite mer stekyta så hade det känts mer välbalanserat.
Trots dessa invändningar så var det tydligt att Bites Burgers serverade en av de bästa burgarna under Burger Lovers Festival 2019. De tillhör helt klart toppskiktet i Helsingfors och är väl värda ett besök nästa gång du befinner dig i Finlands huvudstad.
In English
Bites Burgers opened their first restaurant in Helsinki back in 2016, and now they have locations all around the Finnish capital. We first came in contact with their burgers at the Burger Lovers Festival 2019 in Helsinki, where they sold two different festival burgers; a standard hamburger with a patty, aged cheddar, mayo and pickles, and a vegetarian burger made from black beans. We ordered their standard burger for 10 Euros (11 USD), which is the same price as in their restaurants.
The burger looked really nice with a fluffy and golden brown sesame bun. It felt great and was nice and squishy – just the way we like it. But despite the softness of the bun it contained an overpowering amount of sesame seeds on both the top and bottom bun.  We did like the loose, juicy and great-tasting patty though, even if it had been seasoned with a bit too much black pepper. It didn't ruin our meal in any way, but we would have preferred more balanced seasoning. The cheese and the pickles did their job at least, and we really did enjoy our burger.
Our main gripe was the differing textures. The loose meat and fluffy bread really stood out against the almost crunchy sesame coating. We're pretty sure that the burger would have felt more balanced if they'd toasted their buns and fried their meat a bit more.
Despite these niggles, it was clear that Bites Burgers served one of the best hamburgers at Burger Lovers Festival 2019. They're definitely one of the best burger joints in Helsinki, and are well worth a visit the next time you're in the capital of Finland.