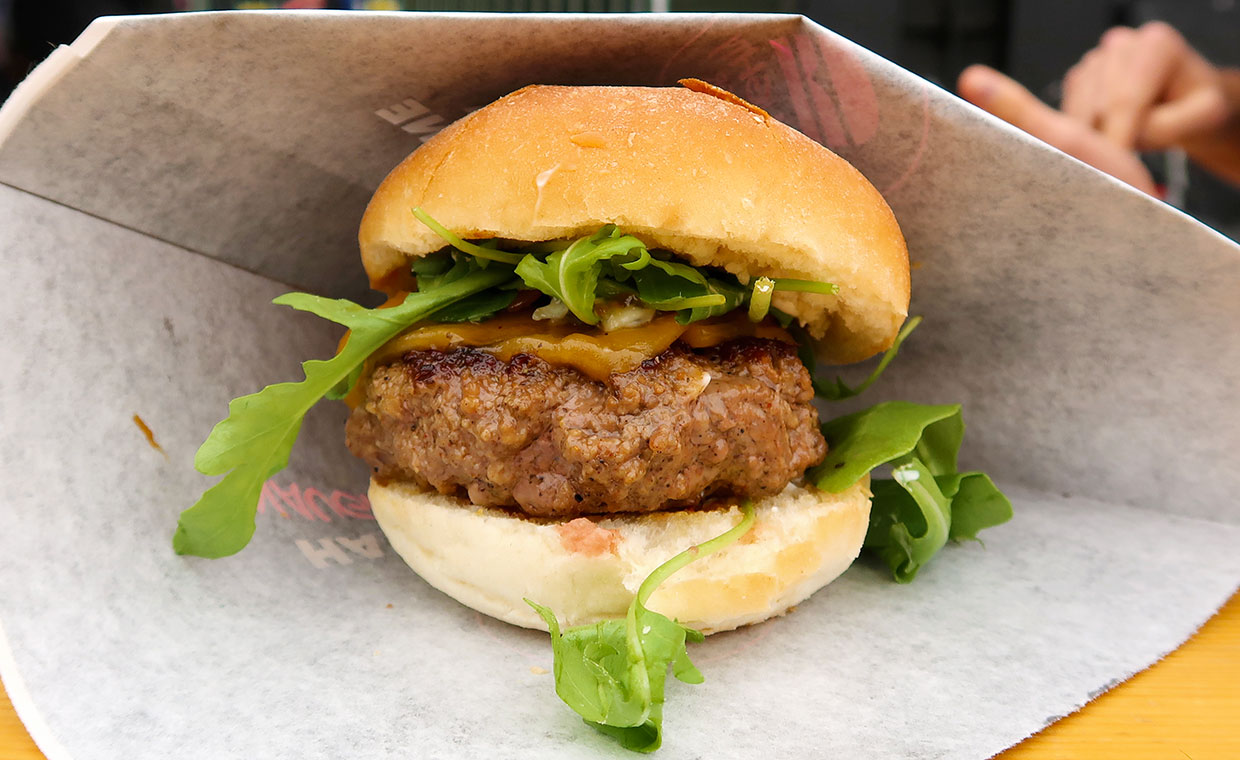 Naughty BRGR är ett av de mer hajpade finska burgarhaken just nu. De har flera runt restauranger runtom i Finland – bland annat i Helsingfors, Esbo och Tammerfors – vilket även gör dem till en av de mest framträdande aktörerna på den finska marknaden. Första gången vi fick testa deras burgare var på burgarfestivalen Burger Lovers Festival 2019 i Helsingfors.
De hade två miniburgare på menyn under festivalen; husburgaren NAUGHTY samt den vegetariska Shroom-burgaren, som kostade fem euro vardera. Vi testade deras NAUGHTY-burgare med cheddarost, Saint Agur-blåmögelost, baconsylt, ruccola och aioli. Det här var verkligen en händelserik hamburgare som bjöd på många olika smaker – på både gott och ont.
Brödet hade ett tillfredsställande stuns och bett, men det blev snabbt uppenbart att stjärnan i burgarens konstruktion var baconsylten som gav hela måltiden en trevligt rundad smak. Sylten hjälpte även till att kontrollera smaken från blåmögelosten så att den inte stack iväg allt för mycket. Vi är inte i regel inte fantaster av vare sig blåmögelost eller ruccola på hamburgare, men här fungerade de faktiskt förvånansvärt bra tillsammans.
Köttet var tyvärr den stora besvikelsen här. Pucken hade en ganska lös sammansättning vilket vi visserligen gillar, men det fanns en seghet i bettet som skvallrade om att det legat på varmhållning en stund innan servering. Vi tyckte även hela burgaren, och köttet i synnerhet, var lite undersaltad.
Naughty BRGR bjöd på både besvikelser och en del positiva överraskningar. Vi vet inte om köttet får utstå varmhållning på deras restauranger, men vi hoppas att så inte är fallet med tanke på att grundsmaken faktiskt är riktigt god. Vi hoppas de tar kvaliteten på större allvar i framtiden, oavsett om burgarna serveras på en matfestival eller på en restaurang.
In English
Naughty BRGR is one of the most hyped burger joints in Finland at the moment. They're also located in several Finnish cities, such as Helsinki, Espoo and Tampere, making them one of the more prominent hamburger restaurants in Finland. We first tried their burgers at Burger Lovers Festival 2019 in Helsinki.
They sold two mini burgers at the festival – the house burger NAUGHTY and a vegetarian Shroom burger, both costing 5 euros each. We ordered their NAUGHTY burger with cheddar, Saint Agur blue cheese, bacon jam, arugula lettuce and aioli. And all of these ingredients really created a lot of flavours.
The bun felt sufficiently bouncy and fresh, but it quickly became obvious that the bacon jam was the real star here, really balancing out the flavours of the entire meal. It mellowed out the blue cheese as well. To be honest we're not the biggest fans of either rocket or blue cheese on burgers, but here they worked surprisingly well together.
Unfortunately we were left disappointed by the meat. The patty was soft and airy, which we appreciated, but it was also chewy and rubbery, a tell-tale sign of it resting for too long. We also felt that the entire burger (and the patty in particular) could have done with a bit more salt.
Naughty BRGR gave us a few disappointments and a couple of nice surprises. We don't know if they let their patties rest this long at their actual restaurants, but we hope not seeing as the overall quality was pretty good. Fingers crossed that they'll focus more on quality in the future, no matter if it's at their burger restaurants or at a food festival.