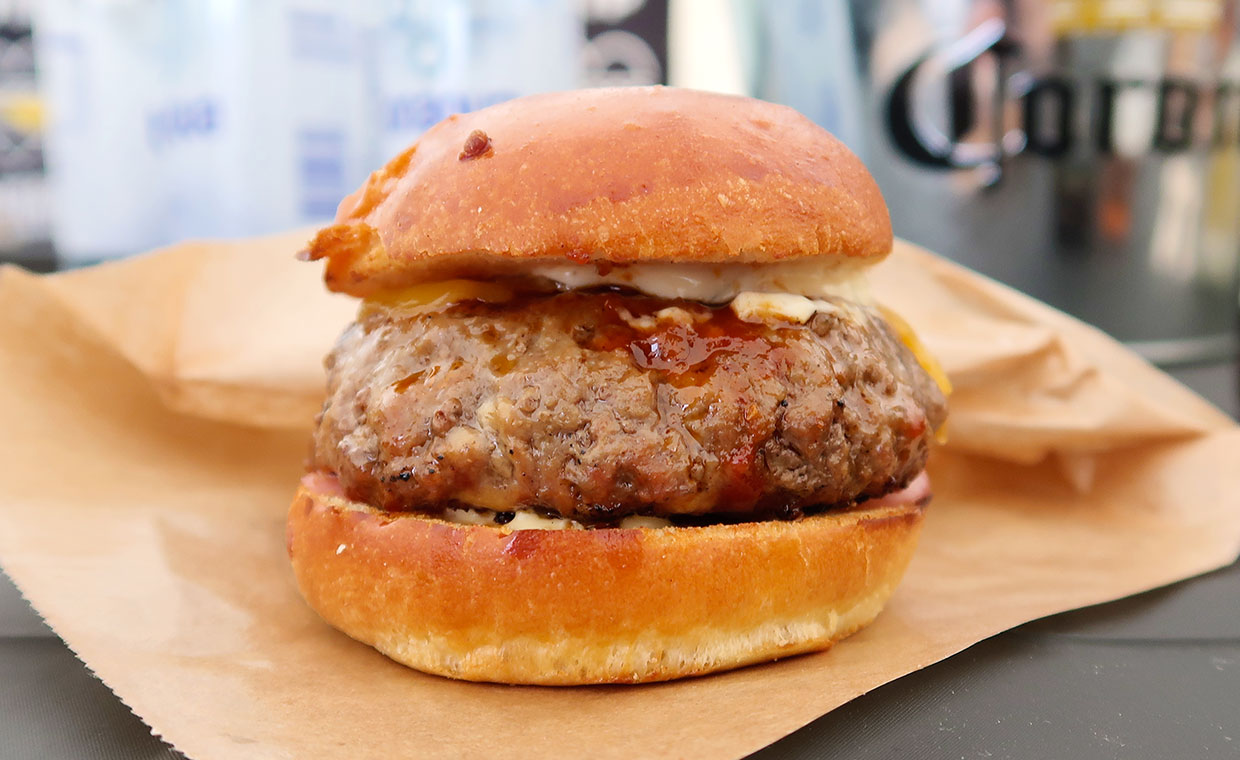 Den första Social Burgerjoint-restaurangen öppnades i Helsingfors i januari 2017 av Mika Tuomonen, då mest känd som vinnare av finska versionen av MasterChef 2012. Idag har de restauranger i över en handfull olika städer i Finland, och Mika är en tongivande person på den finska burgarscenen. Vi fick möjlighet att testa deras burgare under burgarfestivalen Burger Lovers Festival 2019 i Helsingfors.
Den burgare vi åt på festivalen var i sliderstorlek och innehöll kött, cheddarost, bearnaisemajonnäs och picklad rödlök, och serverades i ett briochebröd. Brödet var exemplariskt förberett, och var både frasigt och smörigt i smaken. Köttet stod tydligt i centrum, med en rejäl och grovmalen puck som hade saltats försiktigt och som kunde skryta med en fin rosa kärna. Tyvärr var det inte så mycket smak på köttet, och trots att det såg inbjudande ut så kändes det ganska torrt. Trots att köttet dominerade rent utseendemässigt så hamnade det faktiskt i baksätet smakmässigt, och burgaren kändes obalanserad. Detta var mest på grund av den feta bearnaisemajonnäsen, som dominerade helt. Vi hade kanske önskat lite mer dragon eller att den picklade rödlöken var syrligare för att tämja den feta smaken.
Social Burgerjoint blev vald som expertjuryns favoritburgare under festivalen. Vi blev inte helt övertygade av burgaren vi testade, men vi ser fram emot att testa fler burgare ur deras ordinarie sortiment i framtiden.
In English
The first Social Burgerjoint restaurant opened in Helsinki in January of 2017 by Mika Tuomonen, who was best known back then as the winner of MasterChef 2012 in Finland. Today, they have restaurants in more than a handful of Finnish cities, and Mika is one of the countries' leading burger personalities. We tried their burger during the Burger Lovers Festival 2019 in Helsinki.
The mini burger they served contained beef, cheddar, béarnaise mayo and pickled red onions in a brioche bun. The actual bread was excellent, toasted on the inside and with a buttery taste. The meat stood out with its hefty and coarsely ground patty, carefully seasoned and with a pink centre. It looked great, but didn't really taste that much and felt a bit dry. And even though the patty was the most noticeable component it couldn't hold its own in the taste department, making our burger a bit unbalanced. The main culprit was the greasy béarnaise mayo that felt overpowering. We had liked to see a bit more dragon or more bite from the pickled red onions in order to tame the fattiness.
Social Burgerjoint was awarded the jury's choice at the festival. We weren't as impressed as they were, but we're still looking forward to trying their real restaurant burger in the future.