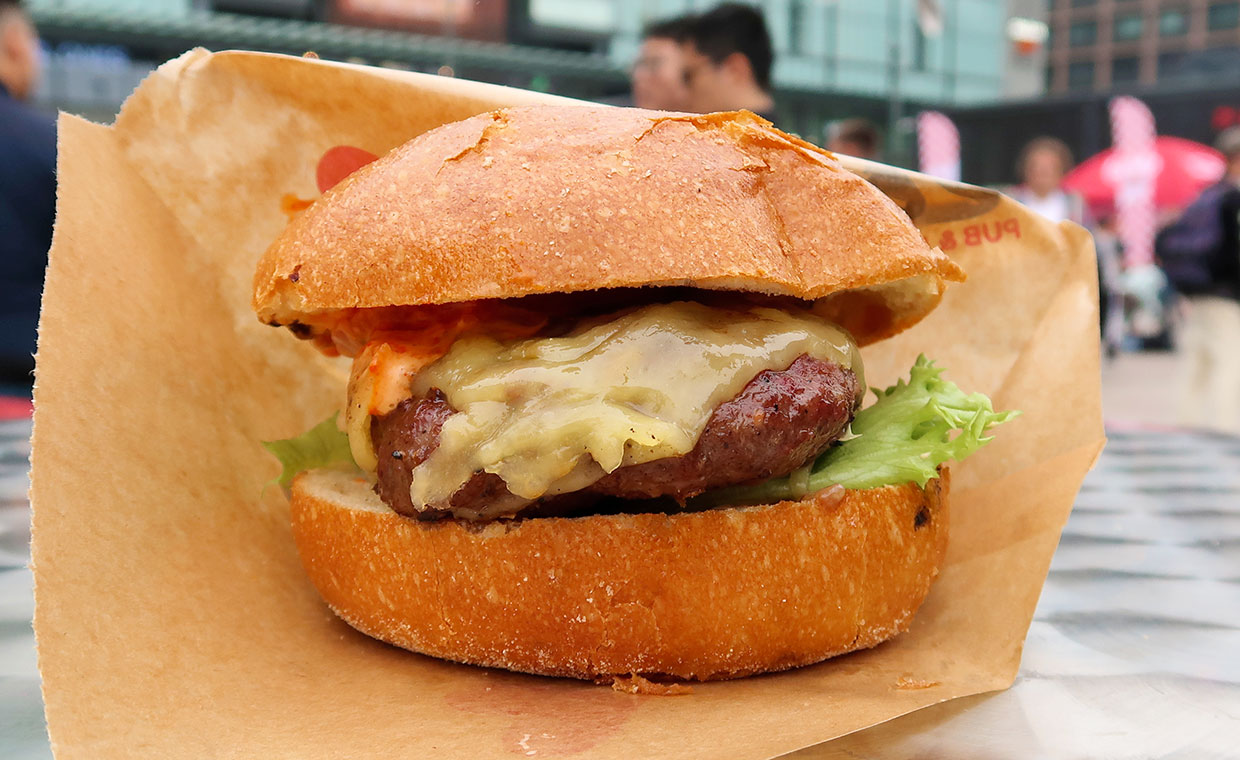 Treffi on the Road är foodtruck-verksamheten från Treffi Pub & Bar i Helsingfors som åker runt till festivaler runt om i Finland och serverar burgare. På Burger Lovers Festival 2019 i Helsingfors testade vi deras Cheeseburger som kostade 12 euro (130 kronor) som kom med ost, tomat, sallad och dressing i ett briochebröd. Värt att notera är att restaurangen har en helt annan meny och deras burgare ligger närmare 20 euro (220 kronor) och är antagligen en helt annan upplevelse.
Det första som vi märkte när vi tog en tugga var hur torrt briochebrödet var. Ytan var så hård och torr att bitar ramlade av. Dressingen bjöd i alla fall på rejäla smaker och var ganska stark, vilket var en överraskning som uppskattades. Köttpucken var tyvärr desto tråkigare. Den hade visserligen en rejäl grillad smak, men konsistensen var otroligt tuggig och seg. Vi tog en titt på hur de tillagade köttet och fick se hur det först grillades för att sedan läggas i ett tråg i väntan på beställning, för att slutligen värmas upp igen på grillen så att osten fick smälta. Katastrof!
Det finns potential för att göra en god grillad burgare här, men detta kräver en kärlek för råvarorna som helt verkade saknas hos Treffi on the Road.
In English
Treffi on the Road is the food truck from the Helsinki restaurant Treffi Pub & Bar. They travel all over Finland, serving their burgers at various festivals, and we visited them at Burger Lovers Festival 2019 where we ordered their Cheeseburger for 12 EUR (13 USD), with cheese, tomato, lettuce and sauce in a brioche bun. It's worth noting that their actual restuarant has a different menu, and that their 20 EUR (22 USD) burgers probably are completely different from the one we ate.
The first thing we noticed was how dry the brioche bun was, with a hard crust that fell to pieces after just one bite. The sauce packed a bit of a punch, which was an unexpected surprise, but this wasn't enough to make up for the terrible patty. Sure, it had a smokey, grilled flavour, but it was a chewy and rubbery mess. We had a look at how they cooked their burgers, and were saddened to see that they first grill loads of meat and then let it rest in a tray until someone places an order. Then they put some cheese on the meat and reheat it until it has melted. What a shame.
We saw some potential here to grill a great burger, but it was obvious to us that Treffi on the Road lacked the love and respect for the ingredients that was required for this.