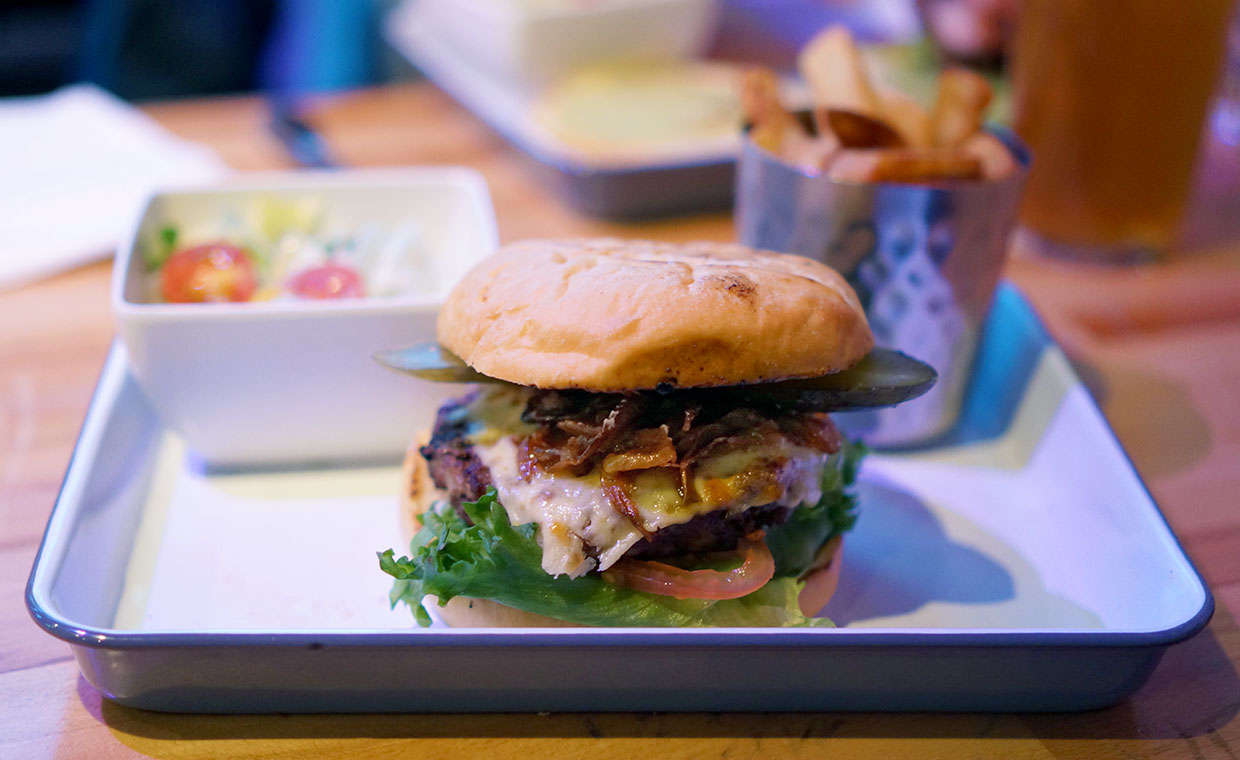 Woolshed är en australisk restaurang belägen i centrala Helsingfors. Den stora lokalen är inredd med rustika möbler, mängder med tv-apparater som visar sport från andra sidan världen samt en hel del verktyg associerade med fårskötsel. Det sistnämnda gav oss mer skräckfilmsvibbar än trivsel, men vi förstår ändå tanken med temat. Personalen stod i baren och hängde med sina kompisar när vi kom in och mottagandet kändes disträ – det är aldrig kul att komma in på en restaurang och känna att man stör.
Woolsheds webbplats visar stolt upp stolta burgaren, och allt deras kött är importerat ända från Australien. Vi höll tummarna för att burgarna skulle väga upp för personalens ointresse och de otäcka krokarna på väggarna, tyvärr var deras Classic Beef Burger (med ost, majonnäs, stekt lök, tomat, sallad och inlagd gurka) jättetråkig. Köttet var hårt, ingredienserna hade olika temperatur – köttet, osten och löken var varma medan resten var kylskåpskallt – och den stora gurkbiten var bara i vägen.
Brödet var okej, och vi gillade både osten och löken, men resten av måltiden kändes mest tråkig. Det finns betydligt bättre burgare i Helsingfors så om du inte är jätteintresserad av att titta på rugby eller fårklippningsredskap finns det egentligen ingen anledning att besöka Woolshed.
In English
Woolshed is an australian restaurant located close to the center of Helsinki. It's a sports bar, but relating to the name it also has a kinda weird sheep shearing theme with a lot of tools on the walls. The meat is imported from Australia and it's obvious they are proud of their food – especially the burgers. Unfortunately both the food and the service fell short. The meat was compact and chewy, and didn't taste much. The greens were ice-cold and the big pickled cucumber was mostly just in the way. The bread was ok and the cheese and the fried onions were tasty, but that doesn't make up for much. There are way better burgers in Helsinki, so unless you really like rugby – or scary sheep shearing tools – there is no real point in visiting Woolshed.