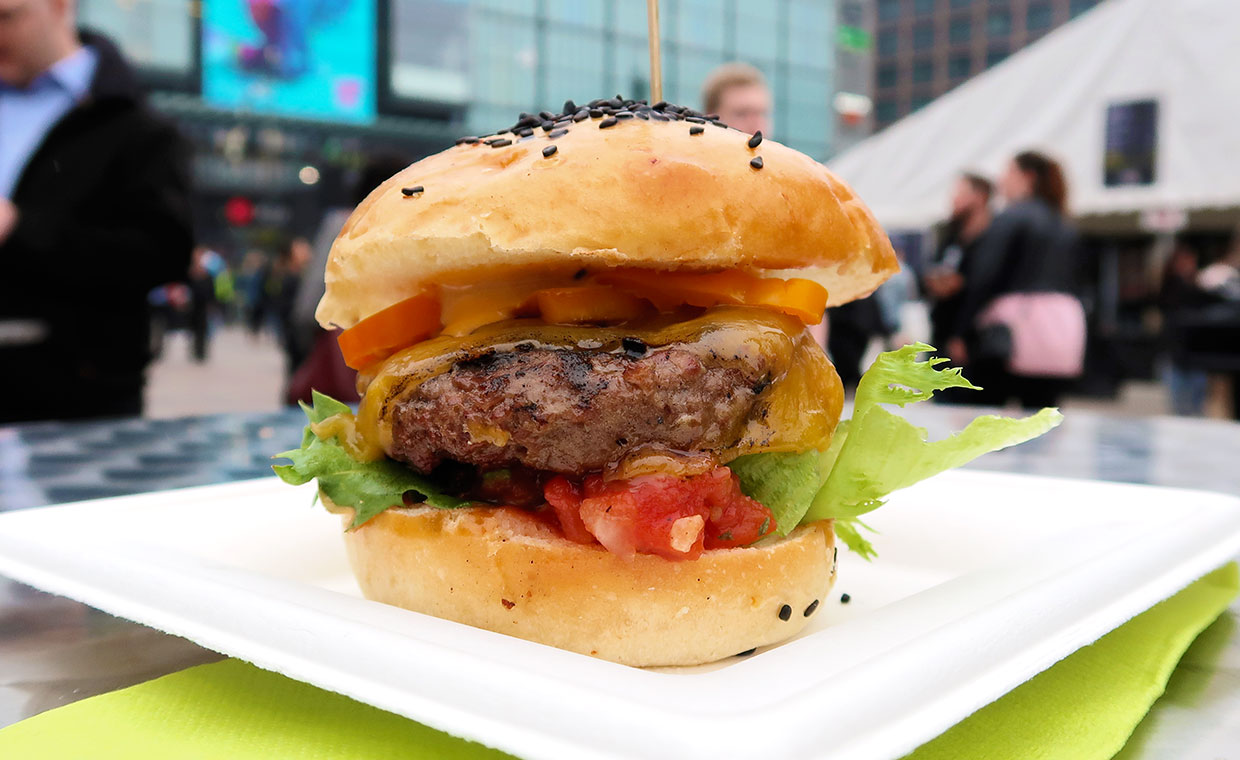 Burger5 hette tidigare Bowl D1ner, och öppnade 2013 i Kuopio, som ligger i mitten av Finland. Vår recension är baserad på burgaren de serverade under burgarfestivalen Burger Lovers Festival 2019 i Helsingfors, där de faktiskt röstades fram till festivalens bästa burgare.
Festivalarrangörerna berättade i förväg att Burger5 använde en potato bun, vilket var ovanligt bland finska hamburgerrestauranger. Men det visade sig att vår bild av vad som är typiskt för en potato bun (mjukt och stunsigt med ett kort bett) inte överensstämde med deras, då detta var ett ganska högt bröd som var täckt med ett lager svarta sesamfrön och som dessutom var ganska torrt – raka motsatsen till vad vi är vana vid. Inuti burgaren fanns en köttpuck, ost, chilimajonnäs, tomatsalsa, gul jalapeño och sallad.
Köttet var grovmalet, lätt saltat och hade en rosa kärna. Det var mjukt och förhållandevis saftigt, men det smakade tyvärr inte särskilt mycket utan försvann bland tomatsalsan och chilin. Burgaren i sig hade en riktigt trevlig hetta och mycket sötma från tomaterna, men sen var det inte så mycket mer rent smakmässigt.
Vår upplevelse var att smakerna i Burger 5:s burgare var obalanserade, och även om ingenting nödvändigtvis var dåligt i sig så fick fel saker fick ta framsätet. Kanske inte festivalens bästa burgare, men ändå värda ett besök om du befinner dig i Kuopio.
In English
Burger5 were previously called Bowl D1ner, and opened back in 2013 in Kuopio, a city in the middle of Finland. Our review is based on the burger they served at the Burger Lovers Festival 2019 in Helsinki, where they were voted the best burger at the festival.
The organizers were happy to tell us in advance that Burger5 had a potato bun, which apparently is unusual for Finnish burger joints. But it turned out that our expectations of what a potato bun should be (soft, squishy and easy to bite through) differed from their definition. Here, the bun was tall, covered with black sesame seeds and pretty dry. Apart from the bun, our burger contained a thick patty, cheese, chili mayo, a tomato salsa, yellow jalapeños and lettuce.
The coarsely ground beef was nicely seasoned with salt and had a pink centre. It was soft and quite juicy, but didn't really pack enough flavour to compete against the tomato salsa and chili. We enjoyed the heat, and the tomatos added an unexpectedly nice sweetness, but that was about it really..
Our main concern with Burger 5's burger was the unbalanced flavours, and despite nothing being bad we felt that they let the wrong ingredients take over. So, perhaps not our favourite festival burger, but you could do a lot worse if you're in Kuopio in need of a good burger.