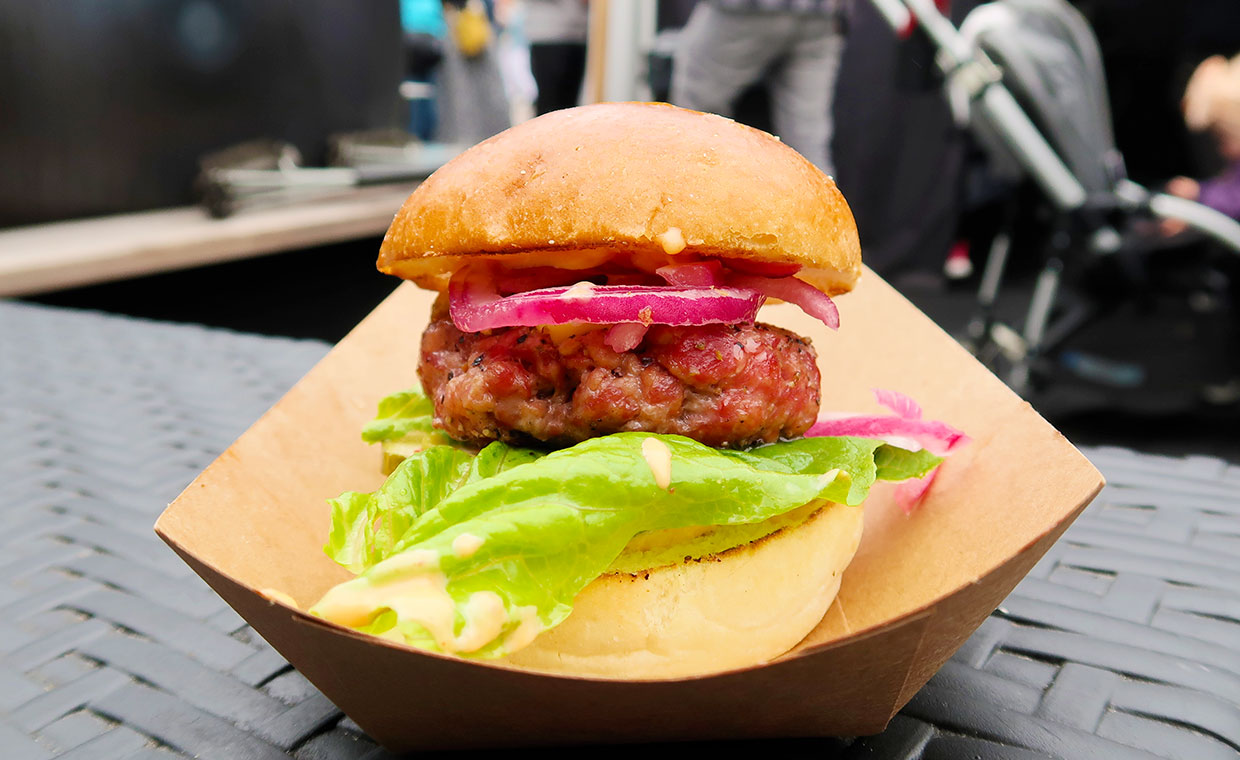 JJ's BBQ är ett välkänt rökeri i Finland som har sin restaurang i Salo, ungefär tolv mil väster om Helsingfors. Vi kom först i kontakt med deras burgare under burgarfestivalen Burger Lovers Festival 2019. Deras festivalmeny bestod av tre olika alternativ; två skapelser med pulled pork eller brisket i bröd, samt en renodlad burgare som de hade döpt till JJ's Smoked Burger. Vi valde givetvis den renodlade burgaren gjord på färs från Black Angus, som kostade 7 euro (cirka 75 kronor).
Burgaren presenterades och hanterades tyvärr ganska slarvigt. Vi förstår givetvis att en festival innebär en ökad stress, men det kändes nästan som om de var arga på burgarna. Köttpuckarna slängdes aggressivt och ovarsamt ner på ett tråg för att svalna efter att ha tillagats i ugnen.
JJ's Smoked Burger innehöll ost, sriracha-majonnäs, pickles, honungsmarinerad rödlök och ett salladsblad. Köttet var löst sammansatt vilket alltid är ett plus, men det hade ändå en seg textur på grund av att det hade tillagats i ugn och fått vila för länge efteråt. Vi kände dock att köttet hade en bra smak, även om den var lite för subtil. En sak som tyvärr inte var särskilt subtil var deras pickles. Smaken var helt okej, men den tog över helt och slog ut de andra ingredienserna.
Överlag var burgaren från JJ's BBQ rätt intetsägande, och det kändes inte riktigt som att burgarkärleken fanns där. Deras rätter med pulled pork och brisket såg väldigt mycket bättre ut, och det är nog där deras riktiga passion ligger. För det blir uppenbart ju mer burgare vi äter – om kärleken och passionen inte finns där så blir sällan burgaren särskilt bra.
In English
JJ's BBQ is a pretty well-known smokehouse in Finland with a restaurant in Salo – about 120 kilometres to the west of Helsinki. We first came in contact with their burger at the hamburger festival Burger Lovers Festival 2019. Deras Their festival menu offered three creations; pulled pork or brisket in a bun and an actual burger called JJ's Smoked Burger. We chose the latter of course, made from Black Angus beef and costing 7 euros (about 8 USD).
Unfortunately, our burger wasn't handled with any real care. We fully understand that festivals can be stressful, but it almost felt as if they were angry with their burgers, throwing the patties on a tray to cool off after being cooked in an oven.
The JJ's Smoked Burger contained cheese, sriracha mayo, pickles, honey marinated red onions and some lettuce. The patty itself was nice and loose, but felt a bit chewy due to having rested for too long after being prepared in the oven. We did appreciate the beef flavours, but they were a bit too subtle for our tastes. One thing that wasn't subtle was the pickles. Sure, they tasted fine, but they completely overpowered the other ingredients.
Overall, we weren't that impressed with the burger from JJ's BBQ, and we couldn't really find the burger love. Their pulled pork and brisket buns looked much better, and we have a feeling that that's where their passion lies. And without love for burgers it's really difficult to cook a great hamburger.