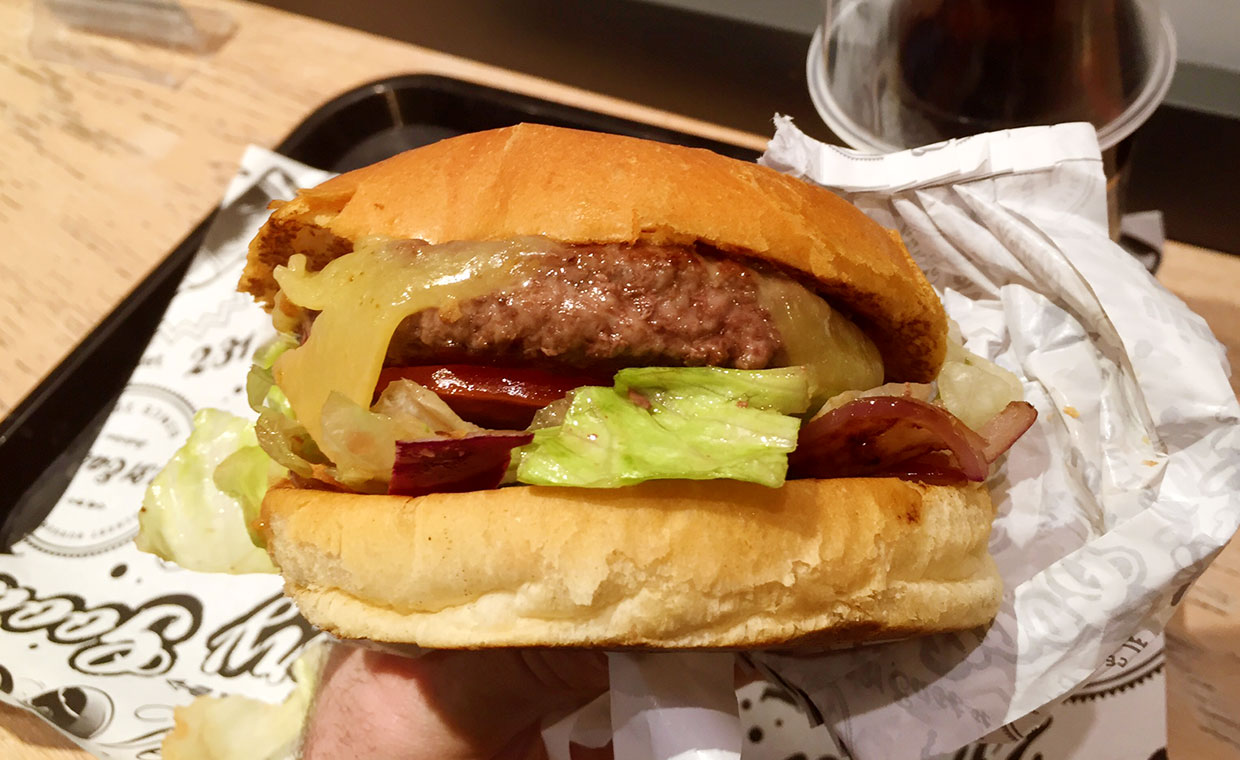 231 East Street har ett flertal restauranger i Frankrike, och vi besökte den som låg i närheten av den stora tågstationen Gare Saint-Lazare i Paris. Kanske var det tågstationens närhet som hade påverkat det lilla stället, för eftersom det inte fanns särskilt många sittplatser fick man i princip stå och äta eller ta med sig maten till tåget. Matkonceptet är också snabbt; välj antal köttpuckar, önskad sås, tillbehör och dryck. Och fort ska det gå.
Stressen märktes också på resultatet. För även om det inte var något direkt fel på smakerna så var inte burgarna kärleksfullt tillagade – trots att personalen i alla fall var väldigt trevlig. I det lilla papperspaketet (som till och med har öppningsinstruktioner) hittade vi nämligen en rätt tråkig syn.
Själva hamburgaren låg lite huller och buller och köttpucken var ganska hård och seg till smaken. Det var otroligt tuggigt, och påminde mest om Sibylla-kött. Kanske besökte vi dem vid fel tillfälle när det var någon tågrusning, men det märks att detta är till för de som är på snabb resande fot och som behöver stilla sitt burgarbegär. 231 East Street är alltså inget för finsmakare som har lite mer tid på sig att njuta, och en av de sämre burgarna vi har ätit i Frankrikes huvudstad.
In English
231 East Street has several locations in France, and we visited their restaurant near the large train station Gare Saint-Lazare in Paris. Everything from the ordering to the food preparation goes really fast here, and the small amount of seats makes it more of a take-away burger joint than a burger restaurant. The burger could have done with a bit more TLC though, as it was a bit of a mess when we retrieved it from the bag. The flavours were okay, but the meat was pretty chewy, making this one of the more disappointing burgers we've eaten in the city of love.