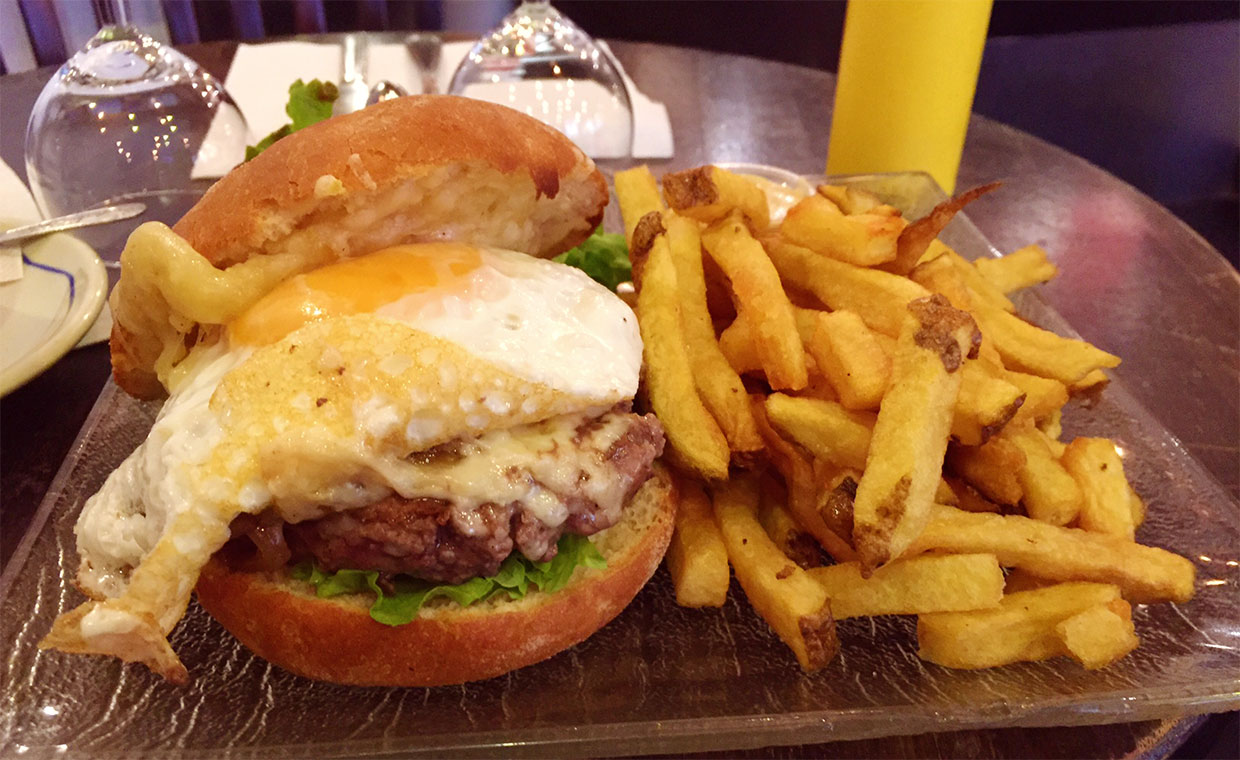 Amour de Burger ligger centralt i Paris, i närheten av den klassiska operan. Stället ser ut och låter lite som vilken fransk bistro som helst, men genom dörrarna känner man istället bekanta dofter av friterat och grillat. Vi anlände sent på eftermiddagen och möttes av en tom lokal och ägaren som gärna skröt om sin cheesecake. Vi ville dock ha en klassisk ost- och baconburgare, men döm av vår förvåning när kocken sade att de inte serverar någon bacon alls.
Han erbjöd istället ett ägg, så en kort stund senare anlände alltså en ostburgare med ett vändstekt ägg mellan ett riktigt stort och matigt bröd. Kanske trodde kocken att vi var ute efter en frukostmacka? Brödet var mer av frukostslaget men konstigt nog fungerade det bra då det var smakfullt och mjukt. Den stora köttpucken hade en bra konsistens och var rivigt pepprig. Dressingen var av ett syrligt kontinentalt stuk som gifte sig med det salta ägget. Till detta serverades en stor tallrik pommes frites av det grövre slaget och som var mycket smakrika.
Överkomliga priser och goda råvaror (trots avsaknaden av bacon) gör Amour de Burger till ett trevligt alternativ för den som är rejält hungrig i centrala Paris.
In English
Located near the classic Paris Opera, Amour de Burgers looks like any French bistro in the capital city. But the aromas from their grill and fryer is a dead giveaway, and we happily tried to order a bacon and cheeseburger. However, they don't have bacon and were offered an egg and cheeseburger instead. This, together with the large and fluffy bun, made the burger feel more like a breakfast roll than anything else. But the flavours were there, and at the end of the meal we were suitably full up and quite satisfied with the choice of ingredients. We guess it just goes to show that in France, one egg is un oeuf.