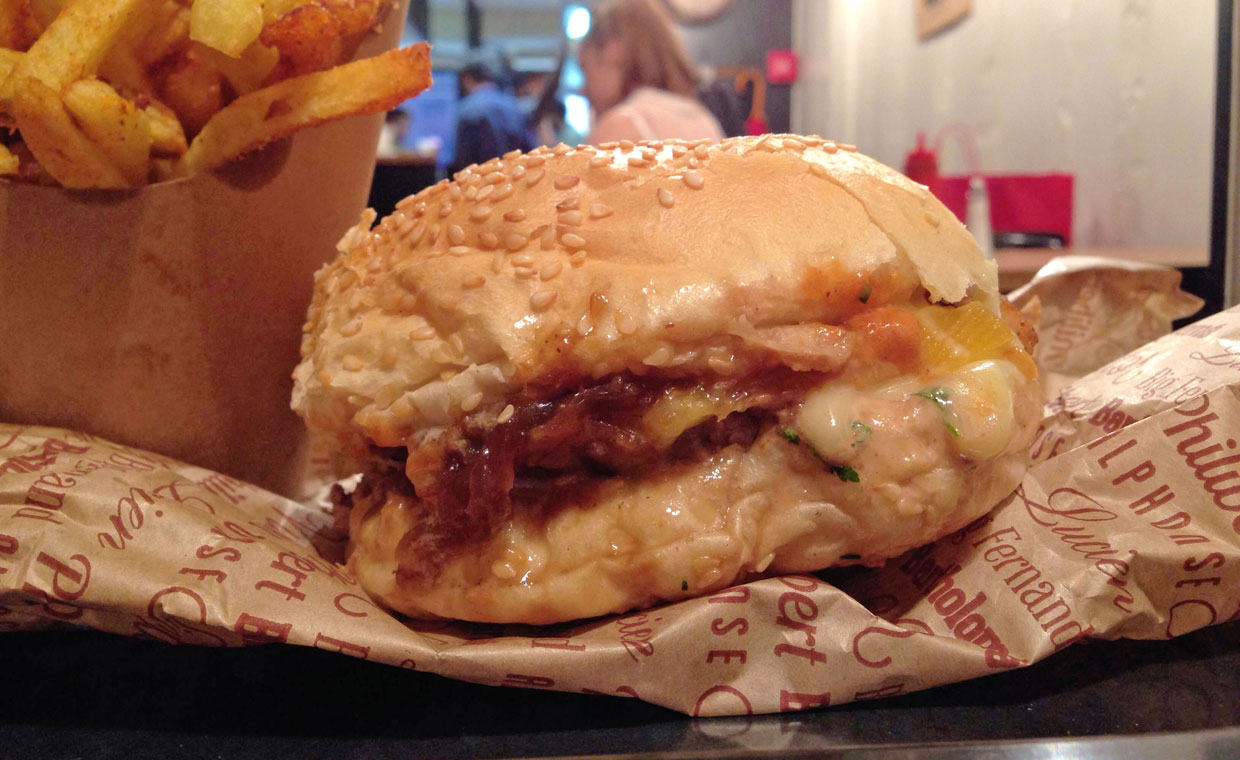 Den franska snabbmatskedjan Big Fernand har sedan starten 2011 skapat sig ett väldigt gott rykte för sina kvalitativa burgare. Idag finner man inte bara den lilla snabbmatskedjan i Paris, utan även runt om i världen.
Big Fernands koncept andas gårdsromantik, och allt från lokalernas inredning till personalens klädsel anammar denna estetik till bristningsgränsen. Man skulle lätt kunna glömma bort att man befinner sig på en snabbmatskedja om det inte vore för serveringsbrickorna och den ringlande kön framför kassan. Prisspannet ligger mellan 11 och 13 euro, och du kan även komponera din egen burgare.
Burgaren serveras i ett omslagspapper som tyvärr bara gör att burgaren trycks ihop och blir kladdig, men även om burgarens utseende lämnar mycket att önska så levererar den lyckligtvis bättre när det kommer till smakerna.
"Le Bartholmé" med racletteost, rökt bacon, karamelliserad lök, gräslök samt den hemmagjorda barbecuesåsen är mycket välbalanserad. Köttet kunde ha tillbringat lite mindre tid på stekbordet, men annars är allt i sin ordning. Även pommes fritesen med den egna (och grillkryddeliknande) smaksättningen är mycket välsmakande och krispig.
Vi kan verkligen rekommendera ett besök på Big Fernand, och vi hoppas att de inte tummar på kvaliteten i framtiden nu när det har blivit en franchiseverksamhet.
In English
Big Fernand is a highly regarded fast food chain with its roots in Paris, France. All of the ingredients in their burgers are of high quality and the flavours work great together. The patty was a bit overcooked and the wrapping paper made the burger quite messy, but besides these issues we really enjoyed their tasty burgers and the well-seasoned good fries.