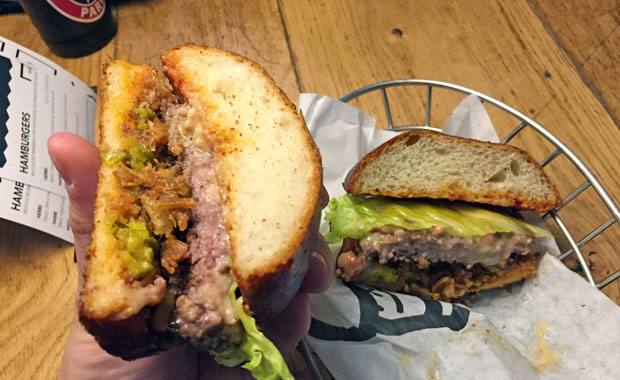 Med sina fyra hamburgerrestauranger i centrala Paris har Blend mutat in sitt revir i Frankrikes huvudstad. Lokalerna är stilrent inredda och har prytts med svartvita designtryck, och de eleganta trämöblerna rymmer såväl menyerna som besticken.
För cirka hundra kronor får du en ost- och baconburgare som lustigt nog har skurits i två delar. Det är ju visserligen trevligt att få se en genomskärning av sin burgare, och det öppnar även för möjligheten att äta den som en taco och ta del av alla smaker samtidigt i varje tugga. Men att ta det här beslutet åt kunden är högst märkligt, då det begränsar ätmöjligheterna något oerhört.
Köttet, som kommer från stjärnslaktaren Yves-Marie le Bourdonnec, är saftigt och smakrikt, om än något platt. Det egenbakade briochebrödet var för brett och högt, samt underligt skuret även på bredden. Eftersom insidan av brödet inte heller hade värmts på alls, blev undersidan snabbt uppblött av de många komponenterna.
Blend lyckas riktigt bra på flera plan, men det känns inte som att de har tänkt igenom alla sina beslut. Att de mjuka pommes fritesen kostade nästan femtio kronor och dessutom serverades för sent underströk bara virrigheten ytterligare, och det är missar som dessa som håller tillbaka betyget.
In English
With four locations in central Paris and meat from the acclaimed butcher Yves-Marie le Bourdonnec, Blend is seemingly primed for success and our hopes were high. That's why we were so baffled by their many strange choices, such as serving their burgers sliced down the middle and not grilling the inside of the otherwise tasty and homemade brioche bread. Our bottom part of the bread turned into a soggy mess, which was a real shame seeing as the flavours themselves were excellent. The lacklustre and quite expensive fries were a letdown as well. Good, but far from great.