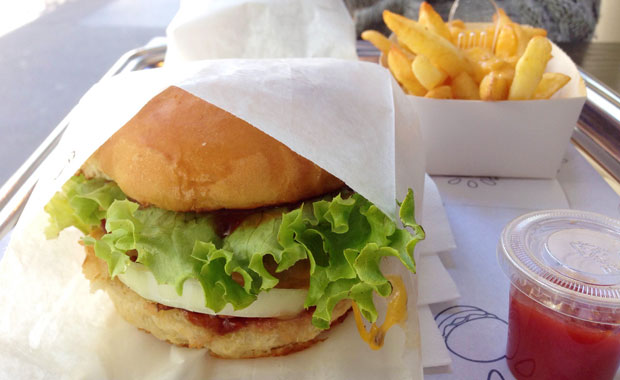 Nära tunnelbanestationen Parmentier i Paris hittar vi B&M Burger Restaurant, ett burgarhak vars koncept låter kunderna själva komponera sina burgare.
När du kommer fram till kassan i den modest inredda lokalen får du fylla i en enkel checklista. Först väljer du mellan fyra olika sorters baser, exempelvis en vanlig burgare för cirka 65 kronor eller en bacon- och cheeseburgare för runt 90 kronor. Sedan får du välja mellan olika sorters topping samt vilka såser du vill ha på burgaren. Vill du ha en mer lyxig topping som avokado eller karamelliserad lök kostar det ungefär tio kronor extra per tillval.
Värt att notera är att deras vegetariska burgare kommer färdigkomponerad och att de inte rekommenderar att lägga till någon extra topping på den, och det finns även färdigkomponerade ordinarie burgare för den som tycker alla val blir för avskräckande.
Vår burgare smakade mycket gott med saftigt medium rare-stekt kött, söt barbequesås, cheddarost, rå lök, sallad och bacon. Köttet kunde visserligen ha haft lite mer smak och brödet kunde ha varit en aning fluffigare, men annars levererade denna burgare på samtliga punkter.
Det här är en av de bästa burgarna i Paris, särskilt för dig som har lite experimentlusta.
In English
B&M Burger Restaurant is located near the Parmentier subway station in Paris. Here you can make your own burger by choosing your favourite toppings and ingredients with the help of a simple checklist. The burger itself is really good with a juicy patty and quality toppings. The bun could have been slightly fluffier and the patty could have been a bit more flavoursome, but apart from that B&M Burger Restaurant definitively serve one of the best burgers in Paris. We highly recommend a visit.