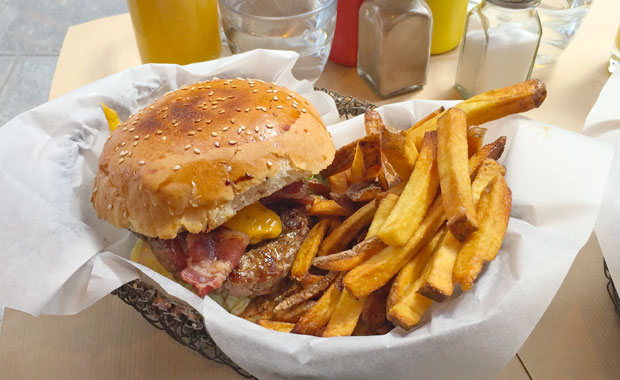 Diner Bedford har två restauranger i Paris, och den vi besökte ligger bara tio minuters promenad från Eiffeltornet. Det är främst detta som gör att det kan vara värt ett besök, då de serverar bra – men inte fantastiska – burgare.
Den mest prismässigt attraktiva burgaren är deras enkla cheeseburgare för endast 7 euro (9 med pommes frites), men då vi ville testa något lite mer äventyrligt valde vi ost- och baconburgaren med tillhörande lök, sallad och pommes frites. Fast denna kostade då 15 euro – en markant höjning för en handfull extra ingredienser.
Sesambrödet hade tyvärr grillats lite för länge, och var bitvis hårt. Men det hindrade åtminstone köttsafterna från att luckra upp brödet, så burgaren höll i alla fall ihop under hela måltiden. Köttet kunde ha haft en hårdare stekyta, men den rosa medium rare-kärnan var måltidens höjdpunkt.
Pommes fritesen var dessutom välfriterade och tjocka med skalet kvar. De var åtminstone prisvärda som ett menytillbehör, så vid nästa besök håller vi nog oss till 9-euromenyn.
In English
The prime location of one of the two Diner Bedford locations, just a ten minute walk from the Eiffel Tower, makes it worth a visit. Here you'll get a good (but not amazing) cheeseburger with crispy fries for only 9 euros. The medium rare patty is the highlight here, as the bun was a bit too toasted. The prices jump up a fair bit if you want salad, bacon or anything else on your burger though, so we can't really recommend any of the other menu options.