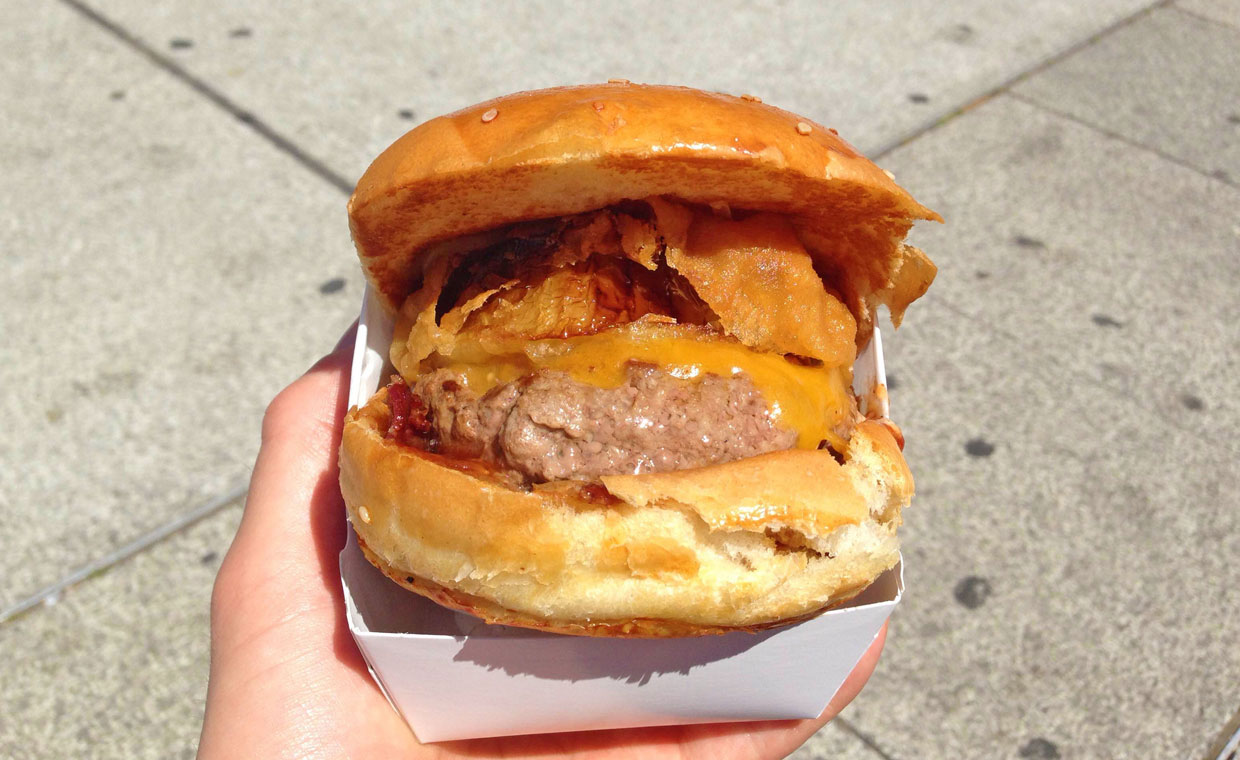 Paris har, precis som Stockholm, flera riktigt bra food trucks och den prisbelönta Le Camion Qui Fume är kanske den allra bästa av dem. De har flera food trucks i Paris-regionen, och kommer senare i år även att öppna sin allra första restaurang.
Menyn består av åtta olika burgare som samtliga – förutom deras dubbelburgare – kostar 13 euro inklusive dryck och pommes frites. Burgaren som vi valde att testa var en barbecueburgare med cheddar, bacon, karamelliserad lök, friterad lök, barbecuesås och majonnäs.
Burgaren levererades i en papperspåse där den varsamt hade placerats i en stadig papptallrik med kanter. Alla ingredienser var omsorgsfullt placerade mellan bröden som höll ihop burgaren exemplariskt under hela måltiden. Köttet var väldigt saftigt och välsmakande med en fin stekyta, och sötman från den karamelliserade löken var fantastisk tillsammans med de salta baconskivorna.
Det enda som egentligen drog ner detta från att kamma hem en fullpott från oss var att brödet kunde ha varit fluffigare samt att det blev en aning övermäktigt med den friterade löken. Le Camion Qui Fume bjuder utan tvekan på en av Paris allra bästa burgare och bör besökas av alla burgarfantaster när de är i den franska huvudstaden.
In English
Le Camion Qui Fume is an award winning food truck chain in Paris focusing on quality burgers since 2011. The highpoint here is the juicy patty and the splendid toppings that compliment each other really well. Unfortunately the bread was a bit dry, but apart from that they serve one of the best burgers in Paris and you should really pay them a visit if you visit the French capital.