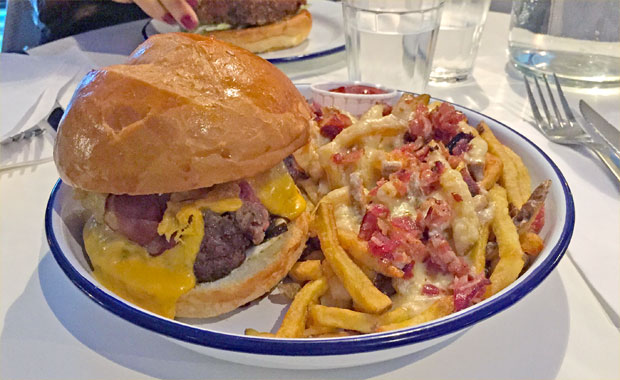 Det har gått spikrakt uppåt för Paris New York, och den lilla kedjan har numera fem populära restauranger i Frankrikes huvudstad. Inredningen är toppmodern och fullkomligen dryper av stilrenhet, och eftersom de inte tar emot bordsbokningar ringlar sig köerna snabbt ut på gatan.
Menyn bjuder endast på en handfull alternativ, men valet föll på The Return of the Cowboy med lagrad cheddar, bacon, konfiterad lök och barbecuesås för knappt 12 euro. Och boskapsskötarens återkomst gjorde ingen besviken, med otroligt mört medium rare-stekt kött omgärdat av den skarpa cheddarsmaken och den rökiga såsen. Fast den riktiga stjärnan här är brödet. Briochen som alla PNY-burgare serveras i är nästan omöjligt mjuk, utan att för den sakens skull tappa formen. Helt magnifikt!
Pommes fritesen med cheddar och bacon är lite för salta för att komma till sin rätt, och kan gärna skippas till förmån för jordnötssmörs- och chokladmilkshaken som fulländar måltiden, trots sin saftiga prislapp på nästan 8 euro.
Paris New York lyckas precis nå punkten som krävs för att få vårt toppbetyg, och bjuder på en förstklassig burgarupplevelse du inte bör missa om du reser till kärlekens stad.
In English
Not only can Paris New York boast with amazing interiors, but their burgers manage to live up to the hype as well. The meat is fantastic, and the brioche bread is almost impossibly fluffy while still managing to keep its form. Next time we'll skip the overly salty bacon and cheddar fries and just focus on the delectable peanut butter and chocolate milkshake, but don't let our disappointment in the side orders deter you from visiting this gem in the capital of France. Vive le burger!