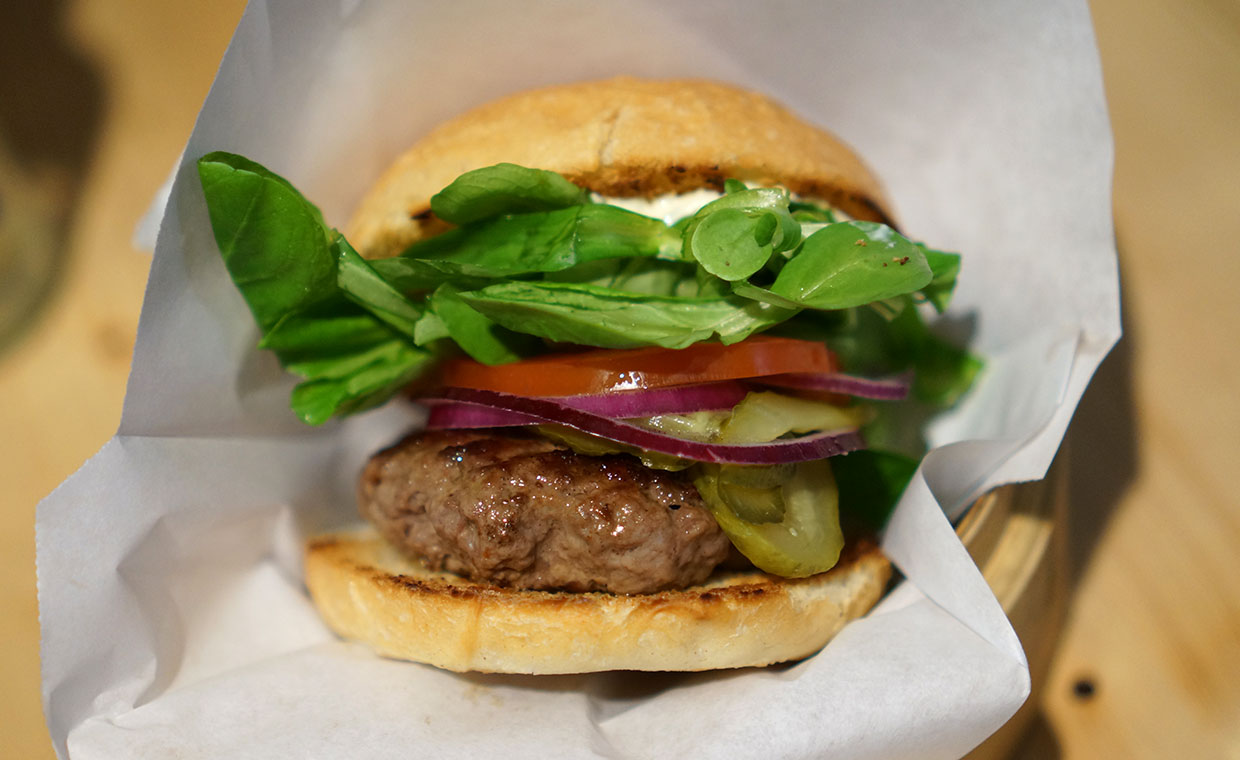 Shiso Burger ligger i Berlin (och även i Paris) och blandar två av världens bästa kök med sina asiatiska burgare. Inredningsmässigt ser lokalen mer ut som en trendig nudelbar än en hamburgerrestaurang, men menyn rymmer främst burgare – trots att de inte alltid är traditionella.
Den första burgaren vi fick in var fylld med koreanskt bulgogimarinerat kött. Den var sanslöst god med sin kryddiga grillsmak i ett mjukt briochebröd, men det var ju faktiskt inte en riktig burgare. Därför beställde vi även in en traditionell cheeseburgare för att faktiskt kunna recensera restaurangen. Eftersom båda burgarna var lite i minsta laget – som ett mellanting mellan en vanlig hamburgare och en slider – gick det utan större problem.
Cheeseburgaren var fint mediumstekt med ett mjukt kött i ett saftigt och fluffigt bröd. Osten tillförde en krämighet och den lite annorlunda frisésalladen smakade fräscht trots att den mest tillförde en estetisk touch. Lustigt nog var bulgogiburgaren den bästa av de två, och det är inte ofta vi rekommenderar två burgare under ett besök, men det är nästan något vi skulle kunna göra nu. Om du är ute efter något lite annorlunda bör du testa båda och se vilken du gillar mest – du lär inte bli besviken.
In English
Shiso Burger are located in Berlin, and combine two of the world's best cuisines with their asian burgers. They serve an excellent cheeseburger with juicy meat and a soft brioche bun, but we must admit that we think their bulgogi burger with grilled, marinated meat instead of a regular burger patty tasted even better (despite not being a real burger). We actually ordered both, which worked fine since they weren't too big. We'd recommend that you do the same if you visit the German capital.