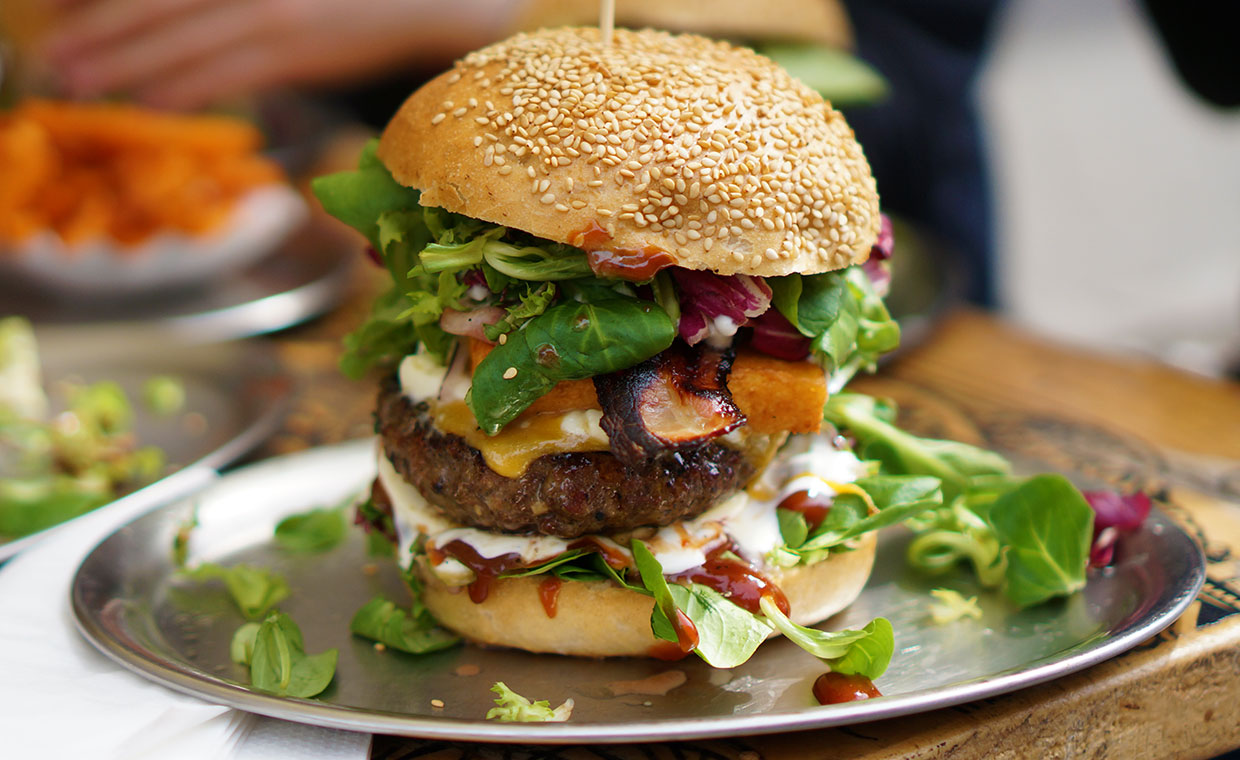 Berlinburger International är förmodligen den minsta hamburgarrestaurangen i Berlin, och när vi kom dit togs hela lokalytan upp av burgarhungriga besökare som stod i kö. Det fanns visserligen några få barsittplatser längs med ena väggen, men med tanke på att köket stod öppet bakom kassan var det väldigt osigt. Som tur var fanns det gott om sittplatser utomhus.
Deras ost- och baconburgare var riktigt prisvärda, och kostade långt under hundralappen. Det låga priset var extra imponerande när måltiden väl serverades, då det här utan tvekan var den största burgaren vi stött på i Tysklands huvudstad. Det krävdes ett rejält grepp med båda händerna för att ta en tugga, och det var då problemen började hopa sig.
BBI verkar nämligen föredra kvantitet före kvalitet, särskilt vad gäller brödet och köttet – som ändå är de två viktigaste beståndsdelarna i en burgare. Köttet var genomstekt och ganska tuggigt, och brödet var torrare än vad vi hade hoppats på. Rent smakmässigt bjöd burgaren på en massa smaker. Allt var visserligen rätt gott, men det blev för spretigt rent smakmässigt.
Sötpotatisen och pommes fritesen var båda rätt dyra enligt berlinska mått mätt, men som tur var smakade de båda riktigt gott. Fast frågan är om de hade behövts med tanke på burgarens rejäla storlek.
In English
Berlinburger International houses one of Berlin's smallest burger joints, so we were happy to see generous seating options outside the restaurant. In contrast, the burgers are absolutely huge – absurdly so – and we really had to make an effort to eat them with any semblance of dignity. Unfortunately BBI seem to have chosen quantity over quality, and we weren't too impressed by the chewy meat and dry bun. If you're really hungry you'll definitely get a lot of value for money, but there are better places to have a burger in Berlin.