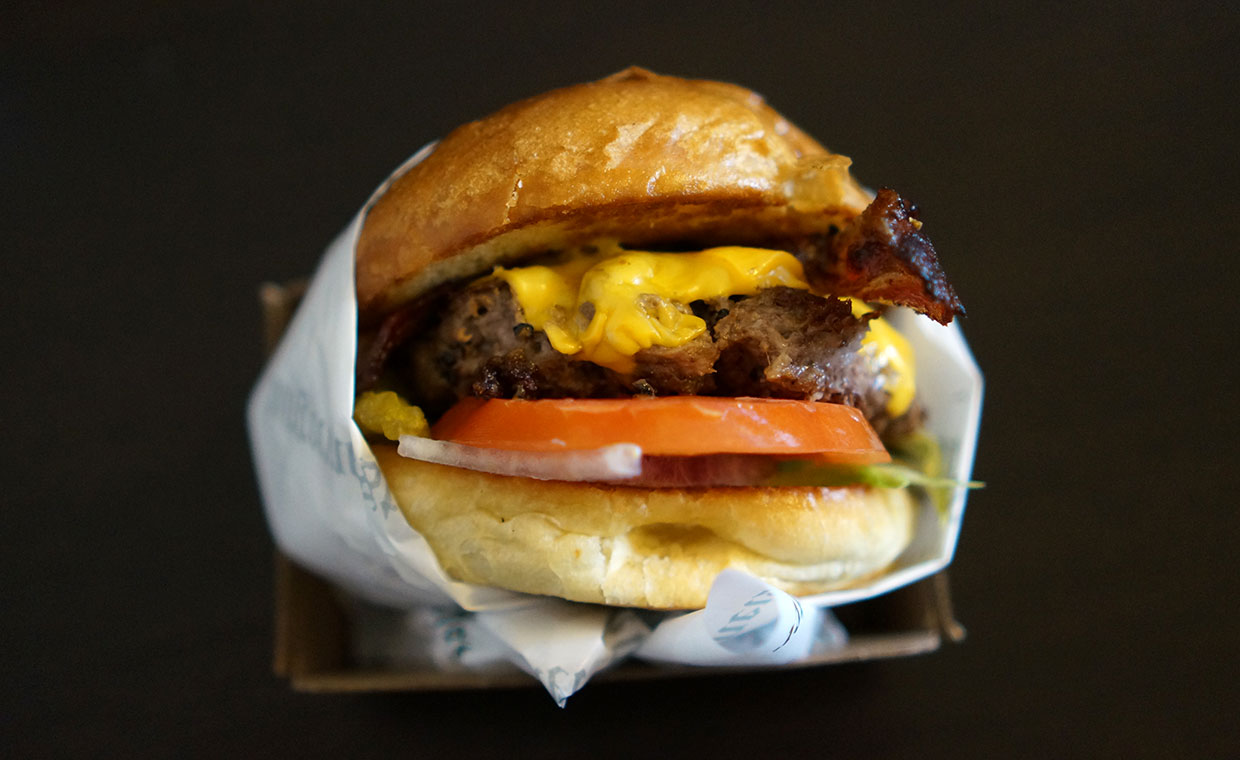 Det trendiga burgarhaket Burgermeister har varit en lokal favorit i Berlin sedan de öppnade sin första lilla resturang i en gammal offentlig toalett vid Schlesisches Tor i östra Kreuzberg. Och den nyöppnade restaurangen vid Kottbusser Tor i centrala Kreuzberg osar av coolhet och attityd. Inredningen är sparsmakad med kaklade väggar och slitna affischer. Klientelet är ungt.
Burgarna kostar i runda slängar omkring 50 kronor, och vi valde att testa deras Bar-b-q-burger med bacon, ost och deras egen barbecuesås. Burgarna presenterades fint i ett omslagspapper som i sin tur låg i en papplåda. Det var en burgare som var enkel att äta och bära med sig med andra ord.
Brödet var mycket bra rostat och mjukt, men tyvärr var köttet alldeles för kompakt och grönsakerna var kylskåpskalla. Dessutom hade barbequesåsen en eftersmak av curry. Vi tar seden dit vi kommer, men currysmaken var vi inte helt beredda på.
Höjdpunkten visades sig vara den otroligt smarriga pommes fritesen med smält cheddarost. Bra krispighet och en god potatissmak kommer man långt på. Sammanfattningsvis är vi kanske inte helt nöjda med Burgermeisters burgare, speciellt inte efter alla lovord. Men med tanke på det låga priset kan vi ändå ge dem en svag rekommendation.
In English
Burgermeister has two trendy burger joints in Kreuzberg that serve high quality burgers at a reasonable price. We really liked the fast food vibes we got from their minimalistic restaurants and simple menus. We tried the Bar B.Q.-Burger with bacon, cheese and their home-made barbecue sauce. The bun had a good taste and was roasted just right, but the patty was unfortunately quite compact and boring. The barbecue sauce had a odd aftertaste of curry that we didn't fancy at all. The cheese fries on the other hand were excellent. All in all we can recommend a visit if you want burgers to a good price, but don't expect any burger miracles.