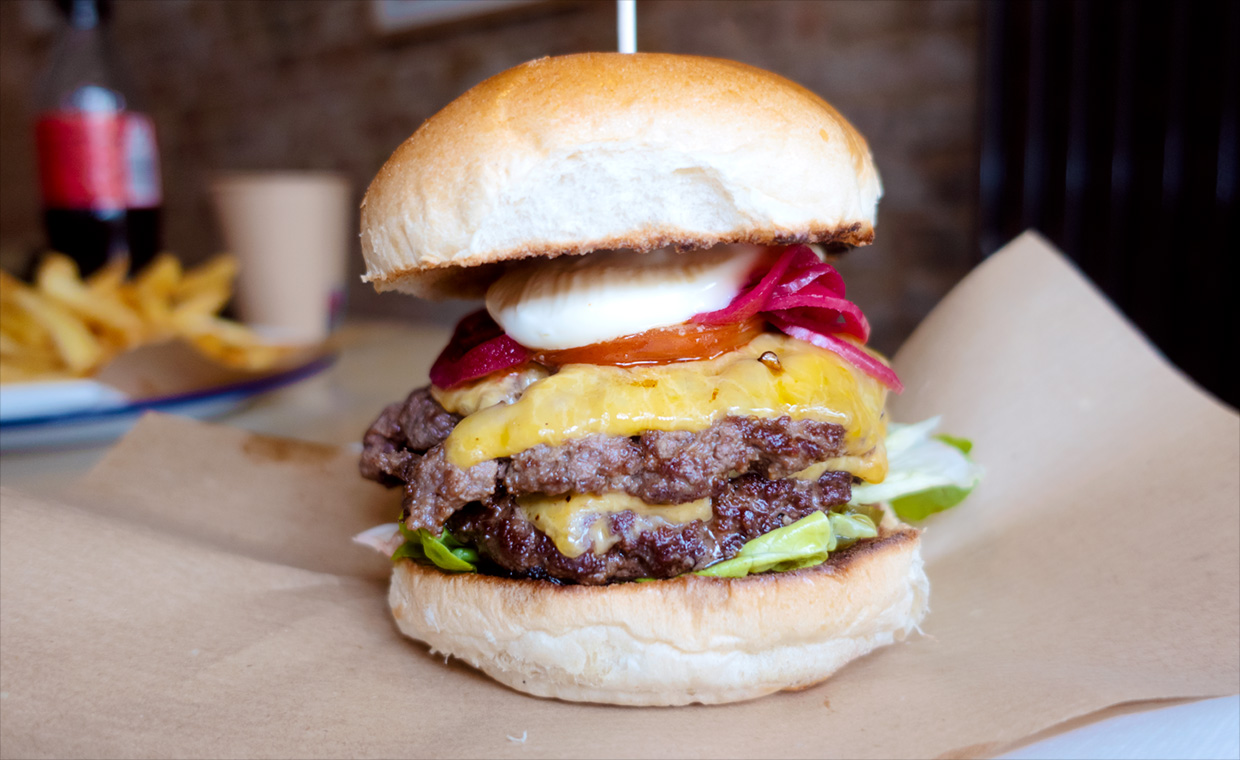 Schiller Burger är en minikedja med tre restauranger i norra Berlin som är mäktigt stolta över att de rankades som en av världens bästa burgare av en livsstilstidning under 2010-talet. Menyn består av sju olika köttburgare och tre vegetariska varianter, och vi beställde deras dubbla Glocke med kött, ost, tomat, isbergssallad, picklad rödlök, saltgurka, majonnäs, senap och ketchup för 9,10 EUR (95 kronor) samt en portion pommes frites för 2,50 EUR (25 kronor).
När vi fick se vår burgare så blev vi lite chockade, för den var både otroligt hög och genomborrad med en överflödig pinne. Det första visuella intrycket var alltså inte det bästa, och tyvärr blev det inte bättre efter vår första tugga, eftersom burgaren hade problem med flera av sina ingredienser. Köttet var väldigt salt vilket gjorde att hela smakbilden blev skev, och köttets textur var lite för kompakt och lämnade en hel del att önska. Den stora mängden sås gjorde dessutom allt väldigt kladdig och deras hembakade bröd klarade inte hålla ihop allting, utan blev blött och fallfärdigt nästan direkt. Däremot gillade vi så gott som alla grönsaker, som var riktigt fräscha och krispiga. Pommes fritesen var måltidens räddning tack vare att de var krispiga och hade en god potatissmak.
Om Schiller Burger serverade en världsklassburgare en gång i tiden kan vi inte uttala oss om, men vi kan konstatera att så inte var fallet under vårt besök. Priserna på deras burgare är rimliga, men trots detta kan vi inte rekommendera ett besök.
In English
Schiller Burger is a small chain with three restaurants in the northern parts of Berlin, and they're really proud of being called one of the world's best burger restaurants by a lifestyle magazine back in the 2010's. Their menu consists of seven meat burgers and three vegetarian burgers, and we ordered a double Glocke with a beef patty, cheese, tomato, iceberg lettuce, pickled red onions, pickles, mayo, mustard and ketchup for 9.1 EUR (9.5 USD), and an order of french fries for 2.5 EUR (2.5 USD).
When our burger arrived we were a bit taken aback, as it was really highly stacked and had been perforated with a wooden skewer. First impressions weren't the best, and they didn't improve after our first bite either. Several parts of our burger had problems. The meat beef patty was very salt which ruined the balance completely, and the texture felt off as well. The many sauces ran everywhere, and their home baked buns couldn't handle this and got soggy and fell apart almost immediately. We did however like the vegetables, as they were fresh and crispy. Their french fries were the only thing we really liked, as they were crispy and tasted rather nice.
Schiller Burger may have served world-class burgers in the past, but this wasn't anything we noticed during our visit. Their price-point is rather decent, but despite this we can't recommend a visit.