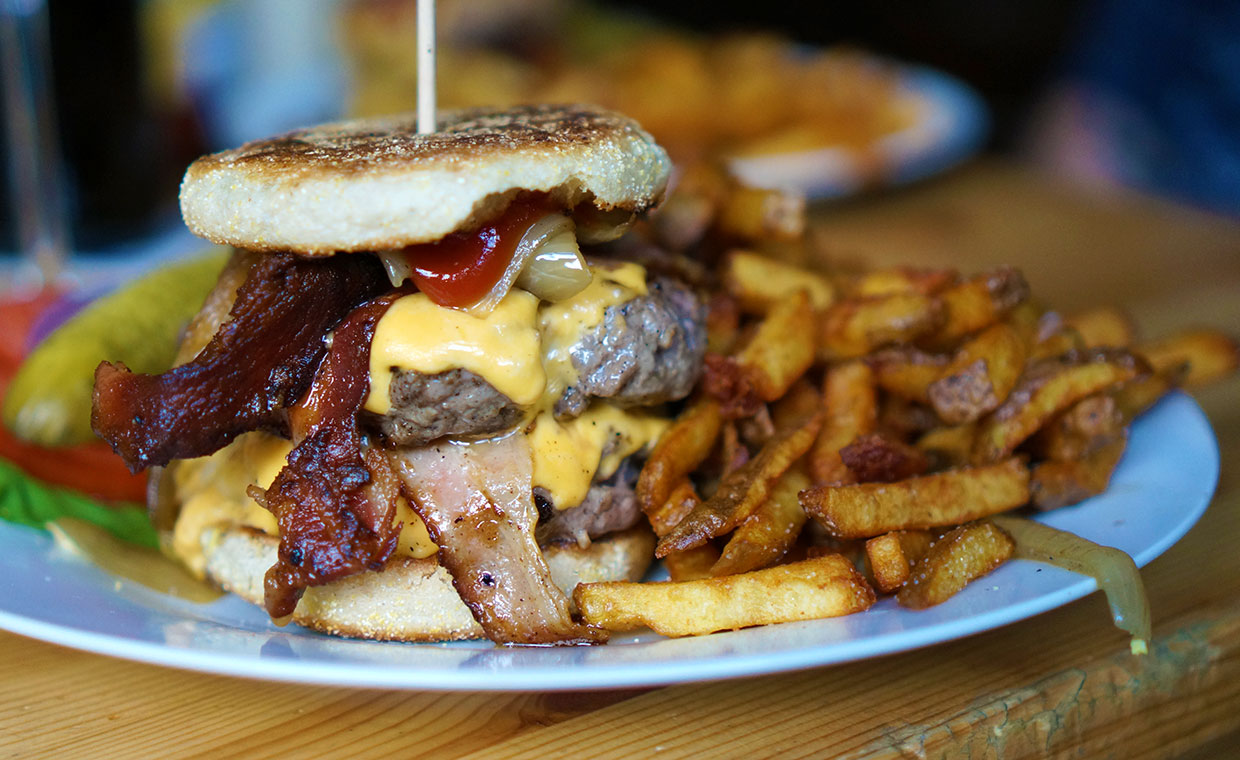 The Bird är utan tvekan burgarnas burgarhak i Berlin. Som burgarentusiast är det svårt att inte älska deras kaxiga framtoning, särskilt då det står saker som "ät med händerna eller försvinn" och "köttet ska vara medium rare och inget annat" i menyn.
Alla deras burgare görs på 250 gram tyskt nötkött av hög kvalitet, och det märks på priset som är avsevärt högre än andra burgarrestauranger i staden. Vi valde att testa deras husburgare "Da Birdhouse" för cirka 125 kr som serverades med två köttpuckar, bacon, ost och stekt lök.
Det var en imponerande skapelse vi fick på vårt bord, och vi regerade direkt på brödvalet som mest liknade en engelsk muffin. När vi frågade varför de hade valt detta blev svaret att de ville minimera storleken på brödet, och att det höll ihop burgaren bättre. Vi föredrar dock ett klassiskt briochebröd alla dagar i veckan.
Köttet serverades tyvärr well done, trots att vi beställde medium rare efter deras rekommendationer. Men burgaren och köttet var, trots fel stekgrad, väldigt gott. Pommes fritesen hade dessutom en mycket bra krispighet och en god potatismak.
Det märks att The Bird har höga ambitioner, men detaljmissarna och framförallt brödet hindrar dem från att bli en fullpott.
In English
The Bird is without a doubt the most prolific burger joint in Berlin, and it's easy to understand why. Phrases like "at least try eating the damn burger with your hands" in the menu makes burger entusiasts such as ourselves feel right at home. Their burgers weren't perfect though, and we didn't like the texture and taste of the english muffin bun (we prefer a classic brioche bun any day of the week). The meat was really tasty, but was served well done instead of medium rare as requested. The fries were a real treat with a nice crispyness and excellent flavour. All in all The Bird serves one of the best burgers in Berlin and it's a must-visit if you're in town.