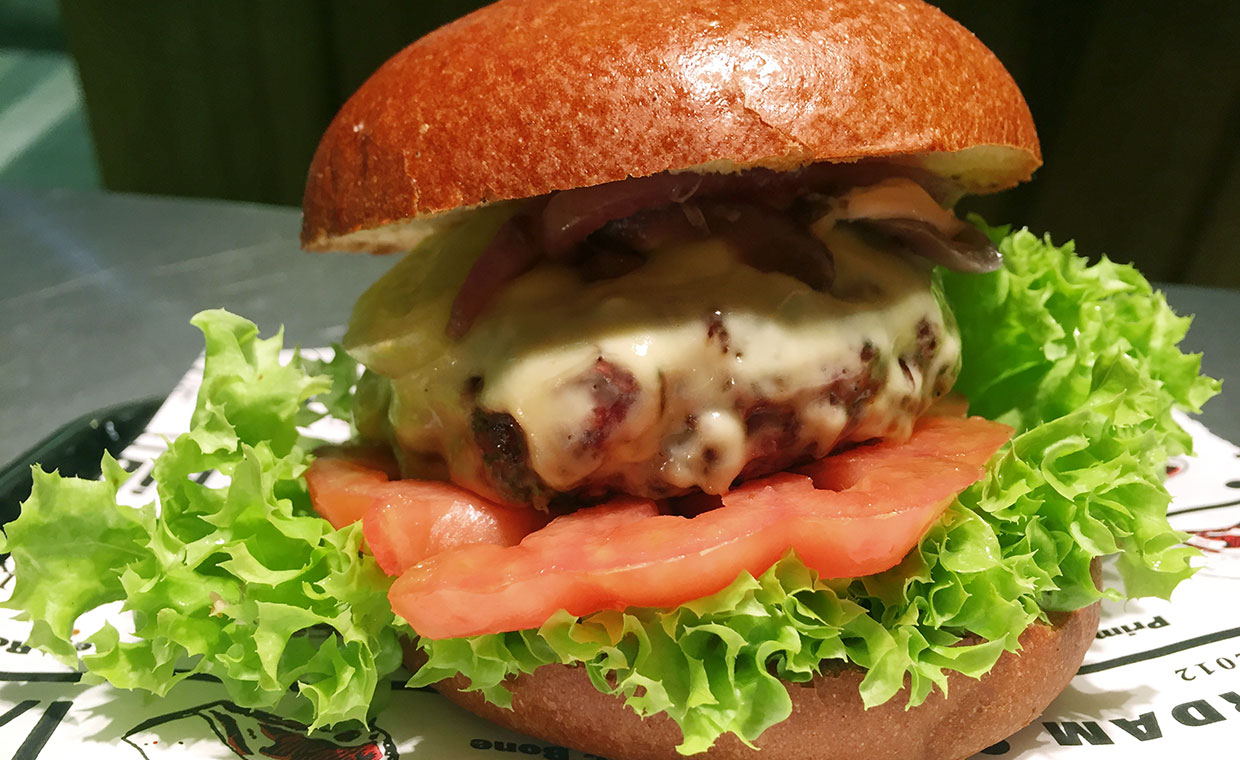 The Butcher har en handfull restauranger i Amsterdam (samt en i Berlin), och vi besökte den som låg i det hippa Albert Cuyp-området. Där trängs de med marknadsstånd och krogar som lockar på besökarnas uppmärksamhet. Utöver sina burgare så har denna The Butcher även en hemlig Speakeasy-bar som ligger förbi köket.
Menyn var rejält tilltagen med fler än 15 olika burgare, men vi valde en klassisk The Butcher with Cheese med sallad, tomat, inlagd gurka, stekt lök och edamerost för 9,5 euro (cirka 90 kronor) och satte oss på första parkett för att kolla in tillagningen. Själva burgaren bestod av Anguskött, och trots att pucken var rätt kompakt så hade den en fint rosa kärna. Vi hade gärna även sett att den varit lite mer kryddad. Brödet hade i alla fall en fin stekyta och sög åt sig en lagom mängd köttsaft utan att bli degigt. De färska grönsakerna hade en bra temperatur, och den goda stekta löken stack verkligen ut, vilket var bra då edamerosten var ganska smaklös.
Eftersom burgaren var rätt mastig var vi rätt nöjda med att vi skippat tillbehören. The Butcher serverar en bra burgare, men ärligt talat så lockade nog Speakeasy-baren mer.
In English
The Butcher have a handful of restaurants in Amsterdam (and one in Berlin), and we visited the one in the hip Albert Cuyp district; which even has a Speakeasy bar behind the kitchen. The – ett av Amsterdams hippa kvarter. We chose a classic The Butcher with Cheese for 9,5 euros from their extensive burger menu, and got a sizeable Angus burger with sallad, tomato, gherkin, fried onions and edam cheese. The angus meat was nicely pink, but was quite compact and a bit under-seasoned. The bread was nicely toasted and managed to stay bouncy throughout our meal, and we especially enjoyed the fried onions. We were a bit disappointed with the boring edam cheese though. The Butcher make a good burger, but it didn't blow us away at all. To be honest, we were more intrigued by the Speakeasy bar.