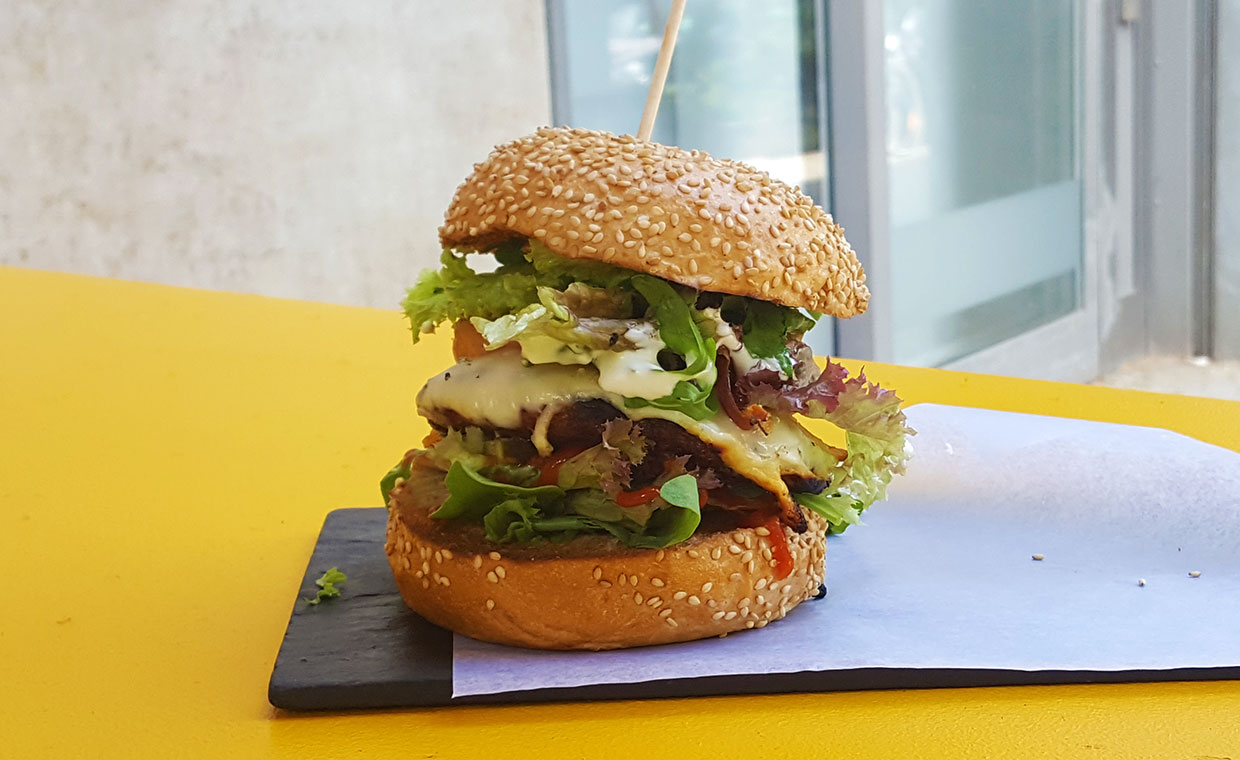 Vid vårt senaste besök i Tysklands huvudstad bestämde vi oss för att testa Yellow Burgermanufaktur i stadsdelen Prenzlauer Berg, lite norr om Mitte. Bland de 11 burgarna på menyn föll valet på en "Spiessburger" för 6,70 euro. Burgaren bestod av 100 % ekologiskt anguskött, sallad, majonnäs, två skivor american cheese, ketchup, lök och serranoskinka.
Alla burgare grillas medium-rare som vi föredrar så länge man inte vill ha den på annat sätt. Burgaren serverades med ett lätt rostat sesambröd och såg snyggt ut med en bra ratio mellan kött, bröd och grönsaker. Den var med andra ord väldigt greppvänlig. Vi högg in och blev positivt överraskade. Det grillade köttet var vackert rosa även om det var mer medium än medium rare. Smakmässigt var burgaren saftig med en ordentlig grillyta men aningen för kompakt för oss. Brödet var frasigt och hade en lätt sötma som uppskattades. Det kunde möjligtvis ha varit lite mjukare, men det var absolut inte dåligt för det. Salladen var fräsch och de dubbla ostskivorna balanserade ut den saftiga köttpucken. Valet av serranoskinka istället för bacon gjorde att burgaren stack ut i positiv bemärkelse; den härliga rökiga saltigheten från serranoskinkan funkade utmärkt på denna hamburgare.
Yellow Burgermanufaktur är kanske inte bäst i Berlin, men de är ett stabilt och prisvärt val om du befinner dig i närheten och förtjänar därmed en stark trea.
In English
Yellow Burgermanufaktur is a small hole in the wall in Prenzlauer Berg, just a few minutes North of Mitte. They have 11 burgers on their menu, but we chose the "Spiessburger" for 6.70 €, with 100% organic and flamegrilled angus beef, lettuce, mayo, 2 x American cheese, ketchup and Serrano ham. The toasted sesame bun looked great, and the meat, bun and vegetable ratio was really good. The medium grilled patty was plump and pink, and had a good char flavour from the grill despite being a bit compact. We also enjoyed the fresh condiments, creamy cheese and the Serrano ham that added a smokey and salty tastiness. Perhaps not the best in Berlin, but a decent burger at a nice price if you're in the neighbourhood.