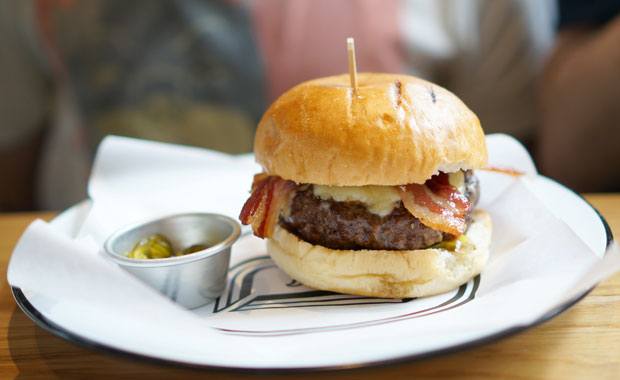 Beef & Liberty ligger bara ett stenkast från en av The Butchers Club-restaurangerna i Hong Kong, men skillnaden mellan dem i kvalitet är avsevärd.
Efter en kort hisstur öppnas dörrarna till den rymliga och stilrent inredda lokalen, och menyn som presenteras innehåller ett gediget burgar- och ölsortiment.
Här serveras en omsorgsfullt tillagad hamburgare, med en saftig och medium rare-stekt köttpuck som omfamnas av ett mjukfluffigt briochebröd. Rent baconmässigt är det här en fullträff, då den vanliga varianten är krispigt knaprig och baconsylten på Bacon Cheese-burgaren är ljuvligt sötsalt. Vi är till och med imponerade av dippsåsen till pommes fritesen. Den vegetariska kikärtsburgaren är dessvärre en hårdstekt besvikelse utan egentlig smak.
Prismässigt ligger Beef & Liberty något över genomsnittet, men den är klart värd det lilla extra om du befinner dig i Hong Kong eller Shanghai – och vår absoluta favorit i båda städerna.
In English
Beef & Liberty are located just around the corner from one of The Butcher Club's locations, but quality-wise they are miles apart. Fluffy buns enclose a juicy patty, and the bacon – both the regular bacon strips and the delectable bacon jam – is a real treat. This was definitely our favourite burger in Hong Kong.