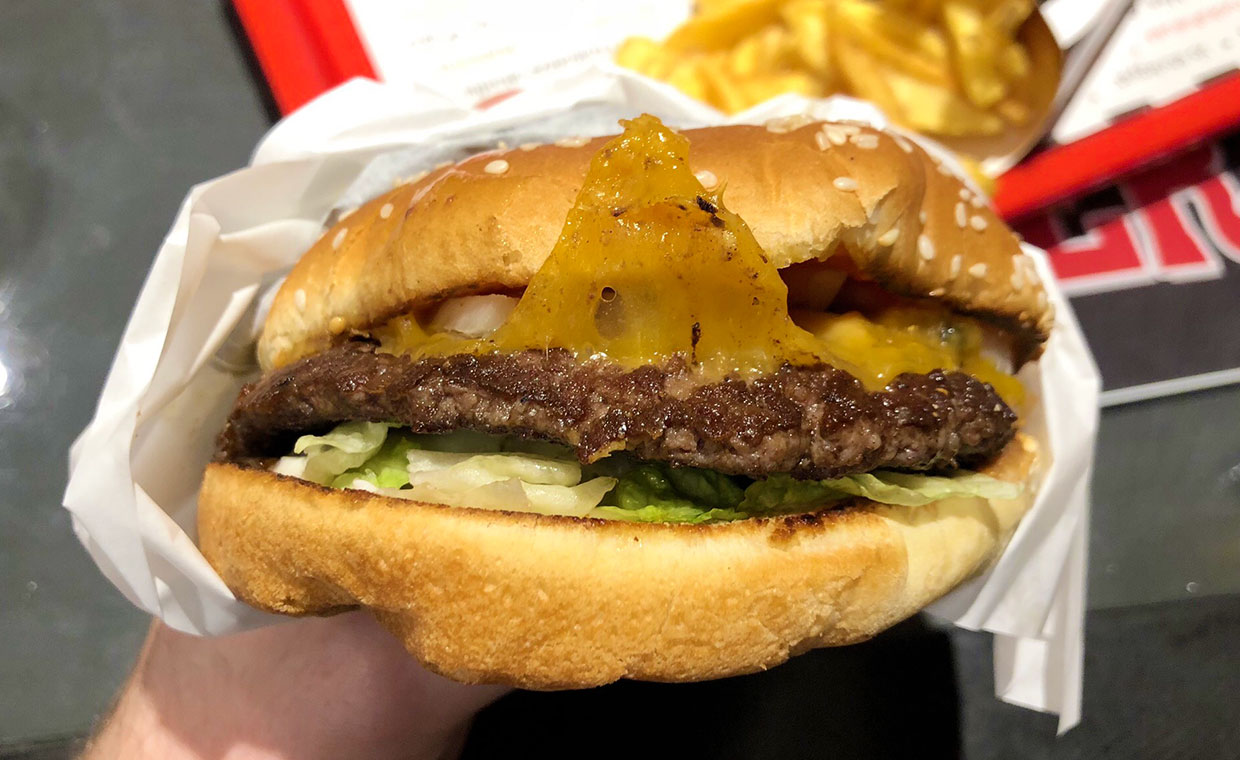 Den ungerska hamburgerkedjan Black Cab Burger har två populära restauranger i centrala Budapest, och de nämns i många sammanhang som de bästa burgarhaken i staden.
Till skillnad från flera andra hamburgerrestauranger i centrala Budapest så är Black Cab Burger inte lika "hipsterfierat", utan fokuserar istället på mer prisvärda burgare tillsammans med ett enklare ölutbud. Lokalen för tankarna till en klassisk snabbmatsrestaurang, något vi vanligtvis finner charmigt. Men det var ostädat och skräpigt, vilket inte kändes så trevligt.
Deras meny är minst sagt gigantisk där du får komponera din egen burgare, ungefär som på Five Guys. Vi valde en cheeseburgare med 150 gram kött tillsammans med pommes frites, som endast kostade 1400 forinter (ungefär 45 SEK) tillsammans.
Burgaren, som serverades ihopvirat i ett papper, såg precis ut som en klassisk gatuköksburgare vilket också var vad den smakade som. Den totala avsaknaden av passion lyste verkligen igenom, men med tanke på det låga priset kändes det ändå överkomligt. Därför var det svårt att bli riktigt besviken (något som vegetarianer lär bli när de ser att vegoburgaren har bytt ut köttet mot pommes frites).
Black Cab Burger serverar alltså en gatuköksburgare för ett överkomligt pris. De fungerar om du behöver något som är okej och snabbt och inte förväntar dig dagsfärskt briochebröd eller Blumenthal-malda köttpuckar.
In English
Black Cab Burger has two burger joints in central Budapest and are are often mentioned as some of the best in the Hungarian capital. Unlike most other burger joints in the Hungarian capital they haven't been "hipsterfied" and instead focus on a cheaper menu. The massive menu lets you choose your own toppings, similar to the experience at Five Guys. Unfortunately, the burger lacked any semblance of passion, and it tasted boring and uninspired. But with a cheap price of 1400 forints you can't ask for so much more. The vegetarian burger is however a joke, with fries instead of a patty. In summary, Black Cab Burger is okay if you want a cheap and fast burger and nothing more than that.