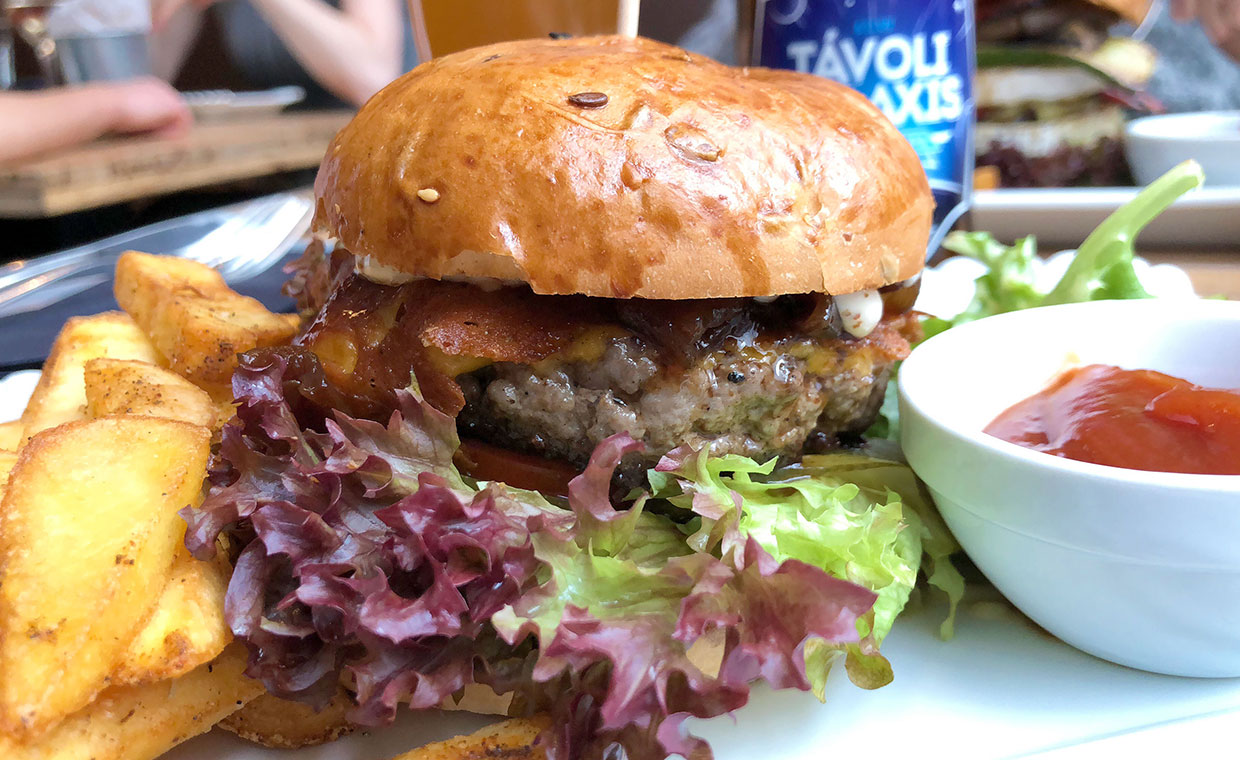 Mitt i centrala Budapest ligger det hipstervänliga burgarhaket Goodbar Goodburger. Lokalen är ljus och har cirka 20 sittplatser utspridda över två våningar. På menyn samsas totalt 13 burgare som går att få i storlekarna 140 eller 210 gram, alternativt i sliderutförande med en köttpuck på 80 gram.
Vårt val föll på deras husburgare Goodburger, som innehöll ost, hemmagjord dressing, lök, chutney, rökta pickles, tomat och sallad. Vi valde stekgraden medium efter personalens egna rekommendationer. Hela måltiden med pommes frites gick på 2300 forinter (cirka 75 kronor), vilket kändes som en rimlig prissättning.
Burgaren var snyggt monterad trots användandet av en överflödig pinne som hade tryckts genom hela burgaren. Smakerna satt bra i det stora hela, och den söta chutneyn var ett överraskande trevligt tillägg. Men tyvärr var burgaren långt ifrån perfekt. Köttet var inte smashstekt, utan var ganska kompakt i sin konsistens och saknade en tillfredsställande krispig yta. Även brödet lämnade mycket att önska, med en hård kant som gick runt hela topplocket. Och pommes fritesen gjorde varken från eller till.
Överlag var detta en burgare som inte gjorde något extra, men de ganska goda smakerna tillsammans med alla valmöjligheter, den trevliga personalen och den fräscha lokalen gör Goodbar Goodburger till ett godkänt val om burgarhungern slår till i Ungerns huvudstad.
In English
The hipster friendly burger joint Goodbar Goodburger is located in central Budapest. We ordered a Goodburger from their wide menus. Their house burger contained cheese, homemade dressing, chutney, smoked pickles, tomato and sallad. The patty was cooked medium after recommendation from the staff, but came impaled by a stick that went through the entire burger. It tasted nice, and the chutney was a unexpected and pleasant addition. The patty on the other hand was quite compact and lacked the crust we really enjoy with smashed patties. The top bun had a hard edge which screwed up the texture of the bread. We paid a reasonable 2300 forints for the meal, Overall, Goodburger serve okay burgers from a nice location that is worth a visit if you are hungry for a burger in Hungary.