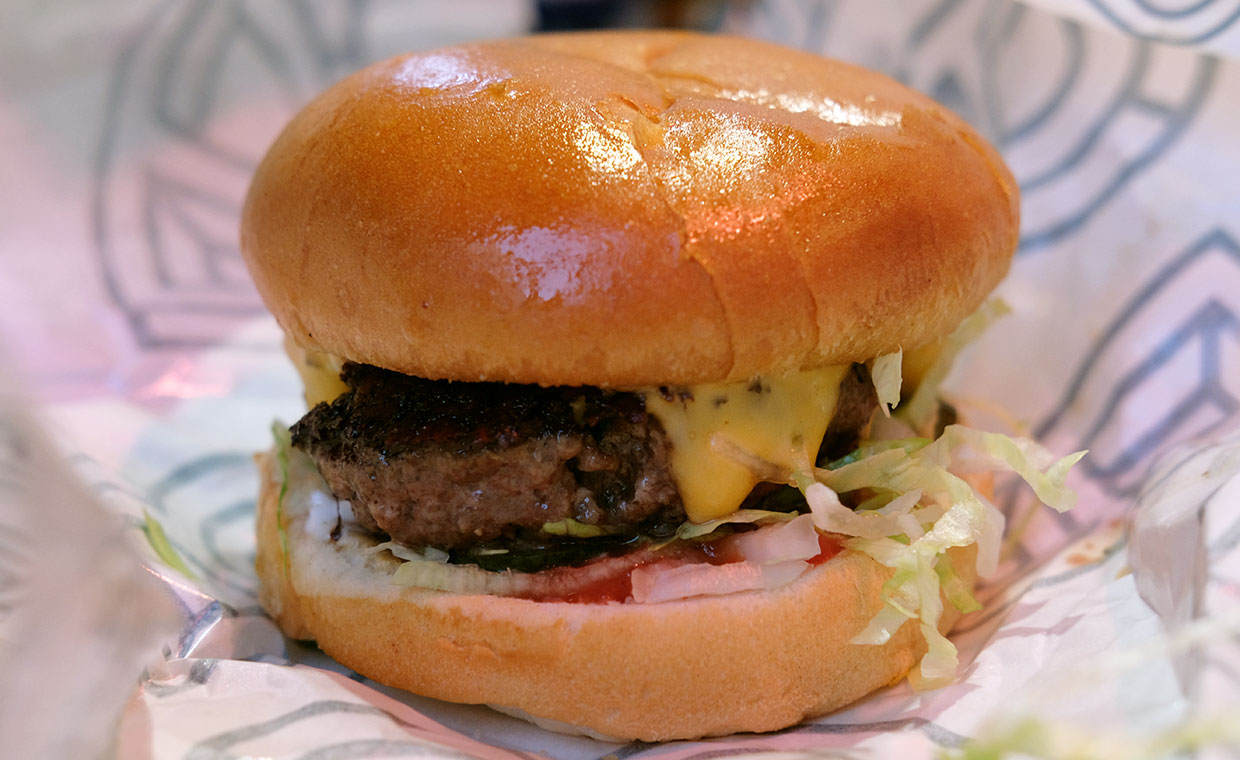 Bunsen öppnade sitt allra första burgarhak i Dublin 2013, och har sedan dess haft ryktet om sig att servera de bästa burgarna i staden. Trots sin sparsmakade meny med endast två burgare, och avsaknaden av ett vegetariskt alternativ, har hajpen fortfarande inte lagt sig. När vi besökte ett av deras mest centrala burgarhak i Irlands huvudstad fick vi vänta över en timme för att få bord.
Efter vi äntligen hade fått ett bord valde vi att testa deras enkla cheeseburgare med handskurna pommes frites. Sammanlagt gick kalaset på 10 euro, vilket är klart godkänt för att vara Dublin.
Burgaren, som beställdes med stekgraden medium efter deras rekommendation, serverades efter en mycket kort väntan. Den var fint inslagen i ett omslagspapper som gjorde allt till en härligt flott och kladdig oreda. Lyckligtvis var brödet fint fluffigt och perfekt rostat för att hantera det saftiga köttet. Allting smakade riktigt gott, särskilt köttet som både hade en fin karamelliserad stekyta och ett saftigt inre. Alla tillbehören kompletterade verkligen varandra väl utan att ta över.
Det enda negativa vi egentligen kan säga om Bunsen var att deras handskurna pommes frites var alldeles för mjuka för vår smak. Men i det stora hela är det en petitess, och vi kan bara instämma i att detta är Dublins bästa burgare.
In English
Bunsen opened their first Dublin burger joint in 2013, and have since then had the reputation of serving the best burgers in the Irish capital. With a menu that only consists of two burgers and no vegetarian options, it's quite fascinating that Bunsen still has such a big hype. We chose their cheeseburger with hand-cut fries for 10 euros, and we were not disappointed.
Our medium cooked burger was served in no time, wrapped in some paper kept everything nice and gooey. The fluffy bun was perfectly toasted, keeping everything in place, and everything tasted great. We especially liked the patty with its charred outside and juicy centre. And all of the ingredients worked really well together without taking over.
The only thing we had some issues with was that the fries were too soft for our liking, but besides that everything was on point. We totally agree that Bunsen serve the best burgers in Dublin.