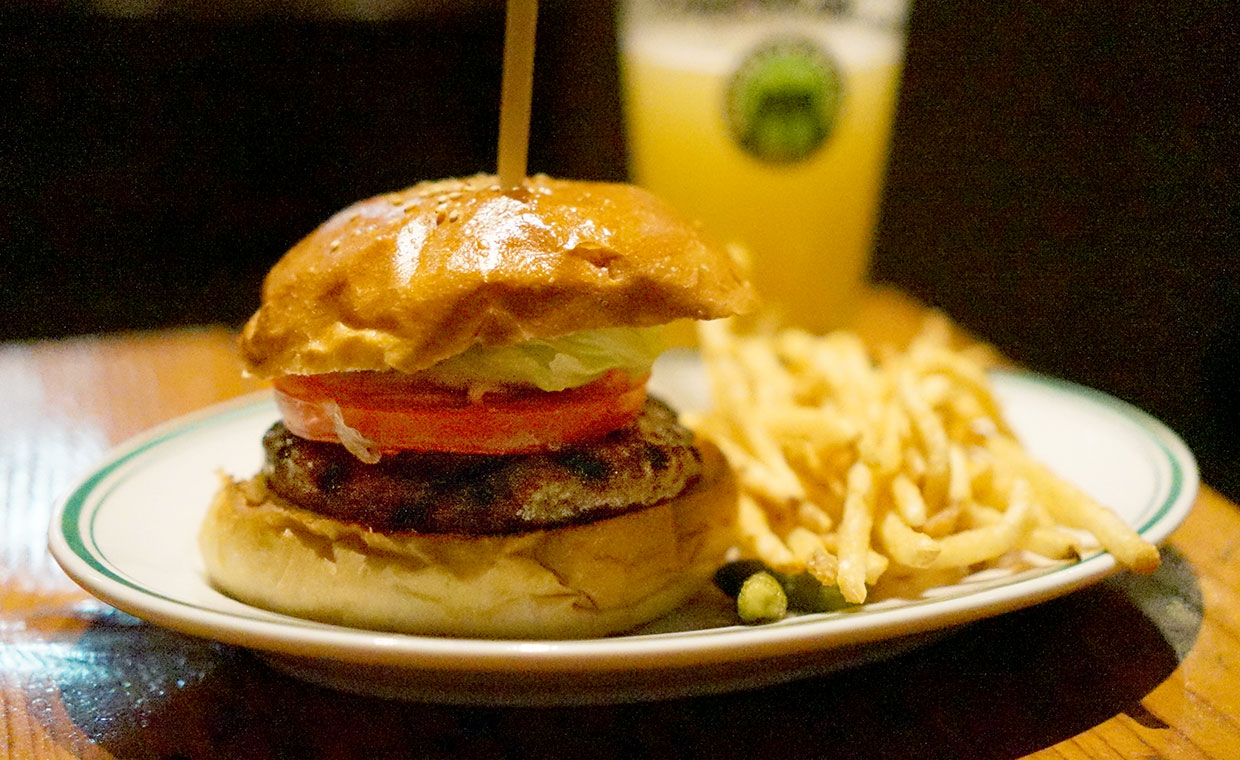 Brooklyn Parlor finns på fyra olika platser i Japan och vi har besökt den som ligger i Shinjuku, Tokyo. Vid en första anblick såg det ut som att vi hade hamnat i någonting mittemellan ett café och en bokaffär. Lokalen var stor och det fanns bokhyllor med böcker överallt. De flesta av besökarna såg ut att vara unga par på dejt. Hade vi kommit rätt?
Menyn lugnade oss – här fanns ett par olika burgare och de hade även öl på kran från Hitachino, ett japanskt bryggeri som vi tycker mycket om. Valet föll på en klassisk 150 grammare med sallad, lök, tomat och senapsmajonnäs. Till burgaren serverades tunna shoe string pommes – inte vår favorit, men klart roligare än den så vanliga klyftpotatisen. Sides och öl fick upp våra förväntningar på burgaren som såg riktigt trevlig ut.
Brödet var jättebra, fluffigt och vackert rostat, men köttet visade sig vara hårt och kändes nästan torrt, och tillbehören smakade ingenting. Det är så trist när det faller på det viktigaste. Servicen var bra, bröd och pommes var bra, priset var helt ok – ett par tior dyrare än de billigaste ställena, men själva burgaren var bara en enda stor parantes. Vi kommer gärna tillbaka hit och tar ett par öl, men det var sista gången vi beställde deras burgare.
In English
Brooklyn Parlor has four locations in Japan and we visited their restaurant in Shinjuku, Tokyo. It looked more like a mix between a café and a book shop, which had us confused at first, but the menu had burgers and beer so we sat down and ordered. We went for a classic 150 gram burger with lettuce, onion, tomato and mustard mayonnaise. All burgers came with shoe string fries – not our favourite but a lot better than the wedges that are so popular here in Japan. Plus they had Hitachino beer on tap – yay! The price was quite low, a couple of hundred yens above the cheapest places. Everything was good, until we got our burgers. The bun was great, but the meat was tough and tasteless and the other ingredients added nothing. Such a sad, boring burger. We would happily come back for a couple of beers, but we won't order their burgers again.