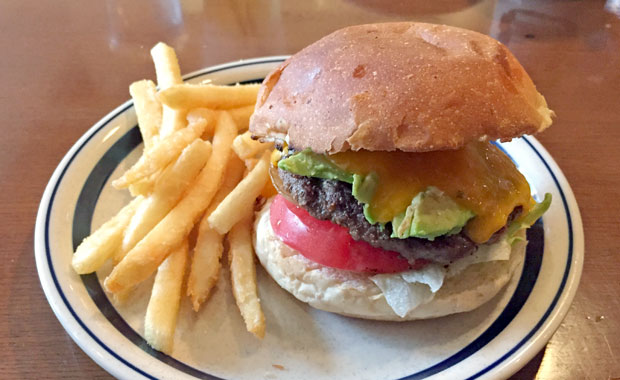 Sedan 2000 har den japanska klädkedjan Journal Standard serverat egengjorda hamburgare i sin restaurang J.S. Burger Café. De har lokaler i bland annat Shibuya, Shinjuku och Harajuku, som är stilfullt inredda med stora speglar och enorma träpaneler. Här är det lätt att trivas.
Ostburgaren med avokado såg fin ut när den serverades i sitt fluffiga och lättrostade bröd, men besvikelsen var ett faktum redan efter första tuggan. Köttet visade sig vara både genomstekt – något som inte tillhör ovanligheten på japanska hamburgerrestauranger – och rätt sladdrigt. Den relish-liknande toppingen och den orangefärgade osten var ingen höjdare heller, men upplevelsen räddades något av det saftiga brödet och den fräscha avokadon.
Slutbetyget blir en stark tvåa, främst tack vare det låga lunchpriset (under hundralappen med pommes frites, salladsbuffé och dryck) och den trevliga miljön.
In English
The Japanese clothes store Journal Standard serve up picturesque burgers in their stylish J.S. Burger Café venues, and it's easy to feel at home at their restaurant. But despite the nice interiors and the fluffy and slightly toasty bread we were let down by the well-done and slighly soggy patty. It's a pity, because we really wanted to like this place.