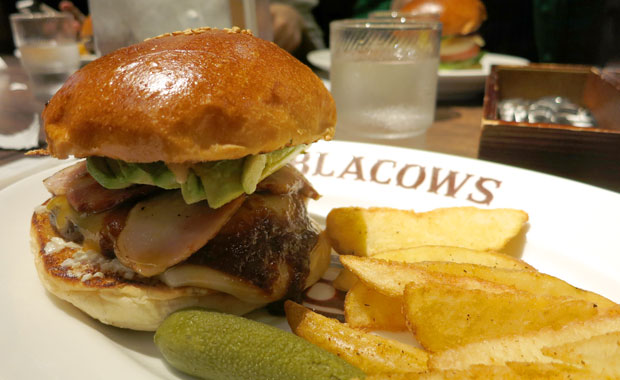 Blacows är förmodligen det burgarhak som fått störst hype utanför Japan. Namnet kommer från att de endast använder Black Wagyu-kött och i restaurangen kan man få information om varifrån dagens köttstycke kommer.
På pappret är det här en burgare som svävar nära perfektion. I verkligheten saknas det … något. Vi beställer en avokado-, bacon- och ostburgare och får in en vacker skapelse. Men ett par tuggor in kan vi konstatera att burgaren är genomstekt, barbecuesåsen står för nästan all smak och att brödet är lite segt.
Alla förutsättningar finns här, och det är gott. Men trots jättebra råvaror är det tyvärr inte en exceptionell burgare. Det blir en fyra till slut, men en försiktig sådan.
In English
Blacows is one of the most famous burger joints outside of Japan, but the burger does not live up to the hype. The patty is well done and most of the flavour comes from the barbecue sauce. On paper it's a fantastic burger, but in reality it's just good.