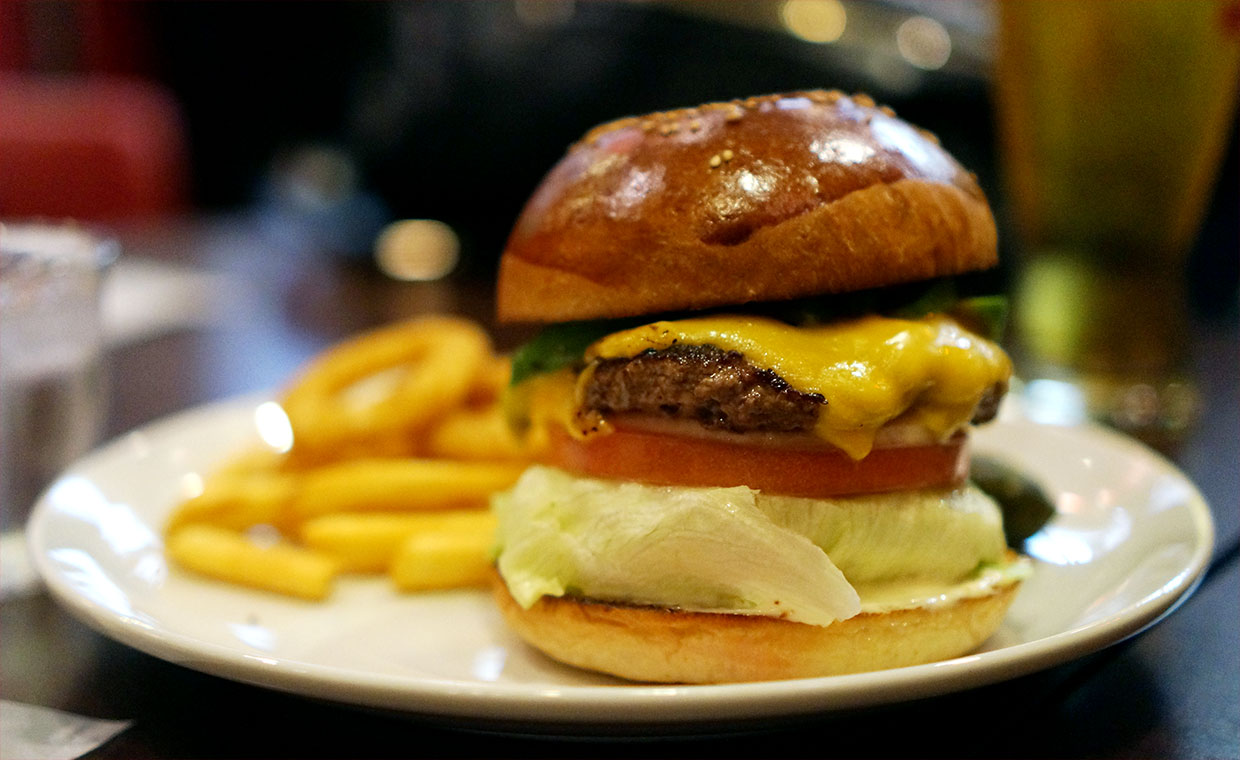 Brozers' öppnade 2000 och finns på två ställen i Tokyo, en i närheten av Ginza samt en i Nihonbashi och det var den sistnämnda som vi besökte. Ägaren bodde i Australien under slutet av 90-talet och det var där han lärde sig göra hamburgare. Det är inte bara inspiration som hämtas från landet där under, även köttet importeras därifrån. Enligt vissa källor blandar de även i japanskt wagyu-kött i sina burgare, men deras egna hemsida nämner inget om det.
Utbudet är stort och varierat. De flesta burgarna går på under hundringen och inkluderar pommes och lökringar – båda klart godkända. Vårt val föll på Avocado Cheese-burgaren. Första intrycket gjorde oss lite skeptiska – den tjocka tomatskivan och de dubbla salladsbladen som hade vikits ihop utgjorde större delen av burgarens höjd, och själva köttet såg försvinnande litet ut.
De skeva proportionerna visade sig lyckligtvis vara främst kosmetiska och mellan de fluffiga, lätt rostade brödbitarna gömde sig en riktigt god hamburgare. Köttet var genomstekt, men saftigt och välsmakande. Pommesen var av klassiskt snitt, vilket var klart positivt i en stad där de flesta serverar klyftpotatis.
Vi hade gärna sett lite mer kött och lite mindre tomat och sallad mellan bröden, men det var gott, och klart prisvärt och allt serverades med ett leende. Sånt gillar vi.
In English
Brozers' has two locations in Tokyo, one near Ginza and one in Nihonbashi. We visited the latter. The owner worked in a burger shop in Australia in the late 90s and opened Brozers' when he came back to Tokyo in 2000. The meat is imported from Australia, but the shop looks more like a classic U.S. diner. They have a wide variety of burgers, and fries and onion rings are included in the comparatively low price. The fluffy, lightly toasted bun contained a well done, but juicy patty and an abundance of tomato and salad. The proportions may have been a bit off, but the taste was good. We also liked the fact that the we got classic fries rather then the wedges that are so popular in Japan. It's nothing exceptional, but it's tasty and quite cheap and thus it comes with our recommendation.