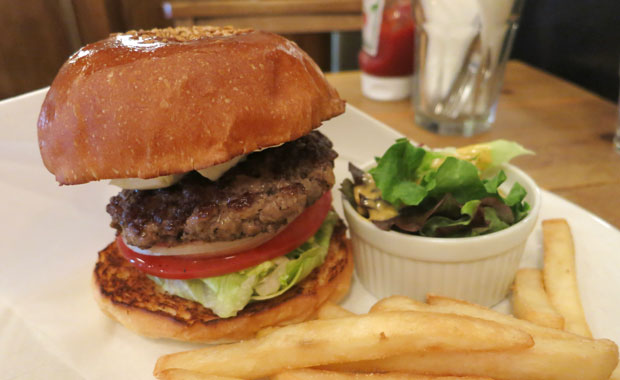 Burger Mania har tre restauranger i Tokyo och vi besökte den i Hiroo. Anledningen var att det endast är där man kan få den burgare de är (ö)kända för: Cherry Burger.
Burger Mania har bra rykte, men frågan var om en restaurang som serverar en gimmickburgare verkligen är så bra. När vi beställde fick vi välja hur vi ville ha vår burgare stekt, vilket bådade gott. Vi fick in en burgare med tomat, sallad, en rejäl lökskiva, färskost och 5-6 konserverade körsbär. Brödet var ganska stort och själva burgaren försvann lite i allt det andra. Men den var bra stekt med krispig yta och ett rosa inre. Och det var faktiskt gott med körsbär på. Lite sötsyrligt, ungefär som rårörda lingon till köttbullarna.
Burger Mania gör mycket rätt, men det finns detaljer som stör så betyget kan inte bli mer än en fyra. Jag går gärna tillbaka, men då kommer jag välja en annan variant samt skippa löken.
In English
We went to Burger Mania in Tokyos Hiroo district and we just had to try their Cherry Burger. It actually was really good, but it's one of those things you try just once. Burger Mania does a lot of things right, but the bun is so big the patty kinda disappears. Really good, but not great.