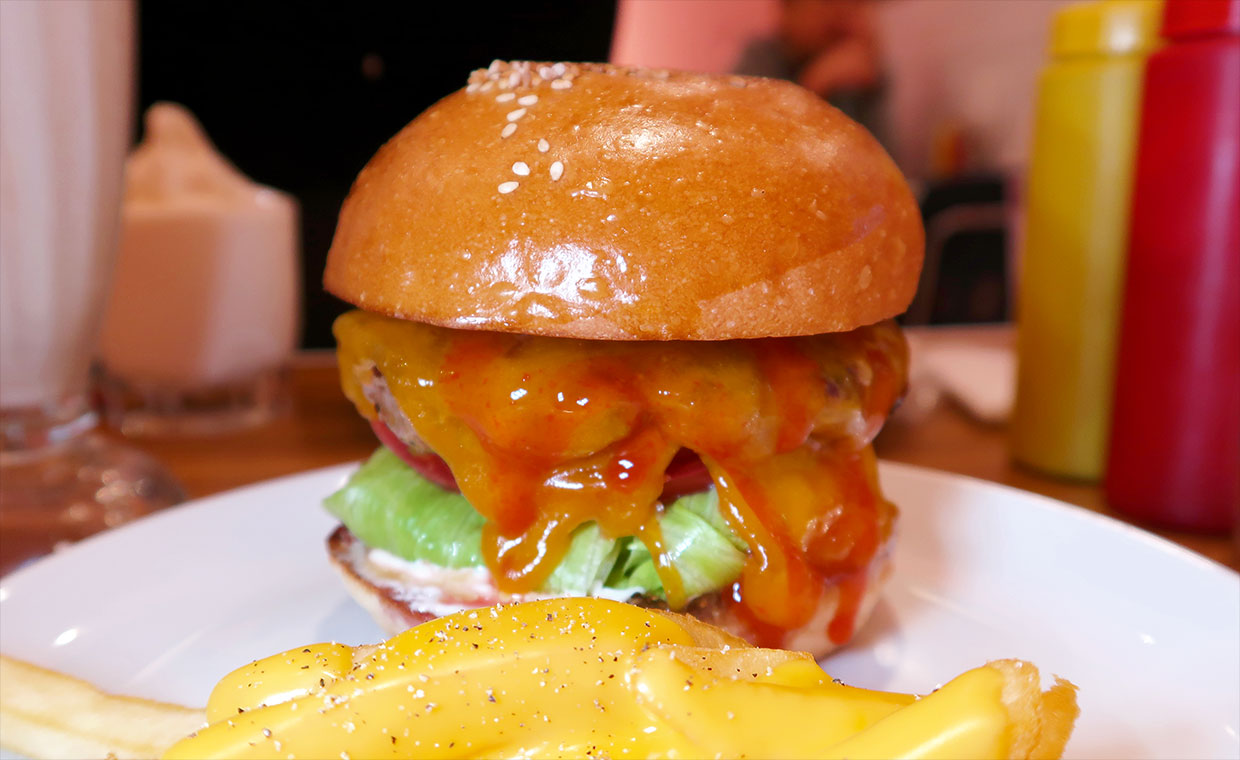 Crane Burger & Milkshake ligger ungefär mitt emellan de stora stationerna Akihabara och Ueno i Tokyo. Lokalen är relativt liten, men färgglad och inbjudande. Ägaren har tidigare arbetat på Brozers, ett annat burgarhak i Tokyo.
Precis som namnet antyder så ligger fokus på burgare och milkshakes och det finns ett brett urval av bådadera i menyn. De har gjort sig kända för sina extravaganta burgare, bl.a. donutburgare och en Super Cheese Burger med ett hav av ost. Deras fokus på "galna" burgare och stylade milkshakes skulle kunna ses som en enkel gimmick, men faktum är att de är duktiga på riktigt.
Vi valde att testa deras Red Hot Chili Cheese Burger för 1200 yen (cirka 105 kronor) inklusive pommes frites. Burgaren bestod av ost, majonnäs, tomat, lök, sallad och en chilisås med viss hetta. Hamburgaren såg typiskt japansk ut med sitt stora fluffiga bröd, och vi blev lite oroliga att den skulle ha flera av de problem som Japanska burgare ofta dras med, främst torrt och platt kött. Men som tur var nog så hade vi fel, då köttet var välsmakande med en lätt och fluffig konsistens. De andra smakerna var tydliga och fräscha, och det mjuka brödet som omfamnade allt utmärkt.
Vi testade även deras Cheese Fries som var lite tjockare och krispigare än de vanliga pommes fritesen, med en krämigt smält ost och mycket smak. Och vår spritiga milkshake, med shochu på sötpotatis och råsocker, var pricken över i:et.
Allt var snyggt och gott, och den supertrevliga personalen gör restaurangen värd en omväg. Ett besök på Crane Burger & Milkshake bör finnas med på din att-göra-lista nästa gång du är i Ueno eller Akihabara.
In English
Crane Burger & Milkshake are equidistant between inbetween the Akihabara och Ueno stations in Tokyo. The restaurant is quite small, but colourful and very welcoming. The owner has previously worked at Brozers, another Tokyo burger joint.
Just as the name implies, they focus on burgers and milkshakes. Crane are known for their extravagant burgers, such as a donut burger and their Super Cheese Burger that lies in a sea of cheese. All of this may sound a bit gimmicky, but thankfully they cook really good food.
We ordered their Red Hot Chili Cheese Burger for 1200 yen (11 USD) including an order of fries. The burger contained cheese, mayo, tomato, onions, lettuce and a quite spicy chili sauce. The burger had a super fluffy bun, which is typical in Japanese burgers, and we must admit that we were a bit worried that the meat would be thin and dry – something we've experienced far too many times in Japan. But we we are happy to report that the patty was soft, juicy and flavoursome. The soft bun held everything in place, and all of the other ingredients worked great together.
We also tried their Cheese Fries, which were a bit thicker and crispier than their regular fries. The nicely melted cheese had a lot of flavour, and we definitely recommend them. And the boozy milkshake with a sweet potato and cane sugar shochu, really hit the spot.
Both the interiors and our food were top notch, and their super friendly staff tied our experience together perfectly. Crane Burger & Milkshake are well worth a visit the next time you're hungry for a burger in Ueno or Akihabara.