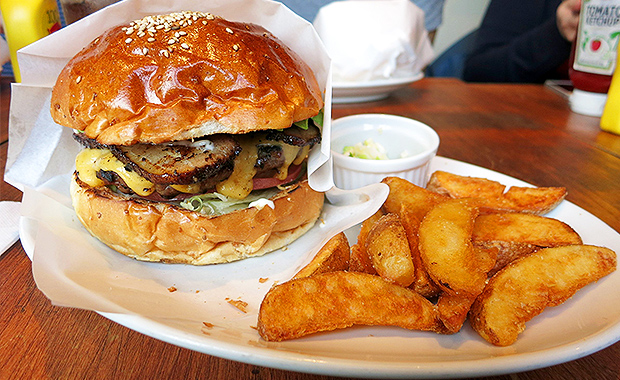 I närheten av tågstationen Omotesando i Tokyo ligger Fellows, ett burgarställe som har rykte om sig att vara lätt besatta av bacon. Och som dessutom, visade det sig, har ett bra vegetariskt alternativ – något som inte är så vanligt här i Tokyo.
Innan vi fått bord fick vi menyn och uppmanades beställa direkt. Valet föll på en ABC; avokado, bacon, och ost (cheese).
Burgaren var tyvärr genomstekt, och det är trist att det nästan alltid blir så i Japan. Dessutom var brödet aningen för stort, men resten var i alla fall helt rätt. Baconet var, precis som ryktet sagt, klart bättre än vanligt och smaken som helhet var jättebra.
Betyget blir en fyra och två tummar upp. Och har du en vegetarian i sällskapet (som äter ägg) är rekommendationen ännu starkare.
In English
Fellows is located near the Omotesando train station in Tokyo. Rumour has it that they are kinda obsessed with bacon here, and it turns out they not only know their bacon but also make a tasty vegetarian alternative. As usual in Japan, the patty is well done, but the burger as a whole is really tasty. Highly recommended.